The Queue: Too many new things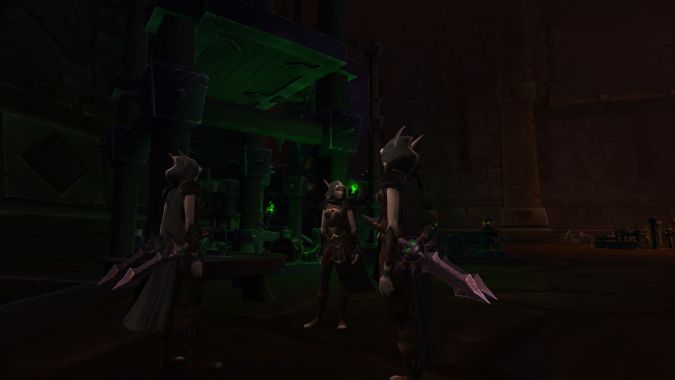 Every so often, there is a massive overlap of content that interests me. This is one of those times. Between patch 8.2, Shadowbringers for FFXIV, Summer Games Done Quick, Mario Maker 2, IRL interests, and work… hoo boy. I need more time in the day, y'all.
Anyhow… let's Queue.
---
SOEROAH HAS A QUESTION ABOUT PVP IN NAZJATAR:
They hotfixed the Battle of Nazjatar down from 10,000 points to win to 3,000.
Would it be presumptuous of me to assume this makes them end much quicker? I've never done one so I don't even know how fast they normally are
I don't know how fast it finished before, but I was present for the Horde controlling all the towers pretty much the entire time, with no Alliance to kill (which might speed it up?) It still took 15-20 minutes for the points to tick up, and the event is only 30 minutes long, sooo… it's not the best. I wish it would go faster if you had all towers capped.
---
LOTHARFOX WANTS TO KNOW WHAT THE COST OF FREEDOM IS:
On the very off chance that going forward, we have horde and alliance, however it is not limited by race, any race could choose either faction…do you think existing characters would get to switch factions for free, or at least at a discount?
Yes, I think if that were to happen, Blizzard would include it for free — but I think they'd do it in a way that was built into the story. At least for one character. I don't know. I'm still trying to picture a faction-less WoW that doesn't break the leveling experience.
---
ENO ASKS ABOUT MONSTER GALS:
Mitch, I'm not gonna bother you with silly 2BE questions. Instead I will ask you a real question: if you could be any monster girl what would you be? Naga? Harpy? Lamia?
I would be Squid Girl. (Duh.)
---
ELAINEDESHALOTT IS A TRAGEDY IN TWO PARTS:
Part 1: I decided to try playing again. Now that I have the one companion to level 3 do I ever need to use him again? I have died at least a dozen times, because he makes my stealth useless.
Part 2: Sigh. Gain 3000 combined experience for your Ankoan Allies. Why Blizzard, why do you want me to hate your game!
So, yes, you answered your first question in realizing that the story requires you to earn 3,000 combined Ally repuation to proceed. Honestly, when I got that quest and saw that I was only at 700ish for my level-3 follower, I felt the momentum dissipate a bit. It's the game. It's how it works. But it was still a moment of, "Ohhhh, so this is the time gate."
---
SOEROAH HAS ANOTHER QUESTION:
Now: how long will it take me to get through the story available in the patch? Those two new cutscenes?
First cutscene happens basically right away. Second one (with Baine) happens after about 2 days of questing through the new Nazjatar stuff. And that took me…. I don't know, 4-5 hours? Less? I wasn't paying super close attention, and I spent a bit of time just wandering.
---
OMEDON LIKES THE SOUNDS FROM UNDER THE SEA:
Q4tQ: Nazjatar music, best music this expansion, or best music ever?
It is definitely very good, and I LOVE the portions that feel like they could fit in Vashj'ir, like musical callbacks. That said, I love the Drustvar music this expansion. I'm not saying it's compositionally the best, but it's probably my favorite.
---
MOVEWOW HAD THIS ANSWERED, BUT FOR ANYONE WHO MIGHT NEED:
When peeps logged into 8.2 did anyone notice a slower frame rate now? Ours seems as much as 1/3 slower.
Patches have a tendency to reset graphics settings, and if you're experiencing any changes in framerate, double check yours to make sure your settings are what you want them to be.
That's all for today! Go have a great day and also life!