What's your favorite WoW achievement?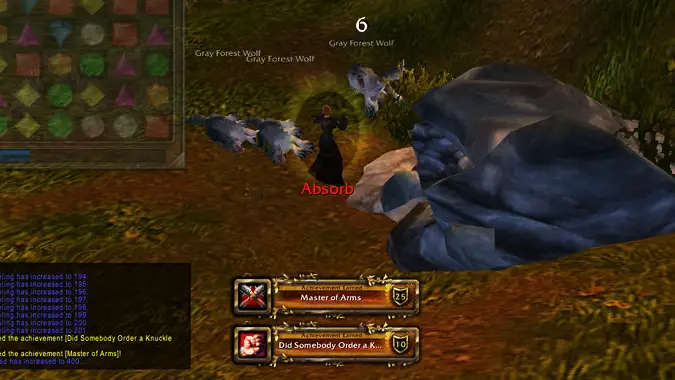 There are a lot of achievements I'm proud of, whether they evoke personal accomplishments or overcoming difficulties with my team. I remember the screams when we got Cutting Edge: Heroic Garrosh, the sense of accomplishment when I got What A Long Strange Trip It's Been (twice!), and my personal satisfaction upon receiving every Fashionista achievement for Fabulous when they went live. But my favorite achievement isn't any one of those — my favorite happens to be Did Somebody Order a Knuckle Sandwich?
Why? Because it's so ridiculous, and because I distinctly remember going out of my way to get it done. See, back in vanilla and through Wrath of the Lich King, you had to level up your weapon skills in order to use different types of weapons. You'll never forget the groans when your guildmate got a new type of weapon and they had to leave the raid to go whack some zone mobs in order to level up the skill to use it. Included in weapon skills was the unarmed skill, which was used for fist weapons.
It was absolutely unnecessary for a Priest to ever have any need of unarmed skill. We couldn't use fist weapons and we certainly didn't go around punching things barehanded. But I've always been a completionist, and in addition to getting Master of Arms, I leveled unarmed skill as well. There were all kinds of ways to do it and suggestions on Wowhead. But what got me that final point was punching simple wolves in the face in Elwynn Forest. All the while playing Bejeweled, of course.
That silly achievement brings me the most joy. It's not prestigious, it wasn't some great trial, it was just doing some silly thing simply for the sake of doing it. I'm sure we all have memories of something or other that makes getting a certain achievement more special. Are there any achievements that you feel the same way about? What's your favorite achievement and why?