The Queue: You cannot escape me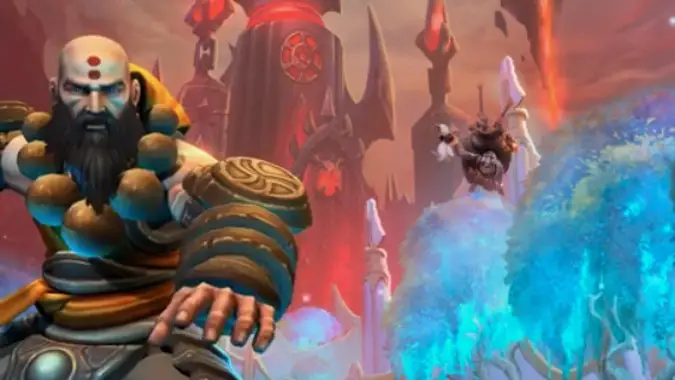 I am the terror that flaps in the night.
I am the sip of juice that goes down the wrong pipe.
I…
Am…
Taking over this Queue for Anne. So go ahead and let's do this Queue.
---
LEFTY ASKED FOR A POKEMON THEMED QUEUE AND THEN BADMOUTHED THAT TIME I DID A QUEUE AS ASHKANDI
So, uh… if the Monday queue hasn't been finished yet, I'll totally take a Pikachu theme as tribute for my birthday! :D
No.
Suffer the lack of your precious Pikachu. Remember that you brought this on yourself.
---
PIDIA INCREASED HER PATREON PLEDGE
Got my new credit card and first thing I've done is up my Patreon for BW to $10 to pay back to all you awesome people!
Thank you. We very much appreciate you helping us keep the lights on. The world is what it is  and we try and provide a place for like minded fans to come together and celebrate the things we all enjoy, and we can't do it without your help.
---
RED WANTS TO KNOW ABOUT MECHAGON
Honest Q4TQ: is completing the Mechagon meta achievements fun or suffering?
When I read the comments you guys make, it makes me glad I'm not doing it
I may be the wrong person to ask because I did not enjoy Mechagon. I ended up bailing with the achievement not complete and it's still not complete. So for me, it was suffering.
---
CAPTAIN CAKEWALK THE HOOTMEOW WANTS TO TALK PONTIAC FIREBIRDS
Random-Car-Stuff: I'm watching a video on a Pontiac Firebird and it got new plates… Historic plates. This car has Historic plates and it's from 1991!
*feeling old Druid intensifies*
I owned a 1991 Firebird, with T-tops and a 5.7 L/350 cu engine. I got it after my mom died, it was my big present to myself for surviving that year. Metallic green pain job. I loved that car. I went to see the band D.R.I. (Dirty Rotten Imbeciles, if you want the long name) at the Living Room in Providence and someone stole the car.
A year later, I saw the car parked in an Almacs' parking lot and my keys still worked, so I took it back. The thief had an excellent CD collection.
Later I gave the car to my father in one of my sporadic attempts to mend our relationship. It failed.
---
WELCOME BACK, ARROHON
I haven't been playing WoW or following Blizzard Watch for a pretty long time but recently returned. Are class columns and The Tavern gone now? If so, was it a funding issue, a readers interest issue, or a writers issue? A few of my favorite things were Rossi's warrior columns and their general video game podcast from long before this site.
Class columns, like that Rossi dullard's Warrior columns, were a consequence of funding. Our Patreon simply wasn't high enough to afford to pay folks to write them. The Tavern is sort of still here, in the form of Off-Topic posts like the ones that Rossi dullard does about dinosaurs or D&D or what have you.
I wouldn't mind doing more Warrior columns, it's just a matter of coming up with a topic that feels worth discussing. After so many years writing them, it's hard to always come up with a new idea.
---
MISTAH JAY ASKS A QUESTION ABOUT CLASSIC
Q4tQ: if Zidormi had an option to send your character onto Classic servers (with some limitations, like no PvP), would you use it?
Nope. If I was going to buy in to WoW Classic, I'd go all the way. Roll a level 1, go from there. It doesn't feel like it's in the spirit of the thing to me to bring a 120 character there.
---
SOEROAH ASKS A QUESTION I'VE LONG WONDERED ABOUT
I have long been of the opinion that skipping trash in most dungeons, unless you're doing a Mythic + and trying to beat a timer, is nearly almost always more trouble than it is worth. And even when you're trying to skip trash in a Mythic +, you're usually doing it with a group of friends, not just some people you don't know and have no idea how they play and what they're used to.
For most pick up groups, it's usually much easier and safer to just kill each pull one at a time, and as a tank I really hate groups that get on my case to skip trash in some weird idiosyncratic way I'm not familiar with. Just pull it, kill it, and move on. It's not worth trying to shave 10 seconds off when that trash mob would already have died by now if we'd just pulled it.
Okay, that's the Queue for this Monday. Thanks, everybody.