The Queue: Tired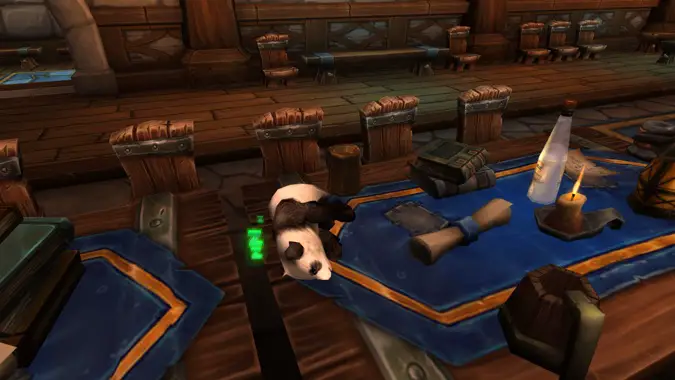 I'm writing this at 6:00 a.m. from a hospital waiting room after having slept a little under 4 hours. Everything is fine (my brother's going in for his second round of surgery) and by the time this is live, I'll hopefully be deep in nap. But right now, in the moment this is being written, I am very tired.
Let's Queuzzzzzz….
---
SCARLET HIGHLORD RETPALLYJIL, THE ASHBRINGER🔥 (@RETPALLYJIL ON TWITTER) STARTS US OFF ASKING ABOUT CHARACTERS I'M TIRED OF:
Q4tQ:  Which character do you NOT want to see in the Shadowlands? In other words, which story would you like to leave un-revisited?
This is a bit of a cheat answer, but I hope to Yogg that Malfurion does not show up in whatever storyline Tyrande has in Ardenweald. I'm so tired of him. I don't care if he hasn't done much since the pre-patch, I still hate the guy, and less is always better.
But if we're talking character who have died? Tirion. He had his moments, and it was nice when he was but a humble no-name in Eastern Plaguelands, but his obsession with justice and the Light became annoying. Moreover, he died because he had two factions' armies watching him and ready to help but insisted he'd be fine because the Light would protect him. I'm not really interested in him telling me how that was all the Light's plan or something.
---
MEKGINEER SICCO THERMAPLUGG (@SICCOTHERMAPLUG ON TWITTER) ASKS BASICALLY THE OPPOSITE:
Which deceased character are you looking forward to seeing the most in Shadowlands?
I'll be honest, I'm not usually a fan of bringing back dead characters in any capacity. Not just in WoW, mind you — it's just probably my least favorite part of fantasy (or anything even slightly related to comics). That said, I'd like to see that Wyll ends up okay. He seemed like a genuinely nice old dude who definitely deserves better than The Maw. On the "bigger" side of things, I'd love to see what Arthas and Terenas have to say about all of this, especially given we're there because the Helm of Damninartion being destroyed is how we got there.
---
RAZWICK HAS A DESK PROBLEM:
Got any ideas to make me less generally averse to sitting at my desk? It gets uncomfortable after a while and it's kinda turning me off PC gaming in general (used to have it hooked up to the TV so I had options).
Chair pillow? foot rest? … candy?
I mean, obviously candy. But also, I'd suggest a comfy chair with proper support to start. A standing (or convertible standing/sitting) desk may help, but I know those aren't exactly cheap. I'm not sure how you prefer to sit, but I also like to make sure I have a place to rest my feet. I have a very hard time sitting in the standard chair position for too long and always end up propping my feet up on something. That might run counter to my first "proper support" suggestion, but hey. See what works. Oh, and make sure to get up and walk around often.
---
GLOWING METEOR CARROT HAS AN INCREDIBLY IMPORTANT QUESTION:
If you could vomit a laser beam what color would it be?
Purple. Or, like, a purple and black combo.
---
RJAGODA ASKS ABOUT GETTING TIRED (BUT IN A DIFFERENT WAY):
Have you ever burned out on WoW?
There are a couple answers here. The biggest one is that I've never unsubbed or stopped playing outright. Even in the biggest of content droughts, I've still logged in, even if just once a week. Heck, right now, that's about all I'm doing because one of my favorite things to do is partake in Mythic+ night with my friends.
But I've definitely burned myself out of specific activities in game. I go through phases where I get really intense about a certain aspect of the game (PVP, mount collecting, transmog collecting, pet battling, achievement hunting, etc.) and then after a variable amount of time passes, it becomes too grindy and I slow down how much I play or I switch to something else. But I think I've always found some reason to log in, even if the reason only has me log in infrequently.
Though, I will say it's more than okay to take a break if you're feeling burned out. Don't be like me if that's not how you operate. Play a game because it's fun and you enjoy doing it, not because you feel like you need to.
---
SPENCER MORGAN KNOWS MY KINDNESS:
Q4tMitch: what did you see in humanity that made you spare us?
Usefulness.
---
RED WANTS TO KNOW ABOUT TITLE AND PRESTIGE:
Q4tQ: what's the most prestigious title in-game, in your opinion? The one that when you see, you think "that player is good"?
For me, it's "The Undying".
Hmm… it's been a while since I've felt like a title offered that sort of prestige. I mean, there are ones like Conqueror — which, humblebrag, is the one I'm using — or The Insane that tell me a player has spent a heck of a lot of time grinding, but does that necessarily mean "good"? I think The Undying is a great example, because it was removed upon the introduction of the next tier. So if there's anything like that (which may only be PVP titles nowadays?), I think that at least a decent indicator. Actually, I'd say most of the ones that stand out to me are the ones that have been removed.
Which, I'm still very salty that the Realm First! titles in Wrath never made it to live. If they had, I would be Prophet Fizzl, and I would never remove it.
---
LOTHARFOX GOT KILLED A LOT, BUT…
The other day in AV I was repeatedly killed by hordie named Mitchman. Was that you?
Much as I just love killin', that wasn't me. My in-game characters are almost always a variant of F*zzl, with my Priest being Fizzl, Warlock being Fuzzl, etc.. Though, if you see "MitchFizzl," in other games like Overwatch or Heroes, that's probably me (and, frankly, concerning if not because it means I have an impostor).
That's all for today! I hope you all have a great Thursday.