WoW
Feb 3, 2020 3:00 pm CT
The Darkmoon Arcade opens at this month's Darkmoon Faire!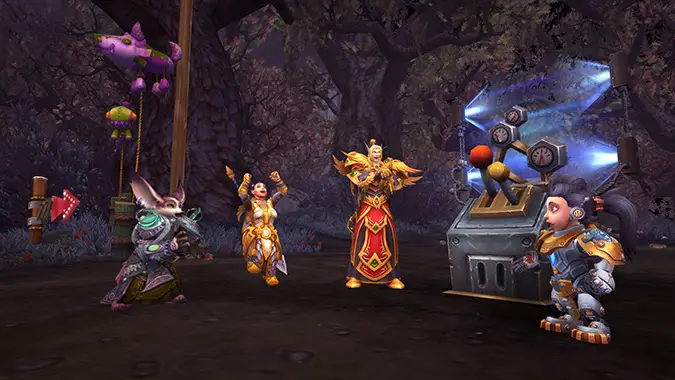 If you're tired of WoW's usual Darkmoon Faire attractions and want to challenge yourself with some new games, the Darkmoon Arcade is finally available. The six mini games won't net you any rewards, but are a fun challenge to pass the time if you've already finished your to-do list for the day. Here's how it all works.
The Darkmoon Faire — and it's Darkmoon Island location — opens up on the first Sunday of every month and lasts a week. You can get there via Elwynn Forest for Alliance players and Mulgore for Horde players. Stormwind, Orgrimmar, and Dalaran each have Darkmoon Faire Mystic Mages that can teleport you to the proper Darkmoon Island portals for a small fee.
Once there, you'll need to visit a Game Token vendor to purchase a bag of Darkmoon Game Tokens. You can use those for all the regular games that can get you achievements, transmog gear, pets, and more. Don't forget to grab a Darkmoon Top Hat and ride the carousel for a 10 percent bonus to reputation gains — you want to play a Vulpera or a Mechagnome don't you?
For this year's new version, you can now take those Darkmoon Game Tokens and spend one on Lynnish Hardmode's Mechafun Arcade to play all of its games for a day. You will then be able to access all six games that resemble minigames from other quests in the game. You can match runes Bejeweled-style in Rune Matching, remember Windows 98 in HexSweeper, untangle circuits in Bull-E, track a barrel in Barrels 'o Fun, match up shells in Remembery, and color swap totems in Totemic Matrix.
Many of the games will increase in difficulty as you progress through them, but none of them reward anything but the satisfaction of completing them. Some players have expressed disappointment in the lack of even a small achievement for finishing the games on the forums. It wouldn't be surprising to see Blizzard add achievements and additional difficulty levels in the future, but for now it's all simple fun.
You've got the whole week to make your way over to the island and to start cracking away at these new games. Who knows, maybe playing these will be practice for the Shadowlands world quests to come.