The decks you need to win Hearthstone's Tavern Brawl Block: Feeling Adventurous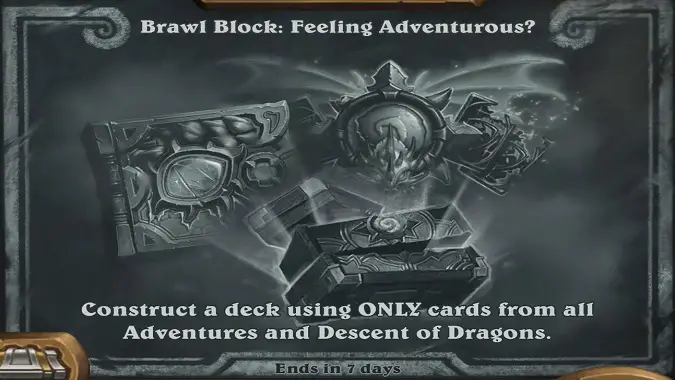 Hearthstone's Tavern Brawl Block: Feeling Adventurous brings an interesting twist on deck building. In this Brawl, you're quite limited in the available cards, with only Descent of Dragons and the game's Adventures. This is the fifth time Hearthstone has done a Brawl like this, but the first time the cards for your deck come from the various Adventures released over the years.
This particular mix of card options makes for some interesting combinations, and it will be fun to see how players bring this disparate group of cards together to form powerful decks.
Tavern Brawl basics
Name: Tavern Brawl Block: Feeling Adventurous
Description: Construct a deck using ONLY cards from all Adventures and Descent of Dragons.
Fun level: 8/10
Difficulty: 6/10
Replayability: 8/10
Format: Wild with restrictions
Type: PVP
Deck: Constructed
Rewards: 1 Classic pack
The available card are those awarded from Curse of Naxxramas, Blackrock Mountain, League of Explorers, One Night in Karazhan, and Galakrond's Awakening. In addition, you'll have all the cards from the Descent of Dragons expansion. Your Basic/Classic cards are not allowed this time around.
You can welcome back old favorites like Sludge Belcher and Emperor Thaurissan. You'll also be seeing the original iterations of Brann Bronzebeard and Reno Jackson. Remember that any random effects will only generate cards legal for the Brawl, which changes how they play — so take a look at your classes 1 mana spells before you commit to a Cobalt Spellkin.
The size of your  collection will matter this time around and some of these Adventures are quite old. Newer players may find themselves at a disadvantage. You can play Demon Hunters, but you won't have any of their class cards available. Frizz Kindleroost is an MVP this Brawl, but I don't recommend crafting her if you don't have her.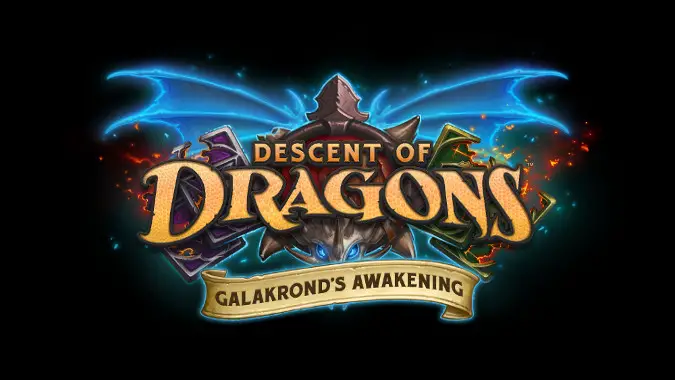 How to win the Brawl Block: Feeling Adventurous
The most important thing you'll need to win this Brawl is a good deck. I've got some homegrown options as well as some from around the community. Half of the challenge comes from building a good deck and the other half from "piloting" your deck — making the right turn-to-turn decisions is key, even if you're using the best deck available.
Constructed Brawls are the most fun the first day or so. After that, players discover the most powerful lists and the Brawl falls into a similar meta structure as the Ladder.
My Feeling Adventurous Brawl decks
Galakrond Grim Patron
Deck code: AAEBAYwWBvoOzhbYrQPerQPfrQPFwAMMjQ7nEfkRw7YC3a0D/q4Dqq8D0q8DgbEDhbEDpLYDq7YDAA==
Sky Raiders can give you Hoard Pillagers for multiple Death's Bites. You've got bombs from Bomb Wranger, damage from Axe Flinger and of course, plenty of Grim Patrons. The deck needs certain pieces in hand together so it's a little inconsistent. When it works? Everybody, get in here!
Dragon Mage
Deck code: AAEBAf0ECrsWj5oCo7YCl60DsK0DhbEDkbEDh7YDjLYD4bYDCuMRuhaBsgKCtQL1rAP6rAPwrwPxrwP/sAOBsQMA
A good mix of dragons and spells should keep your opponent on their toes. Like the Quest Mage in Wild, Flamewaker does work.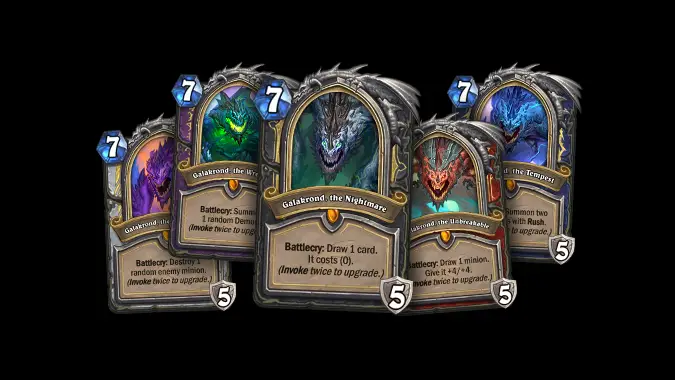 Community Feeling Adventurous Brawl decks
Galakrond Rogue
Deck Code: AAEBAYO6AhT4DYIOwg76DvsO1hHDFoUXl60Dt64DwK4Dwa4DiLADgrEDhbEDh7EDkbED47QD/bYDy8ADBbmuA7uuA/6uA6qvA86vAwA=
This is close to the current Galakrond Rogue on the ladder. It uses the same high tempo plays to keep control of the game and throws in some classics from the Adventures.
Galakrond Priest
Deck code: AAEBAa0GBIUXiLAD47QDyMADDe4R6BLpEoK1AtesA9qsA9ysA/KsA/6uA82vA+ewA4exA5m2AwA=
This deck has a bit of everything. You've got combos like Brann plus Kronx Bloodhoof. Galakrond the Unspeakable gives near infinite value. Scalerider and Blackwing Corruptor are high tempo plays.
Galakrond Shaman
Deck code: AAEBAaoIBucWhBe5sgLwrQPjtAPTwAMM2Q3pEoK1AretA7mtA7utA/6uA6qvA9CvA+ewA4GxA4exAwA=
This one abuses to the small spell pool. Cobalt Spellkin will always give you two Storm's Wrath. The Curator pulls Sir Finley, Tomb Spider, and a Dragon.
Big Druid
Deck code: AAEBAZICAugSiLADDukSqrIC+60D/a0D/60DjK4D3q8D57AD/7ADhbEDh7ED+bUD/7UDhLYDAA==
This is as close as the community could get to a standard Embiggen Druid for this Brawl. I'd think about substituting a Moonglade Portal if Dragon Hunter is prevalent.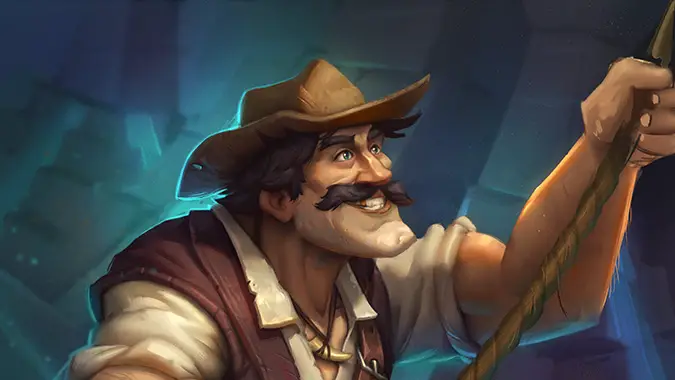 Dragon Reno Mage
Deck code: AAEBAf0EHtUR7BHpEroWuxbDFoUXgbICqrICubICgrUCo7YC9awD+qwD+6wDl60DsK0DqK8D7K8DiLAD57AD97AD/LAD/7ADgbEDhbEDh7EDkbEDiLYDjLYDAAA=
This is an even better version of my homegrown Dragon Mage. With the limited pool of spells, you can Arcane Breath into Arcane Breath into Arcane Breath. Reno gives a second life and might save your from a Dragon Hunter.
Dragon Hunter
Deck code: AAEBAR8C57ADhbEDDvcNxA7UEfixAoqtA4utA/muA/yvA/6vA/CwA/+wA4exA7q2A6+3AwA=
This deck has a straightforward game plan: hit your opponent in the face as often as possible. It has plenty of dragons to keep your Stormhammer going. I'd think about including the Side Quest Toxic Reinforcements for even more damage.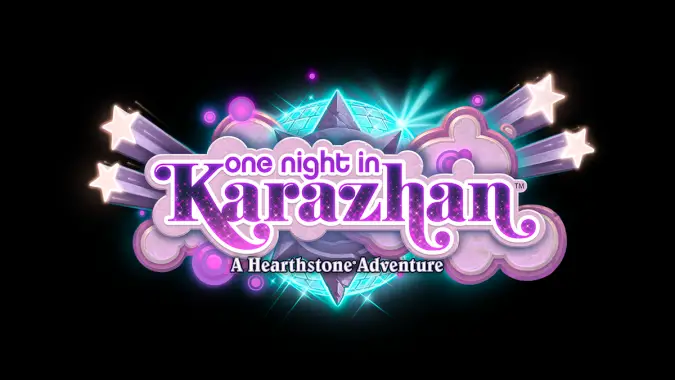 Even more Feeling Adventurous decks
One of these decks should see you through, but if you find another great deck, share it with us in the comments.
If you have a smaller collection, try the Dragon Hunter deck. If none of these decks work for you, check for more community decks on Hearthstone Top Decks. There are more Tavern Brawl decks being added by the hour.
Overall, this is an enjoyable Brawl. It;s great to see these old cards get the spotlight one more time. Good luck getting this week's Classic pack.
Everyone, get in here!