The Queue: Cat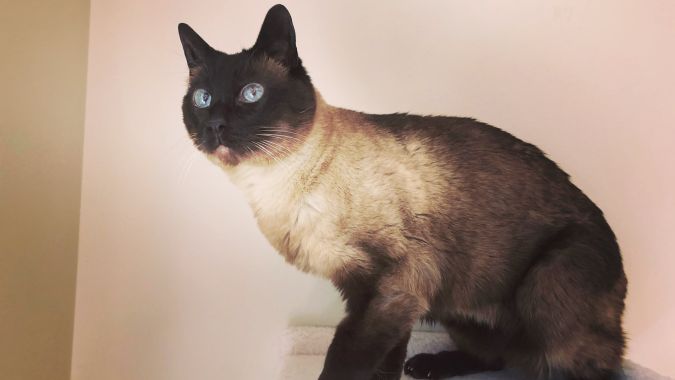 I currently cannot see my cat because of the quarantine. I mean, it's technically a family cat that lives with my parents, but I consider him my cat because he loves me so much and also I love him. I've visited from a safe distance twice, but I'm pretty sure he's at least half blind, so he just kind of looked super confused to be outside and didn't really seem to realize I was there. I can't wait until I can finally see him again.
But enough about my cat. It's Queue time.
---
ARTHONOS STARTS US OFF WITH SOMETHING HEAVY:
Q4tQ: Pretend for a moment that the machine of death isn't broken, your main character dies, and they end up in Revendreth. What is the worst deed etched upon your Sinstone that you must atone for? Off the top of my head, mine would probably be the time I sat there during the beachhead quest just to see what would happen. The turtles did not make it to the water that day…
Before anyone says anything, this isn't spoiling anything major. It's the equivalent of finding out the Sha manifest from negative emotions — and even then, the Sha thing is probably more of a spoiler (for its time).
Anyhow, if you're talking about things that I've done as my character just when I'm out in the world with full control and not being made to do anything in particular by the game's story? Uhhh… definitely something involving Mind Control. I've used it to run innocent NPCs off bridges, even if they weren't attacking me. I've used it on the adult Pterodactyls in Atal'Dazar to intentionally make a bunch of the baby ones attack their mother while she, in turn, attacks them. And I've used it while enemies are about to die from my DOTs so that they can't even attack in their final moments.
Another one that comes to mind is the Hillsbrad quest where you have to "Do the right thing"… It's a little more story-driven, but you ARE given a choice there. And I definitely smushed the heads of all the farmers. Gleefully.
And in terms of things that the story made me do… I think you all know the answer to that one: Any time I had to do something in support of the Light. Yuck.
---
RED WANTS TO KNOW ABOUT AZEROTH, THE BABY:
Q4TQ: do you think we'll ever see Azeroth "be born"?
The short answer is "no." Why? Because it's way too big of an undertaking to realistically happen in WoW. That would be like Cataclysm on five different types of steroids.
The alternative is that Azeroth IS born and it's… completely underwhelming. I mean, let's say there are no restrictions whatsoever. You can picture it any way you want — how exactly do you all imagine it would look for Azeroth the Titan to be born?
Now, take whatever you just pictured and restrict it by in-game rules and the sorts of time frames we get for amount of time between patches and expansions. Does it look even remotely similar? My guess is it doesn't.
It's kind of like how Thros, the Blighted Lands was described as a realm of death but the in-game manifestation was a corner of Drustvar with some screen effects, or how (at least before Legion), the Emerald Dream was a pristine Azeroth but when we see it in a quest, it's basically Moonglade with a filter over it. I'm not saying the developers did a bad job in either of those cases — more so that in-game limitations will almost always make something like "Azeroth being born" hard to live up to what you picture in your head.
---
MAALIN ASKS ABOUT SWITCHING COVENANTS:
Q4tQ: So Ion says it won't be that hard to change covenants, but it will be hard to change back. Other than rpg, what is the point of that?
Simply put, Blizzard doesn't want people min/maxing Covenants on a per-encounter basis… but they still want the average player to be able to switch and experience the full extent of Covenants without feeling punished for it. Let's say your average player picks one, really likes the story, and then says, "I wanna see the other stories!" That sort of thing shouldn't have a barrier of entry. Theoretically, that player can experience all the stories, and then at the end, if they really wanted to go back to a different one, they can! But it'll require the sort of effort they'll only want to put in once.
---
SIBYLLE LEON MISSED OUT ON THE PARTY:
Wait, we have a council-run Horde? When did that happen and why did I muss it? Was there a cutscene or something?
Man, I really am getting old.
There wasn't a cutscene, but there was a short quest and a bit of in-game dialog following N'Zoth's defeat. Frankly, it's about time. I don't really understand why the Horde insisted on a Warchief for so long, and I don't entirely get why (most of) the Alliance insists on following Emoduin.
---
ENO DIDN'T ASK ANYTHING — AND THERE'S AN ACHIEVEMENT FOR THIS SORT OF THING — BUT I'M COMMENTING ON IT:
Was just told apparently the high elf eyes for belfs were just a NPC option and won't be added to playable BEs
Man, this is what drives me nuts about datamining. People take something without any context and run with it, assuming it's the final word. The word "alpha" as it pertains to gaming seems to have lost a lot of its meaning to much of the community. A time like this, I almost wish the alpha were under NDA or files were encrypted or something. But since neither of those is true, try to at least judge alpha content based on what's in the alpha itself — the testable, playable game… not the files we weren't even meant to see yet.
I'm not accusing you personally of any of this, mind you — but it's yet another instance of datamining leading to unnecessary anger, and that in turn makes me very frustrated and exhausted.
---
KALCHEUS THE FLUFFY MIGHT GET THEIR OWN QUEUE NEXT WEEK:
Do we know what creature's skull that is on the shoulder of the Necrolord mail armor set?
I personally do not. We'll likely know more once Maldraxxus actually hits alpha, which… frankly, I cannot wait for! I've seen a few of the new Undead models in Bastion, and they're fantastic. I am super excited to see all of the others that await us in Maldraxxus.
---
HUSSKIES HAS RETURNED TO SAVE THE DAY WITH A QUESTION!
Dunno what to ask.. I've been out of the queue for so long. But here goes:
Q4TQ: You are in quarantine on Azeroth; Where are you, and who are you with?
I'd probably either be in Tirisfal (pre-destruction) hanging out at the Brill inn or relaxing on the nearby lake with my Mythic+ friends or I'd be relaxing in Outland Nagrand by myself, just admiring the scenery and maybe starting my own farm or something.
---
GLOWING METEOR CARROT PRESENTS A NO-WIN FOR OUR BOY NATHANOS:
Do you think Nathanos could take the Jailer in a fight?
Much as I like Nathanos, I do not. (Yes, I genuinely do like Nathanos.)
---
LEFTY CLOSES US OUT ON A MUSICAL NOTE (HA! GET IT?):
What zone in BfA has your favorite music?
Drustvar, no questions. Though I really appreciate the music in Boralus.
That covers us for today! I finished this before midnight, which I call a win. Have a great day, y'all!