The Queue: Dinobear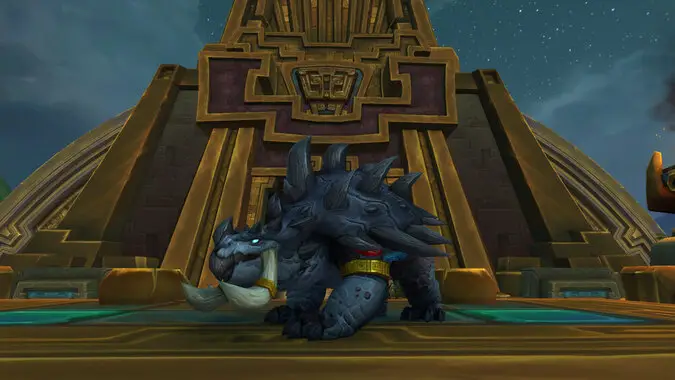 I love my Dinobear. I very nearly turned myself into a Highmountain Tauren, they have moose antlers after all. As a Canadian, it felt like something I needed to have. But then they showed off the Dinosaur forms and I had no choice. I had to be a Dinosaur.
But enough about how Dinosaur Druids are the best. It's time for — The Queue.
---
LUOTIANX HAS GOT TO FOLLOW THE LOVE
Hubby and I finished leveling our LF pallies. Now I'm not sure what we should do. 
I know I just said I wasn't going to talk about Dinosaur Druids are the best, but also they're the best and the people need to know!
Zandalari Druids.
They've got dinosaur Druid forms and sweet golden tattoos! Plus they make whatever armor they're wearing look amazing. And there are four different specs to play so you can always fill any role in any group.
I may be a little biased.
---
KALCHEUS THE FLUFFY DOESN'T FIND IT EASY TO DO
On a scale of "Quitting the Game" to "Becoming a Supervillain Who Does Nothing But Plot the Eradication of World of Warcraft from Human History", how angry would you be if the reason the machinery of death is broken is Me'dan? 
That would be one heck of a surprise. Although if he's been stuck in the Shadowlands that could explain why we haven't seen him at all in the game so far. He was too powerful and had to be banished lest he brought ruin to Azeroth!
I've only ever read the wiki about Med'an though, so I don't really have strong feelings about him. He's a little silly of a character, but so is Malfurion and people tolerate that doofus. So unless Med'an shows up and instantly solves the faction conflict, defeats all of the Voidlords, and makes peace between the Goblins and the Gnomes — I'll probably still play. But I'm hurt that you don't think I might already be a supervillain.
We're all still missing the most obvious answer for who broke the Machine of Death — Nomi. He died in a tragic cooking accident involving molten lava that he thought would make his noodles the species in all of Azeroth. But when he arrived in the Shadowlands he tried it again, and managed to break everything! Four expansions later he's still causing havoc.
---
6K DOESN'T FIND IT EASY BUT WE'VE GOT TO FOLLOW OUR LOVE
QftQ: Is Elune a void lord of the light? Yes or No.
She's a lord of Light who lives in the void, but I don't think she's a Voidlord. I know that her being a Naaru is one of the theories but she's always felt more like a Titan to me. I don't think she was cool with the hands-off approach the rest of the Pantheon was taking, so she stuck around to watch over the Night Elves.
---
GLOWING METEOR CARROT ALWAYS HAS SO MUCH TO SAY
For all of the various giant spiders and spider people scattered around Azeroth, I can't help but feel that there is an extreme lack of spider mounts 
It must be because spiders are super hard to train. Have you ever tried convincing one to do anything? It's impossible! And those are just regular-sized Earth spiders. (Note: Australian spiders may not be regular sized. Exercise caution when trying to train.) Azerothian spiders are much bigger and hungrier. It's probably taken all of this time to find someone crazy enough to actually attempt mounting a saddle on one of them.
So far if you want to ride a spider you're limited to the 2 million gold one from the Dalaran vendor — but good news! There may be some more spider mounts coming. Early datamining found a pair that look to be PVP rewards. It's not a spider in every stable yet, but we may be on our way!
---
RJAGODA WE'VE GOT TO RELOVE RELAX RELOVE RELAX
Can you coin the mount from Mythic Freehold, or did I just waste one?
You might've just wasted one, sorry.
As far as I remember the only mounts that have a chance to be coined are the ones from the Pandaria world bosses — Sha, Galleon, Oondasta, Nalak. A million years ago there was an official Blizzard statement to that effect, that also made mention that it wasn't possible to bonus roll the Astral Cloud Serpent that dropped in the Mogu'shan Palace raid. But it's been so long that I can't find the source on that — it could be apocryphal.
---
SIMPLY FIND A SIMPLE JIN THAT TELLS US STEP BY STEP WHAT TO DO
Q4TQ: For the Jaina mythic mount drop, is it personal loot like everything else? Like do just two random people in the group get the mount in their loot pop-up? Just curious. Thanks!
The Glacial Tidestorm that drops from Jaina drops out of the chest at the end. When you click the box if you're one of the lucky two people that gets it that run it'll be there to loot for you. It won't just pop into your bags like the G.M.O.D. from Mekkatorque or the Antoran Charhound from Argus do.
It's possible that the Tidestorm was tradable to other players in the group who were eligible for loot from that Jaina kill. But I didn't take the time to double-check that before learning it. I can confirm that even the times that my group did her with less than the full 20, that she still dropped two of the mounts.
---
AND IT BOILS DOWN TO — ENO
Rossi, I've played 28 hours in AC: Odyssey and so far I like being the "silent assassin." I'm assuming you liked to be the warrior more often and had a "bring it on" attitude? Also hope your eyes are okay.
I am also not Rossi. Nor am I Liz. It's shocking I know.
But I'm totally in the same boat as you Assassins Creed: Odyssey wise. My favorite thing to do while playing it is cackle maniacally as I break ships apart with the Adrestia. But my second favorite thing to do is to find a nice unsuspecting fort, and just proceed to dismantle it piece by piece from the shadows. I've pieced together a beautiful set of armor focused on maximizing assassination damage and I just creep around the edges picking off guards left and right. It feels so satisfying to be standing in the middle of the fort surrounded by fallen enemies, all without any of them having been aware of my presence until I jammed the Spear of Leonidas into their neck.
If I do get spotted, well that's what Hero Strike is for.
Today's Anna Earworm™: Relove/Relax
The video is too good not to embed. Have an excellent week, be excellent to each other, and leave lots of excellent questions for Anna tomorrow!