The Queue: The gibbering of the void beckons to you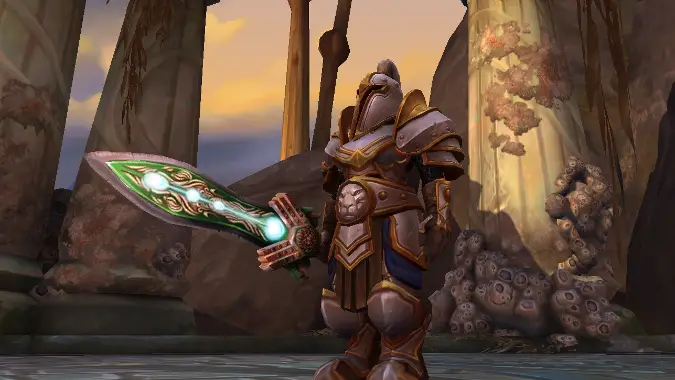 Just wanted y'all to feel comfortable.
This is the Queue. They sleep, but do not dream, and cannot die.
---
I NEED CAPTAIN ROXXII TO QUALIFY IF THE RANK IS NAVAL OR NOT
Quick question for anyone who has dabble in ret this expac. Is there any situation you find it more helpful to spec Consecration than Wake of Ashes?
Nope, sure isn't. My Pally has been using Wake of Ashes since it was an Artifact Power and I don't imagine any situation where I'd swap it out for Consecrate. Maybe for farming low level content? Even then I'd probably rather have Wake of Ashes.
---
ANNE DROPPED IN FOR A VISIT AND A TRANSMOG QUESTION
Q4tQ: Which piece of NPC-only gear do you REALLY wish you had for transmog? You can top three if you can't decide on just one :D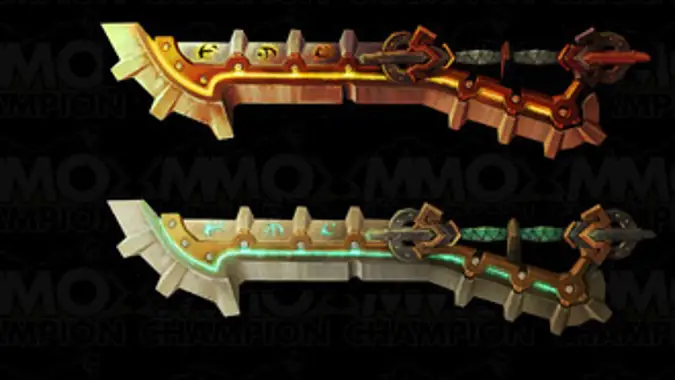 These guys.
When Ulduar came out, there were all sorts of art previews for the raid, showing off all these cool weapon models… and then this sword ended up not being one players could get. It's on mobs you fight, but that's it. I have wanted this sword ever since.
They introduced an Artifact Appearance for Arms Warriors that looks like it's in the same family, it's the one you unlock doing Balance of Power. But it's not quite the same, and I want this one more.
---
SILVERKEG ASKS A QUESTION I HAVE ANSWERED IN A PREVIOUS ARTICLE
What's the best dinosaur that ever lived in Canada?
This.
---
MAALIN ASKS ANOTHER TRANSMOG QUESTION
Good weapon for a dark iron BM hunter? I'm going for black/red/gray. Something firey would be nice. Also, preferably something not from current raids because I don't think I'll get her there. I did find out you can't put the firey enchant transmog on a gun so I can't even do that.
If you want a bow, Heartstriker from Broodlord Lashlayer in Blackwing Lair.
If you want a crossbow, Ashjre'thul, Crossbow of Smiting. Also drops in BWL, from Chromaggus.
If a gun is what you crave, then I recommend the Bronze Blaster from Murozond in the End Time dungeon.
---
ELAINE DE SHALOTT ASKS ABOUT ARCHAEOLOGY IN SHADOWLANDS
Does the fact that there is no archaeology profession journal mean anything is happening to that profession or is it just that they haven't added in the profession yet so they haven't added the journals?
I wouldn't make any assumptions about Archaeology yet. There's going to be months more of Alpha testing, and then the Beta after, and until we're actually told that we won't get more Archaeology I don't feel comfortable making a judgement on it yet.
That said, as a whole the entire profession has ended up feeling pretty unimportant for the last several expansions and I don't know what, if anything, they could do to make it feel more interesting.
---
SPENCER MORGAN ASKS A QUESTION ABOUT DINOSAURS
Q4tRossi: do you think dinosaurs are capable of envy? Does the xenoceratops gaze upon the fandom of the triceratops and think "that should be me".
Both of those dinosaurs are dead. They no longer feel anything.
However, anyone who has ever had modern dinosaurs, aka birds, as pets knows that yes, they have a full range of emotions and absolutely can feel envy.
This is the end of the Queue. Beneath time they devour hope.
Oh, and please, leave lots of questions for Liz? She's a good person and she could use the help.