The Queue: Guest writer here!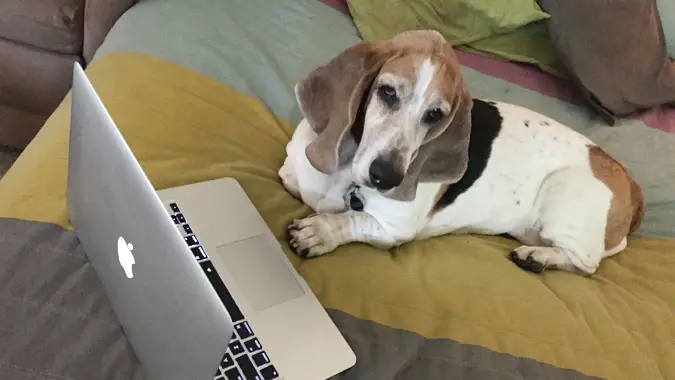 It's Friday, so that means it's time to talk about dogs.
---
SPENCER MORGAN ASKED:
Q4tLiz: what is the proper term for a group of dogs sleeping under the same blanket? I've been using the term "a snug of dogs".
I agree with "snug."
---
HUSSKIES SAID:
I played some Diablo 2 earlier this week. It used to be one of my favorite game ever and I know a lot of people who still play it regularly to this day. And… I hated it. I was prepared for this huge wave of nostalgia and to kinda lose myself in the game for a week or so, but I just felt like "well that game hasn't aged well.. I can't play this."
I still think it was one of Blizzard's best game ever, but I just won't play it again.
There are a lot of people who still play D2, but I'm with you on this one. I tried to re-play D2 a while back and the interface and gameplay were just painful — gaming has evolved a lot in the past 20 years.
That's why I hope Blizzard really is remastering it. Diablo Immortal — which I'm looking forward to — is set between Diablo 2 and Diablo 3, so I'd like to refresh myself on the D2 story. But until then, I'm a hard no on replaying.
---
TETSEMI ASKED:
Q4BW & The Queue – What class in WoW, if any, seems better in the descriptions of it in game and the novels, as opposed to how it actually plays in game, and conversely, which class plays better in game, than in the descriptions of it?
I'm not very familiar with the novels, and the class descriptions are so vague as to easily fit nearly anything. But I have to say that the cinematics send some seriously inaccurate messages about gameplay.
Sure, okay, Jaina is a really powerful Mage, but her flying around in a ship and shooting arcane cannons with a thought is an amazing experience at actual player Mages will never get close to.
On the other hand, Anduin resurrecting a field of soldiers… yeah, okay, I can do that too, not a big deal.
---
SPEEDLANCER ASKED
Q4tQ: Is there an option in WoW somewhere to stop the game from truncating speech balloons? Tired of doing new quests or old quests I wanted to follow along with, and having to look at the chat window to get the rest of NPC conversations.
I'm afraid you're going to be stuck with looking at the chat box. I even pocked around for any addons that might do this and found nothing.
You could move your chat panel somewhere more central, but that's all I can think of.
---
ROXXII ASKED:
Q4TQ: What is the first deck you are trying? I am pimping out my Highlander Shaman with new toys
I started with pure paladin — it's not really that different from the pure paladin deck I was already running, but with a few adds like First Day of School, Goody Two-Shields, Devout Pupil, and High Abbess Alura. Play is basically the same, but with a few new tricks.
I toyed with building a number of different decks, but that's the only one I played today — I had fun with it!
---
ELAINE DE SHALOTT ASKED:
Any of the Hearthstone people know when we will have to rebuy the Battlegrounds pass? My Ashses of Outland one still seems to be good but I want to make sure I keep enough gold available.
They only last the duration of one expansion, so if yours is still working it's either a bug or they haven't updated any text to reflect the latest rules. However, if you bought the larger pre-order bundle, a Tavern Pass is included.
---
GLOWING METEOR CARROT ASKED:
Based purely on their powers over nature, would a Druid be a better gardener than a Shaman?
A Druid can literally control plants and make them grow from nothing. A Shaman can move earth around or make it rain. I'd go with Druid here, but really teamwork is a far better solution — the Shaman clears out a good level space full of rich soil and makes sure rain falls regularly, the Druid handles the actual plants. That's a perfect garden made to order.
---
CORY ASKED:
Q4tQ: What's your favorite way to play Mass Effect, and why is it Biotic Charge?
This is a completely ridiculous question, Cory. The answer is obvious: there's just nothing more fun than hurling yourself around the battlefield at high speeds, and shoving a shotgun at anything that gets in your way between cooldonws.
Oh, yeah, I'm replaying Mass Effect, because it's 2020 and this is basically the video game version of comfort food.
That's all for today my friends. Remember to be kind to yourself and others, and take some time out to pet your dogs, cats, reptiles, and/or other favorite pets.
Have a good weekend, everyone. And if you can't have a good weekend, try for the best weekend you can have.