The decks you need to win the Blood Magic Standard Hearthstone Tavern Brawl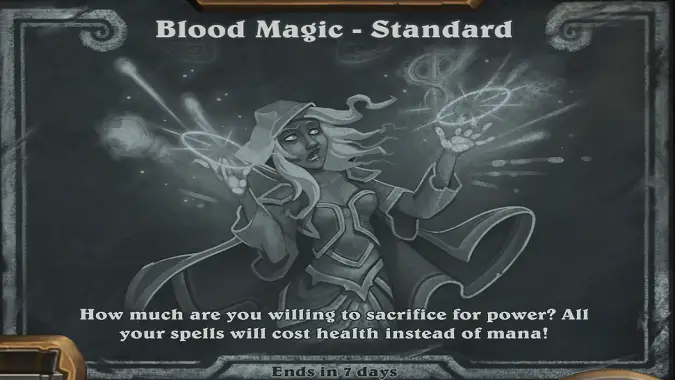 Blood! Blood! Blood! No, it's not G'huun. It's the Hearthstone Blood Magic Standard Tavern Brawl. Wild blood is no good this week. Only Standard blood will satiate our Hearthstone masters.
Tavern Brawl basics
Name: Blood Magic – Standard
Description: How much are you willing to sacrifice for power? All your spells will cost health instead of mana!
Fun level: 7/10
Difficulty: 8/10
Replayability: 5/10
Format: Standard
Type: PVP
Deck: Constructed
Rewards: 1 Classic pack
This Brawl is a slight tweak to the Blood Magic Brawl last seen in the summer of 2018. For 2020, "standard" got added to the name and only cards in the current Standard pool are valid for this incarnation of the Brawl.
This is a Constructed Brawl so the overall size of your collection will matter. But we're also fairly early on in the Scholomance Academy expansion so how many Scholamance Academy packs you've opened will matter almost as much.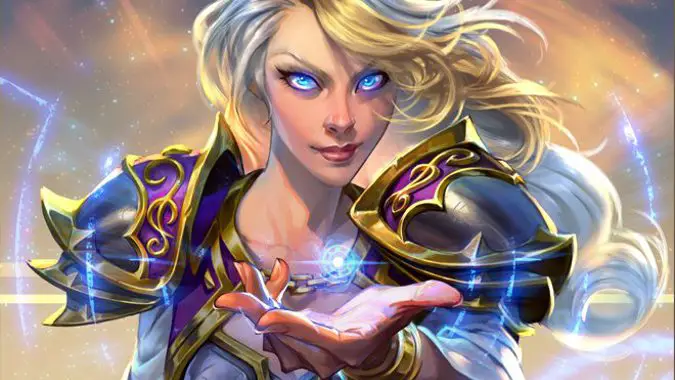 How to win Blood Magic Standard Tavern Brawl
Since spells cost health instead of mana, you can cast several powerful spells immediately on turn one. Of course, it'll hurt your life total so you have to strike a balance between staying alive and casting spell to either build your board or deal damage to your opponent and their minions.
The most important thing you'll need to win this Brawl is a good deck. In Constructed Brawls, players discover the most powerful lists very quickly, which leads to the Brawl falling into a meta structure like we see on the Ladder.
Here are some winning decks to try out:
Conjurer Mage
Deck Code: AAECAf0EBnGuA8sEoaEDjLYDgb8DDIQBuwKrBO0E8wyDlgO2mAOgmwPypQPexAP4zAOk0QMA

I'm rather proud of this home-grown Conjurer Mage I made. You want to mulligan for Power of Creation and Conjurer's Calling. Look for Deep Freeze if you're facing a Demon Hunter
Burn Mage
Deck Code: AAECAf0EBKAFnpsDzp0Dgb8DDa8BuwK0BO0ElgW/CLmYA5+bA/WsA8G4A4XNA83OA/fRAwA=
Throw everything you can at their face and burn them down before you die.
Blur Demon Hunter 
Deck Code: AAECAea5AwSEwwPZxgOC0APN0gMN17sD5rsD4LwD98MDusYDx8YD1MgD1cgD/MgD78kD8skDxtED29MDAA==
Alternate Deck Code: AECAea5AwAP17sD4LwDjb0D2cYD1cgD78kD8skD0c0DgtAD1tEDzNIDzdID1NID29MD+dUDAA==
Both decks abuse Blur, which prevents you from taking damage from any other spells you cast that turn. Once you're protected, load up on damage like Twin Slice, Chaos Strike, and Inner Demon.
Wide Druid
Deck Code: AAECAbSKAwTBBMOUA5LNA/XOAw1fhQa5lAPPlAPKnAPIogPbpQPvugObzgO60AOT0QOh0QPe0QMA
Guardian Animals once or twice, depending on how risk-averse you are. Buff with Survival of the Fittest. Druid has access to more healing than Mage with cards like Overflow.
Boar OTK Druid
Deck Code: AAECAZICAA9flwHBBIgF5gWFBrcGmgi5lAPIogPbpQP8rQP5tQPlugPmugMA
Play your Stonetusk Boars and buff them with Mark of Nature and copy them with Germination, and Savage Roar for a massive damage burst.
Libram Paladin
Deck Code: AAECAZ8FAA/6AaMCswPSBK8HlgnyC7SbA4acA8OkA+q5A+u5A8rBA9LRA7vUAwA=

Use Commencement, or Duel to get your Judious Juror on the board. Proceed to buff the Juror and take the victory.

Alternate Deck Code: AAECAZ8FAA9GowLSBK8HlgmKmgO0mwOWrAP9uAPquQPruQPKwQPLzQO/0QPg0QMA

This is another version of LIbram Paladin with more minions. Mulligan hard for Libram of Hope.
More Blood Magic Standard lists
I'm rather proud of myself for coming up with a deck on my own that went 3-0. Deck building is not usually my strongest skill in Hearthstone. Hopefully, one of these decks listed here should get you the W. Keep checking Hearthstone Top Decks, because there are more Tavern Brawl decks being added by the hour. If you find another great list, share it with us in the comments.
Overall, this is an interesting Brawl. You get some powerful turn one plays and it's not unusual for the games to end before turn five, so if you need gold for more Scholomance Academy packs, this is a good week to farm. Good luck getting this week's Classic pack.