The Queue: Through the Roof of the World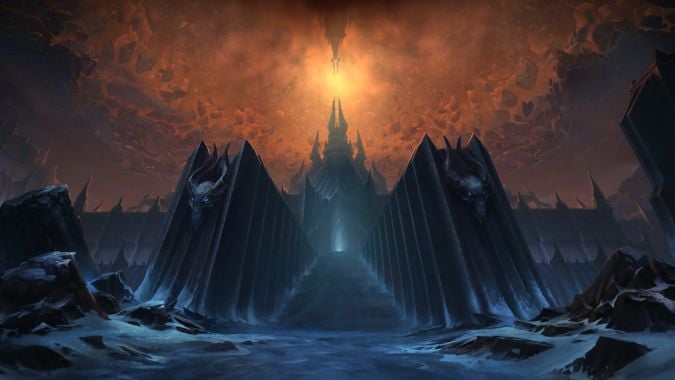 It's been a long while since I've actually been at the login screen in WoW long enough to hear much beyond the first few notes. But I gotta say, the Shadowlands login music is worth listening to. Also, the title is fantastic.
Give it a listen while we Queue?
---
CRTH WONDERS WHEN WE'LL KNOW THINGS:
Q4tQ: Do you think we'll get a prepatch release date with the Ardenweald short Thursday? I'm a little surprised Ion didn't mention it in the developer blog.
I was initially thinking we'd get the release date after the final Afterlives short, but then I saw that we've gotten these sorts of announcements 12 days in advance before. I'm still banking pretty heavily on the patch releasing September 22, which puts the chances of a release date announcement today very, very high.
There's always the chance Blizzard either 1) releases the patch on the 29th instead or 2) doesn't give us more than 5 days to prepare. However, those both feel less likely than the first scenario.
---
KKYLE CHEESES GIVES ME A BUNCH OF OPTIONS TO PICK FROM:
Q4tQ: What are you most excited about tomorrow?
1. Ubisoft Forward
2. Afterlives: Ardenweald
3. The Return of Professional American Football
4. Other (include in the comments below)
Of that list, the Ardenweald short for sure. I'm also just generally excited that we're one day closer to the weekend, but that's a normal Thursday thing.
Next Thursday, however, I will be gushing over how close we are to Mario 3D All Stars releasing. Legitimately one of the most exciting releases all year for me.
---
SPENCER MORGAN HAS TO PAY A MITCH COIN TO GET ON THE MAGIC MITCH-BUS:
Q4tQ: what will we learn on the Magic Mitch-bus tomorrow?
You'll learn the value of a Mitch Coin. You'll als̢̍ó͜ ͍̎l̬̽ea̞͡r̛̞n̹̓ ̚͜ho̤͛w ̗̿̚͜t͙̲͛̃o ̢̈c̜̕o̗͌m̫͉̔̾̀͜p̙̅le͎͈̾͆tȩ̬̘͊͂͊ ̗̯͘͝T̮̿h̩̎ę̐ R̖͞i̛͓̯̥͛̉̅̈͟ͅt͎̫͚̖͍̏̉̎́̈́u̡̩̺͖͋́͐̓͜͝a͎͙̫̥͋̓̇̔̚ͅļ͇̘̞̹̔̈́̀̔̂.̨̧̭̮̼̑́̃̒͠
---
MISTAH JAY [NOT A MOD] ASKS ABOUT THE FOUR HORSEMEN OF THE ALPACA LIPS:
Speaking of The Horsemen (thanks Elaine de Shalott )
Q4tQ: if the DK Horsemen are equivalent of the Biblical Horsemen (Death, War, Famine, Conquest) or the popular media depictions of them (Death, War, Famine, Pestilence), which Horseman is which?
I think by "DK Horsemem" you mean the new ones, so I'm gonna go with those ones.
Darion Mograine: Death
Sally Whitemane: Famine
Thoras Trollbane: War
Nazgrim Lastname: Conquest
The only one that doesn't quite fit to me is Famine with Whitemane, but sometimes ya just gotta work with what ya have.
---
ROXXII ASKS IF WE'VE KILLED HOPE:
Is #PullTheRipcord officially dead with the new Dev Update?
Officially? No. There's always the chance Blizzard changes their minds in 9.1.
But practically? Yes. There aren't too many times where Blizzard flat out says "we ultimately do not share that view [with the players]," so them doing so speaks pretty strongly of how likely it is that Covenants will change to the degree wanted by the #PullTheRipcord campaigners.
Now, I'm guessing we'll get adjustments throughout the expansion, but the changes outlined in their blue post seem to be aimed at compromising as much as possible. Maybe — and that's a strong maybe — the ripcord plan has been in place on their end so they can modify Covenants when 10.0 comes around. But for all intents and purposes, I believe #PullTheRipcord is dead.
---
MOVEWOW ALSO ASKS ABOUT COVENANTS AND BLIZZARD'S PLANS:
Q4tQ: I've been very impressed by Blizzard listening to player feedback for Shadowlands. But when it comes to Convents they don't seem to want to budge. Which has lead me to put on my tinfoil hat ask why. My out there theory is that later in the expansion they want all of the players to come together with their different Covenant abilities to beat the Jailer. Besides that idea what other ones can you come up with? Will Covenants replace Factions and allow all players group together for content?
The thing with that TFH is that it still technically contradicts everything they've said about Covenants, which is that it should be a personal choice that fits your character. Yes, one Covenant will probably be better for throughput. But if, after all of this "it's your identity" stuff they've been talking about, them suddenly making a raid team need to have at least one of each Covenant feels like the antithesis of letting people pick whatever they want.
I guess I don't really have a TFH theory as to why they're so adamant. Truthfully, I like the idea of choices feeling meaningful and having a roleplay aspect to them. I'm excited to go with the Maldraxxus Covenant because it's what feels right for my character. I haven't looked into anything beyond that, because frankly, it doesn't matter to me. I am going to be a Maldraxxi Shadow Priest, and I'm proud to be able to say that with certainty that doesn't come from a DPS meter.
Ultimately, I think that's why Blizzard won't change things. They want to keep the "RPG" portion of MMORPG in the game and had to draw a line somewhere — even if that line doesn't fully mesh well with the "MMO" portion of MMORPG.
---
GLOWING METEOR CARROT ASKS ME SOMETHING ABOUT SYLVANAS I'VE GENUINELY NEVER THOUGHT ABOUT:
Do you think we will see Sylvanas with her hood down at any point in the expansion? Do you think she's hiding something behind her hood?
Uhhh… Probably not. But it would be cool! Maybe she's hiding a reassuring arm behind there.
The Q&A below is going to discuss potential spoilers for Shadowlands and Aredenweald. Skip to the comments if you don't want to see it.
---
RED [ACTUALLY A MOD] ASKS ABOUT DREADLORDS:
Q4Mitch: which character do you think is most likely to secretly be a Dreadlord, and why?
I know this is at least partially rooted in a joke, but the Dreadlords are super interesting to me, given the recent (very spoiler-y) Enemy Infiltration book.
It seems pretty clear that someone in Ardenweald is, if not a Dreadlord herself, working with the Dreadlords. And we know that person is woman. I wasn't looking for this sort of thing the first time I quested through Ardenweald, but I'll definitely be keeping an eye out next time. Granted, most of this particular story thread could come from the Covenant questing experience, but hopefully there are some seeds being planted before that.
Maybe today's short will change things, but I think this portion of the Infiltration book refers to someone gaining the trust of the Winter Queen, rather than the Winter Queen gaining someone's trust. Whatever the case, it'll be interesting as heck to see play out… so long as we don't have to wait several expansions for the payoff.
That's all for today! Please remember to tag your spoiler-y comments using <spoiler></spoiler> and be sure to ask lots of questions!