The Queue: HMUFA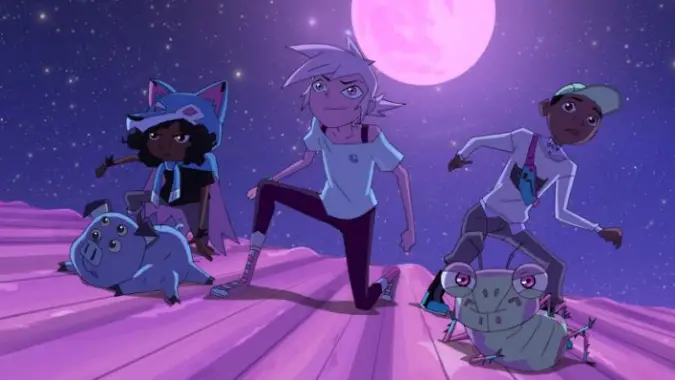 The third and final season of Kipo premiered this week, and it is fantastic. Like, across the board great. I binged the whole thing in one night and now I'm sad it's over (especially because it certainly had potential for a lot more). But! I can at least recommend it to all of you in the hopes that you, too, will be moved by its awesomeness.
Anyhow, that's my Kipo opening. Now it's time for us to Queue.
---
ALEX CLERM WANTS ALL FASHION ALL THE TIME:
Q4tQ: Considering the new cosmetic options seem to be the most hyped part of this pre-pre-patch, do you think we can convince Blizzard to drop us an extra Trial of Style while we wait for the pre-patch events?
If there's one micro-holiday I'd love to see more of, it's the Trial of Style. I'm torn between wanting it to just happen more often and wanting to see what expanding it into something like the Brawler's Guild would look like. Imagine a mini-instance dedicated to looking great and showing off transmog! Especially if it meant more cosmetic rewards.
But to your question: Almost definitely no.
---
ARTHONOS REMINDS ME I DON'T HAVE MUCH TO DO:
Q4tQ: What content are you currently running now that the pre-patch is out? Are you currently raiding or dabbling in PvP? Or are you just running alts through the barbershop and cleaning up your bank in preparations for the actual expansion release?
Uhhh… I logged in, sold a bunch of gear, cleared my inventory a bunch, and then changed my appearance. I don't really know what I feel like doing, to be quite honest. I have two character boosts (levels 48 and 50), so I may use one of those and play around with an alt for a hot second. Overall, though, I'm still taking it easy to prepare for Shadowlands.
Thankfully, I have a boat load of cool Overwatch skins to try to earn now that Halloween Terror is back!
---
ELAINE DE SHALOTT WANTS IT EASY, BREEZY, BEAUTIFUL MURDER ROGUE:
Hmm what spec is easiest for rogue?
It's been a minute, but I've always preferred Assassination, both for leveling and max-level content. I don't know if it's necessarily the easiest, but it's not hard to grasp by any means. And it's fun! So go assassinate things as Assassination!
---
ENO MAKES ME PONDER:
QftQ: What other 'small' locations might you like to see receive a graphic upgrade like Uther's Tomb did in Legion?
Oooh, I like this question! I'm gonna take a little creative liberty and turn this into small(ish) locations I'd like changed/updated in general. At first, I tried to think what location I personally would want to see fixed (rebuild Brill!), but then I remembered I could get practical and say something like, "Fix the giant crack in the Barrens."
That's not what I'm going to do, but I could. I think it would be cool to see Marshall's Refuge make a return in Un'Goro. I'd also go ahead and fix the Raging Chasm in Westfall because oh my Yogg, that tornado has to have stopped by now!
If I could go big, I'd absolutely drain the water from Thousand Needles. Even though I can visit on Classic, I still want it back on modern.
And because I feel bad, if we're talking purely graphical upgrades, let's go with literally anything in Duskwood. That place is full of spooky, and I'd love to see that spooky in even more detail.
---
RJAGODA PROBABLY WENT THROUGH THE SAME CONFUSION I DID:
I thought you could transmog Artifacts regardless of spec. Why can't my Fury Warrior use his flails? Am I doin something wrong?
So, you can… but off-spec Artifacts follow the normal transmog rules where you have to be using a 1-handed weapon to transmog to a 1-handed weapon, and so forth.
This is also why — somewhat frustratingly — off-spec Artifacts don't appear in the "Artifacts" tab when trying to transmog. Rather, they appear in the tab of whatever kind of weapon they are (staff, dagger, etc.).
---
ENO SNUCK UP ON US:
QftQ: Would you be terribly put out if within two weeks, your only warning that the zombie invasion has started is the screaming and crying of players around you? (I sort of think an announcement would ruin a little of the fun of that first night in this case.)
First of all, I'd love that. Second of all, the problem with that sort of event is that too many people would miss the start and be upset about that. Blizz would need to, at the very least, tell people to log in at X time to see something special, but even then, I feel like a sudden, surprising start like that would upset too many players.
Still, I love unexpected things like that. I think if it was still a slow-burn intro like NPCs with new dialog, crates appearing around the cities, etc. then having it happen randomly could totally work. The trick is to be random in a way that no one will miss out.
---
FUZZYBUNNY WANTS TO KNOW WHAT'S UP WITH THE APP:
So, the Companion can't be used?
It will be back up soon, but Blizz ran into an issue and had to make it unavailable temporarily. Note that Kaivax says the app update may go out before the necessary realm restarts have happened, so basically… just give it time.
---
BUTTS AS WELL AS BUTTS AS WELL AS BUTTS AS WELL AS BUTTS AS WELL AS — AHEM. AS WELL AS BUTTS HAS A GREAT QUESTION:
hey, so i guess the curse client is being sold of to the dark lord in the next month or so.
where's the right place to get addons going to be?
Oh, fancy you should ask! We just so happen to have an article covering that exact thing! The short version is that you have a decent amount to choose from right now, with more and more authors trying to create alternatives to stick it to Overwolf. And also maybe because they just enjoy that sort of thing.
That's all for today! I'll see you next week. Go watch Kipo!