The Queue: The Devil you say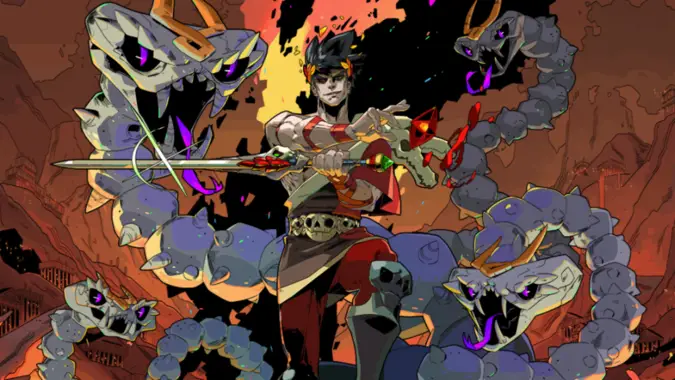 When I started grabbing questions on Friday I was pretty sure that I knew what I was going to talk about here. My Warlock was finally on the final stages of the Legion Order Hall, and I was going to push through that over the weekend. But then my favorite Mage friend got me a birthday present — Supergiant Games Hades. Folks, it's fair to say that I haven't been this captivated by a game in a long time.
I've played a few Roguelike games in my time, and Hades has blown them all out of the water. The pacing of the story and progression is so well tuned that I've never felt angry at dying while trying to escape from the Underworld. It just means that I'm on my way back to see Ms. Dusa and pet Cerberus. It also means another chance to run into Eurydice, who is voiced by the incomparable Ashley Barret. Supergiant has made some of my all-time favorite games, and I'm happy to say that they've done it again and then some with Hades. 
While I spend another hour listening to Eurydice sing, it's time for — the Queue.
---
PLEASE ALLOW SIBYLLE TO INTRODUCE THEMSELVES
QftQ: Which boss's voice do you find the most grating or otherwise annoying, raid or dungeon? For example, a lot of people used to hate Sindragosa back in the day. 
Sindragosa is the gold standard for annoying boss voices. I can still perfectly remember her yelling about how my pathetic magic will betraaaaaaaaaaaaaaaaaaaaaay me. It didn't help that my guild at the time was having a bunch of problems getting her down so we spent a lot of time hearing that. XT the deconstructor ranked pretty highly back in Wrath of the Lich King too.
More recently King Mechagon takes the prize for his "You cannot elude my targeting sensors" as he's lining up his laser attack. I heard that too many times while I was trying to do the hard mode. It's etched into my brain now.
---
MOVEWOW IS A MAN OF WEALTH AND TASTE
Cake donuts or raised donuts? Dunking your donuts or not dunking your donuts? For me if it's cake donuts I dunk them. 
I love all donuts! If there were two equally delicious looking donuts put in front of me and the only difference was how they were prepared. I would probably choose the cake one. But it's only by the slimmest of margins.
I'm not really a fan of dunking my donuts. Too many crumbs get in my coffee.
---
ARTHONOS HAS BEEN AROUND FOR A LONG, LONG YEAR
If Legion got demon invasions, and BfA got faction assaults, what do you think will be added to Shadowlands? 
I bet we'll see Covenant conflicts. Every 18 hours one of the Covenants will launch a raid on one of the other ones. Venthyr running amok in Ardenweald, Kyrians assaulting Maldraxxus — that kind of thing. If you're one of the two Covenants involved with the conflict you can get bonus buffs for extra damage or healing.
If we get something similar to N'zoth assaults too I want it to be Veil ruptures. The Veil between Azeroth and the Shadowlands has been weakened in the Eastern Plaguelands, everyone rush over there and stop the Jailer from causing too much havoc. Ideally with a better portal system to get to whichever zones they wound up being in and better quest hubs. I'm looking at you Black Empire Vale assault.
---
NULGAR STOLE MANY A MAN'S SOUL TO WASTE
Who is your favorite Overwatch Hero, and why is it Roadhog? 
Pharah!
Junkrat and Roadhog are close though. I just love the flying, rocket launching, aviator wearing badass that is Pharah so much. All of her attacks having splash damage helps with my poor aiming too. I can put rockets in the general vicinity of people and that's good enough! Plus Barrage is definitely the best ultimate in Overwatch. Sorry, Rip-Tire.
Play nice, play Pharah.
---
ROXXII KILLED THE CZAR AND HIS MINISTERS
RIP my Hearthstone questions 
I'd answer your Hearthstone questions as long as they only involved Battlegrounds or the various cinematics that came out! Here's an easy one for you — Q4tQ: What is the best Hearthstone song?
I think that the best official song that came out in a trailer was the Rastakhan Rumble song. It's got those Troll drums that I love so much. The Madness at the Darkmoon Faire trailer is pretty high up there though. I love the spooky lounge singer vibe, and I especially loved all of the Old God stuff. As always the best non-official song is Ben Brode rapping about Arthas.
---
MUSEDMOOSE
Q4tQ: why do we not have giant anteaters in WoW? I just watched this and I want one as a hunter pet so much now. 
Not enough giant ants for them to eat.
---
IS THE NATURE OF FUZZBUNNY'S GAME
Q4tQ: Do you think Blizz may extend the Rep bonus through the end of November? 
Man, I hope so! They've already extended it once though, a second time might be a bit more of a stretch. I'm guessing there's a 35% chance that we get the buff extended.
But it could depend on when they're trying to get Shadowlands out. If we're not going to see it until the beginning of December then I'd really love that extra rep for November. That's so many extra Paragon caches to earn!
Today's Anna Earworm™: Sympathy for the Devil
Have a great Monday everyone! Make sure you leave Anna lots of great questions for tomorrow!