The Queue: Cookies!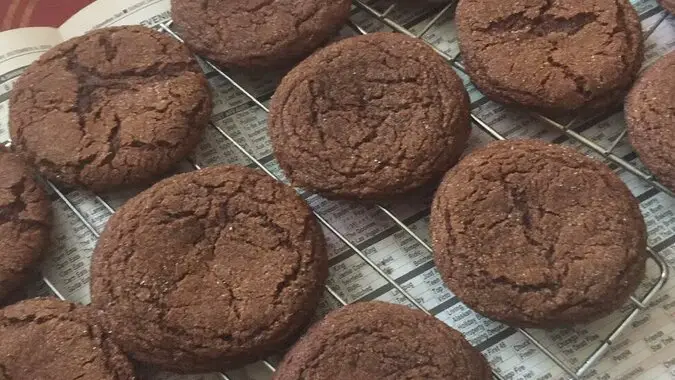 I made a bunch of cookies this weekend! I'm not a super great baker, but I'm very happy with how these Ginger Molasses cookies turned out! My favorite part of the holidays is less the baking of the cookies and more of the eating of the cookies though. Good thing it's that time!
While I pig out on another six of these, it's time for — The Queue.
---
RED'S A FRIEND OF MINE, WE MEET UP EVERY TUESDAY NIGHT FOR DINNER AND A GLASS OF WINE
who is best dragon
– Alexstrasza the Life-Binder
– Ysera the Dreamer
– Chromie
– Kalecgos
– Wrathion
Despite the glaring oversight of not having Brightwing on there, I voted for Alexstraza. You can't go wrong with the standard Red fire breathing Dragon. I would've also accepted Deathwing. I love his big dragon-y butt. Moreso that he's in Heroes of the Storm. I didn't use to like him as much but actually getting to play as a giant fire-breathing, world-destroying, super-armored Dragon is pretty fun. Who knew?
But Brightwing is the best little murder loving Faery Dragon this side of Azeroth.
Here's the poll link if you haven't voted yet.
---
I THINK JAXDADDY DID IT BUT I JUST CAN'T PROVE IT
Repeating from the last Queue because I'm genuinely curious. 
QftQ: Does the hidden cave accessible from the Deeprun Tram tunnel actually exist or is it an urban legend? 
I want to believe.
I did like the theory that it's just a personal playground for a dev to test out implementing new NPCs. But what if it goes deeper than that? What if it's actually the latest project for the Secret Finding Discord? It's out of the way enough to make for a great starting point. There are multiple NPCs to interact with there, that could each require some equally obscure piece of loot from halfway across the planet. It's probably something awesome like how we get a cool Plesiosaur mount and Blizzard has been leaving us clues since Vanilla about how to get it. Any time something is added is just them giggling to themselves that we haven't figured it out yet — surely just one more clue will break the case wide open.
If it does exist that is. Which it may or may not.
---
ENO AIN'T LETTING UP UNTIL THE DAY HE DIES
Are we gonna unwittingly free the Jailer just as we freed N'zoth? 
I don't think we'd see the "unwittingly free the big bad" card again so quickly. But we may see the "make a hard choice for a long term chance at victory" where we free the Jailer knowing that if we do he'll be distracted by his interdimensional rampaging and we can work in the shadows to ransack his fortress. Think of how much more stuff we could take out of the Maw if we didn't have to worry about his eye always on us!
Or maybe by freeing the Jailer he leaves his seat of power and is suddenly vulnerable. Amazingly powerful and capable of great destruction, but now that he's no longer in the Maw we can actually hurt him.
---
ARTHONOS HAS CLEANED ENOUGH HOUSES TO KNOW HOW TO COVER UP A SCENE
Q4tQ: How much would it screw up the meta if for PvP all interrupts were changed to only cancel the spell being cast, and did not lock players out of that spell school? This change would just be for PvP, all interrupts would work on NPCs exactly as the do now. 
I managed to get my 4 BG wins for the weekly quest, but it is super frustrating as Shadow to get kicked and have to wait 5 seconds to try casting again, only to immediately get pummeled and then have to sit there waiting again. Some encounters I can't even get a single cast off and just have to rely on instant spells. 
It'd be night and day different. Healers and casters would be free to throw spells to their heart's content. Especially with interrupt timers as long as they are. Mages would just hard cast Greater Pyroblast at you. Worst case, you interrupt it and they can pivot to popping Combustion and getting full value — best case, you let the Greater Pyroblast through and they wind up another.
Healers might become unstoppable again.
---
NO THERE AIN'T NO DOUBT, SOMEBODIES GOTTA CATCH MAALIN OUT
Q4tQ: If you could change just one thing about one of the Shadowlands systems, what would it be? While there are plenty of things I'm disgruntled about, I think I would add soul ash rewards for partial Torghast runs with the weekly cap just being a number (ideally the amount you might have gotten to date so people could catch up). That way there would be at least some reward even when that last boss kicks your behind. People with less skill / poorer gear / low interest could run the easy floor over and over. People who like Torghast could challenge themselves with the harder stuff that pays more ash in one go. 
Partial Soul Ash would be nice. At the very least some Anima or something for a failed run. It's a rough feeling knowing that you spent the last however much time climbing the tower and didn't get anything for it.
Personally, I wish that the dungeon legendaries were guaranteed drops. If you go into the raid, they're guaranteed drops, world bosses are guaranteed drops, vendors will always sell you their legendary, Torghast floors three and above are guaranteed drops. So why aren't dungeons? It just lead to a bunch of degenerate gameplay where people would just drop from groups as soon as the boss that has their power is dead, or sending five Druids in to kill the first boss over and over and over until they get their drop.
It would've taken the sting of getting an offspec legendary power out too. I know that I wasn't alone in my confusion when the first legendary memory I got wasn't for my current spec. In fact, it took me until the fifth power I looted to actually get one for Guardian. I get it now, they all have specific drop spots, but at the time it was a little bit frustrating.
---
NO GALDWYNN, NO CRIME
Q4tQ: How important is bait for Shadowlands fishing?
For general all-purpose fishing? Not that important.
But if you want to make gold hand over fist — or provide the most surprisingly palatable feasts this side of the afterlife — by selling the fishes that people need? It's pretty important! Putting bait on gives you approximately a 90% chance to catch that fish — no pool required! So if you're trying to sell enough Elysian Thade to fund your next month of game time, it's time to put a worm on that hook.
You wouldn't want to be a poor lost sole, would you?
Today's Anna Earworm: no body, no crime
Stay warm out there folks! Don't forget that there are only 11 days until Christmas, maybe give Anna an early gift of some questions for the Queue tomorrow.