The Queue: Tarra-gone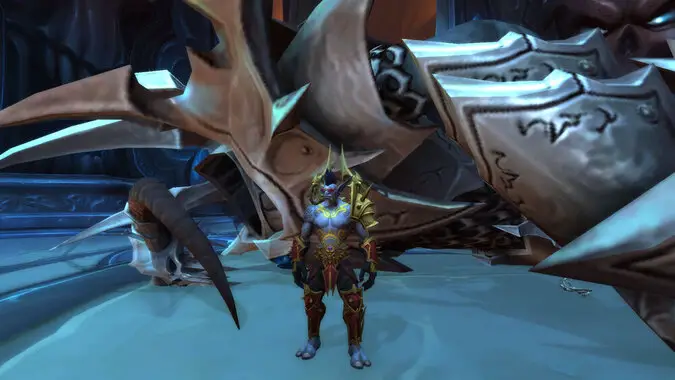 I have conquered the mighty Tarragrue! My guild got our first kill in Mythic Sanctum last night and it feels good. I just wish that every Tarragrue victory didn't involve me being dead on the floor. I can actually survive a couple of hits on Normal difficulty, but it's just too strong on Heroic and Mythic. That last 10% enrage it gets winds up killing me almost instantly– even through my cheat death trinket from Kael'thas, and that guy knows a thing or two about cheating death!
We still haven't gotten to the last bosses on Heroic though. Mythic Tarragrue wound up taking us fewer pulls than Heroic Fatescribe did! By the time we finished it off tonight, there was no raid left to go introduce ourselves to Kel'Thuzad. I've got a good feeling about next week though…
While I spend the next few raid nights killing Kel'Thuzad over and over and over again and watching him still keep coming back, it's time for — The Queue.
---
OH BOVEN WHITEHOOF, I'M IN FEAR FOR MY LIFE FROM THE LONG ARM OF THE LAW
Wow. The "I can see my house from here" achievement is a pain in the tail. It took us longer than any other achievements so far and didn't even involve bosses or real mechanics.
I remember that one, there was some definite confusion when my group did it on how many orbs there were, and who was doing which orb. We had to do a couple of flights before we managed to get all of them in the same go.
The achievement from the Glory of the Shadowlands Hero that I most disliked this time was the last one in Sanguine Depths — Kaal-ed Shot. An achievement that you can only attempt once, that requires re-clearing the entire dungeon to try again?!? No thank you. We had to re-run Sanguine three times in a row to get everyone their dunks. Mine wound up glitching out and killing me on the flight back from the basket, but then when I released my character just zoomed through the dungeon (through the floor and walls) back to Kaal's platform and I had the dunk buff. It was the weirdest thing.
I hope that it went and/or goes better for you and you can show off your new Gorger mount!
---
RED HAS PUT AN END TO MY RUNNING AND I'M SO FAR FROM MY HOME
Q4TQ: The Oribos Ring of Transference has eight exits. Four are used. Do you think we'll see the four unused ones get actual destinations added to them by the time Shadowlands ends?
We're up to six used! Korthia takes one of them, and the Flight Master takes another. I'm pretty sure that the other two could be the next patches destinations if we get more zones to go to as we have in previous expansions.
I know that there was a lot of discussion about whether or not we'd get a patch 9.3 due to the timeline on the first Shadowlands patch. It's tough to say for sure, I know that we've seen a truncated expansion in Warlords of Draenor which let them focus more resources on Legion but I'm not sure if that's the same kind of situation we're in now. I fully believe that Shadowlands was written with three major patches in mind, and with the cliffhanger that we've already seen from the end of Sanctum of Domination, I don't know that they could satisfactorily wrap it all up in just one more patch. There's always a chance that we could end on a to be continued style note in 9.2 with the Jailer getting away to twirl his mustache at us while they work on World of Warcraft: Oops we let the Devil out of Super Hell (working title).
I really hope that we do get a 9.3 though. I've enjoyed my time so far in Shadowlands and I don't want to leave my Venthyr buddies behind just yet. I'd be understanding if that's not in the cards though, full expansions make a lot of money that help to keep the lights on for a lot of developers.
---
BRUIN IS COMIN' DOWN FROM THE GALLOWS AND I DON'T HAVE VERY LONG
I hope to "rejoin" (reconnect) to the BW community by reading and posting more. I have missed you. Work has been obscenely busy.
Wuv,
Bruin.
Hey Bruin, welcome back!!
It's always nice to know that people consider our community one that's worth reconnecting with! I hope that work has been a good busy for you, and not the kind of busy that's got you pulling your hair out.
---
THE JIG IS UP, THE NEWS IS OUT THEY'VE FINALLY FOUND MISTAH JAY
Q4tQ: Does anyone else get the feeling that Arthas is in the Maw Armour that Anduin is wearing and is responsible for Anduin being Mindcontrolled, in the same way Ner'zhul was for Arthas?
I don't think so personally. I'm betting that it's the Jailer exerting direct control. He seems to have the kind of power that would let him do that and still wander around being menacing to the players the rest of the time.
Arthas is one of those characters that really need to be out and about if we're going to see him again. He needs to be someone that is present in the questing and then shows up as a raid fight, or dungeon boss in some way if he's going to still be antagonistic — or as an opportunity to show true growth for Bluther. I'd be more disappointed at his inclusion in the story if he was just an unseen force controlling Anduin until we force him out as part of a potential Anduin encounter in the 9.2 raid.
---
DUTRIMI WHO HAD IT MADE RETRIEVED FOR A BOUNTY
Was it just me or did the chapter of the story this week take significantly longer than previous weeks?
You're not alone in this.
I'm not entirely sure that it was significantly longer than dealing with the Dreadlords in Revendreth or checking in with Tyrande in Ardenweald, I think it just feels longer.
I'll keep this vague in case people haven't gotten to it yet so don't worry too much about spoilers.
We start with a trip to a special Torghast floor to get the macguffin, before having to go to Bastion. Once at Bastion, there are some neat story quests involving a vehicle section and memories. After that vehicle section, we think we've fixed everything and go to the Covenant hall for a conversation with the Archon. At that point to me, it felt like the quest was pretty much wrapped up. We did the things, helped the major character out, and things felt pretty good. Except then we're sent out again to go do another set of four quests before coming back to the Seat of the Archon again.
If we'd gone straight from the vehicle section to the next quest hub section at the Temple of Loyalty it might've flowed better.
---
ARTHONOS SAID, 'GET HIM DEAD OR ALIVE.' NOW IT'S FOR SURE HE'LL SEE ME DEAD
Q4tQ: Are you ok with Blizz repeating zone themes if enough time has passed between versions? And if so, which theme would you like to see again? I'd love to see a new take on an autumn themed zone, considering Azshara wasn't fully utilized in Classic, and then got a heavy does of Goblins in Cata.
I'd like another zone in the throes of Old God Corruption. I know we just got to hang out with them during the end of BfA but I miss all those wacky waving tentacles and eyeballs all over everything. I'm never not going to want those. Maybe we could have an entire zone set inside of one of them, combine a giant cave zone like Deepholm, with a gross fleshy zone like Maldraxxus.
I'd also like to see a nice city-style zone like Suramar. Make the big city the focal point, with outer suburbs to quest in and explore. Maybe it's time to find a whole Goblin and Gnome city that's not necessarily the Mean Streets of Gadgetzan, but it's not not the Mean Streets of Gadgetzan either.
---
NEVER MORE TO GO ASTRAY VERDIGREE WILL HAVE REVENGE TODAY
Q for BWatch: All current tanks wear plate or leather. What would you expect or want from a tank wearing mail, or even cloth?
A cloth tank? I'd love to see something that used barriers to mitigate incoming damage so that healers were healing the barriers rather than the actual hit points of the tank. Maybe a psionic class, so it's all mental wards and giant shiny swords made out of pure willpower that hover around the tank like the Death Knight ability Dancing Rune Weapon. Only bigger and choppier.
Or we could do another transformation tank like Druids, where they have a tank form that makes them bigger and bulkier but underneath they wear cloth armor. Twilights Cultists who shift into a Faceless One form for tanking, and have a melee dps form that just changes their arms into bladed tentacles or giant claws.
If we're talking a mail armor-wearing tank, they'd have to be some sort of Dragon. Really play up the scales aspect, with giant Dragon Claws and elemental breaths. Then Blizzard could finally use a heat mechanic for one of their classes too! You can cast your abilities until you max out your heat bar, then you have to wait to cool down, but you get access to other modified abilities that take advantage of the fact that you're really hot. Like all of your auto attacks burn for additional damage, or you have fire damage reflect.
Today's Anna Earworm™: Renegade
Have a good week everyone! I'll see you all back here next week — same Cory time, same Cory channel.