WoW
Sep 15, 2021 2:20 pm CT
Legion Mage Tower challenges are coming back in patch 9.1.5 with unique new rewards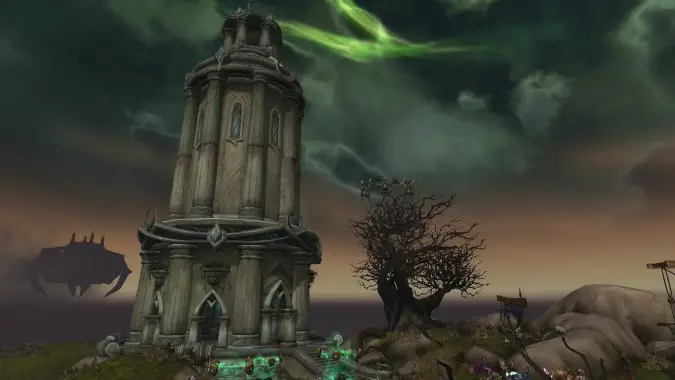 Players have wanted the Mage Tower from Legion back ever since it went away at the end of that selfsame expansion, and now Blizzard has confirmed that Mage Tower challenges are returning patch 9.1.5. We already suspected this would be the case from early 9.1.5 datamining, which included teleport spells that sent players to Mage Tower locations suggested this beloved piece of solo content mode was returning, and that it would be retuned for current player power levels. Now we know it for fact.
The Mage Tower will be available during Legion Timewalking weeks, with the same seven spec-specific challenges from the original:
"Closing the Eye" for Frost Death Knight, Havoc Demon Hunter, Survival Hunter, Subtlety Rogue, and Arms Warrior.
"An Impossible Foe" for Unholy Death Knight, Feral Druid, Fire Mage, Outlaw Rogue, Elemental Shaman, and Fury Warrior.
"The God-Queen's Fury" for Arcane Mage, Retribution Paladin, Assassination Rogue, Enhancement Shaman, and Demonology Warlock.
"Feltotem's Fall" for Beast Mastery Hunter, Windwalker Monk, Discipline Priest, and Destruction Warlock.
"The Highlord's Return" for Blood Death Knight, Vengeance Demon Hunter, Guardian Druid, Brewmaster Monk, Protection Paladin, and Protection Warrior.
"End of the Risen Threat" for Restoration Druid, Mistweaver Monk, Holy Paladin, Holy Priest, and Restoration Shaman.
"Thwarting the Twins" for Balance Druid, Marksmanship Hunter, Frost Mage Shadow Priest, and Affliction Warlock.
During Legion Timewalking, you'll be able to run these challenges as much as you'd like — no word on whether it will require a currency like the original — and won't require you to have acquired an Artifact weapon or any other Legion prerequisites. The original challenges could be quite difficult, and Blizzard is tuning these encounters "with the intention of providing a meaningful level of difficulty to current players."
However, this new iteration of the Mage Tower won't give new players the same rewards, so you don't have a second chance at collecting Mage Tower Artifact appearances. Instead, the Timewalking Mage Tower offers recolored Tier 20 sets, giving players who already did the content a reason to do it again. Guardian Druids, who don't benefit from transmog, will get a new fel variant of the werebear form. (No word on rewards for Feral Druids, however.) And there's one more reward for industrious players who complete all seven challenges across their characters: the Soaring Spelltome mount.
Now, I admit, as someone who didn't know that the various Mage Tower appearances would eventually be transmoggable outside of spec, I'm a little disappointed I never bothered with the original MT looks, and I wouldn't have minded the chance to go for them again. But I understand why Blizzard would rather have all new rewards, and recolored Tier 20 Mythic looks aren't a bad way to go about it… even if that Warrior set never really did much for me and does less in the recolor.
Originally published 9/9/2021, updated 9/15/2021