The Queue: Bearly any remains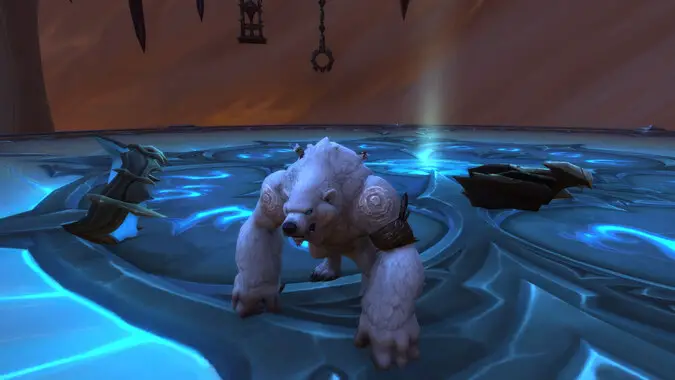 We've killed the Remnant of Ner'zhul once, and hopefully twice by the end of my raid night tonight. I'm always so surprised when it dies and there's practically nothing left. It made it really hard to get a good picture of myself in the aftermath.
Even Soulrender who is up next (and stubbornly refusing to die) will just be a pile of ash when we're done with him. The Jailer should've invested in some more durable minions!
While I go deaf from Garrosh screaming next to me all night, it's time for — The Queue.
---
WELL, RAZWICK TOOK A WALK AROUND THE WORLD TO EASE THEIR TROUBLED MIND
I love being startled when a cat randomly explodes in the near distance. (she sneezed, extremely loudly lol) 
See, this is why I don't feed my cats gunpowder.
Sure they may want it, but it's my job as the owner to firmly establish that no, it will make them explode.
---
MUSEDMOOSE LEFT THEIR BODY LYING SOMEWHERE IN THE SANDS OF TIME
Q4tQ: what video game would you like to see done as another type/genre of game? The idea is to keep the story, style, and lore but have the gameplay be something different.
I wish WildStar had been an open-world RPG (or action RPG) instead of a MMO. If it had been single-player, at least it would still be around so I could enjoy it, even if I was horrible at it. >_<
Like lots of people here, I'd like to see a BioWare-style RPG done in the WarCraft universe. Playing through something genuinely story- and character-focused would be amazing. I mean, we're still following characters and stories that started in WarCraft III, so I feel like this would be a good way to get some new stuff started.
And I still wish for an Overwatch visual novel/dating sim. :P
I'm gonna have to say the Dark Souls series. I want them to be something not as hard, but still ARPG-ish. More button mashy, less slow and deliberate combats. Something more like the first God of War, Devil May Cry, or Bayonetta games. I love their weird weird world, but man am I terrible at playing in them. Same with Witcher 3, I just did not dig the combat and bounced off of it a couple of times.
---
KALCHEUS WATCHED THE WORLD FLOAT TO THE DARK SIDE OF THE MOON
Q4tQ: What's easier leveling for Druids in Shadowlands: Feral or Boomkin?
Of just the two options you gave I think I give it to Boomkin. Their AOE is a little more reliable since it isn't energy-based. Cat's are great at quickly getting one or two things dead, but for more you gotta go with the chicken.
But we all know that the real answer is bear. Yes, you kill one thing slower than either of the DPS specs. But you should try to never just fight one thing. Use that big unstoppable bear butt to pull 8+ things and bring them all down together, pull that group of enemies onto the named quest target. You'll be fine, and you'll finish your quests in 2-3 pulls assuming that the density is fine. Plus, you can go AFK while fighting things and most likely be fine when you come back.
Truly bear is where it's at.
---
IF SJHAWK GOES CRAZY WILL YOU STILL CALL THEM SUPERMAN
Q4tQ: What is the most spectacular and yet unexpected death you've had in game?
Mine came last night in raid.
Normal Countdown, and I am running in, and dead within an Instant as the boss just goes "No" 0.7s into the fight.
Of course, i was outdone on a prior wipe by our DPS monk, who dashed in, cast Fist of the White Tiger and was dead after 0.034s
It's always funny when one of our melee DPS goes in a split second faster than me and even though I'm pulling with Taunt, for some reason the boss just decides to get one auto-attack in before my charge puts me next to them. Splat.
Personally though, back in Firelands, I was playing Feral more than Guardian, and as we all remember Ragnaros hangs out in a hot tub. I definitely used Wild Charge more than once to get close to him, only it puts you on his butt — in the lava hot tub.
---
YOU CALLED MOVEWOW STRONG, YOU CALLED MOVEWOW WEAK BUT STILL YOUR SECRETS MOVEWOW WILL KEEP
Q4tQ: With 'The Great Turkey Wars' are upon us the next question is dessert. Pies, no pies, if pies what flavor pies, or some other form of sugar and butter dessert?
Oh man I forgot about the Turkey wars that Liz left me with last weekend. I was all set to do a bunch of stuff with the discussion until I got distracted by Falrinn. I love turkey, but my folks have always been really good at making a nice juicy bird. Of course for more amateur chefs there are other options out there, like maybe the Colin Furze Turkey Spinner…
As for desserts? Pies all the way. They're the top-tier Thanksgiving dessert. Pumpkin pie is my preferred flavor, but I'll accept any kind of fruit-based pie.
Today's Anna Earworm™: Kryptonite
That's it for me! It just snowed here for the first time, so if you don't see me again for the rest of Winter I'm probably hibernating. Don't forget to leave Anna lots of questions for tomorrow!!