The Queue: Music!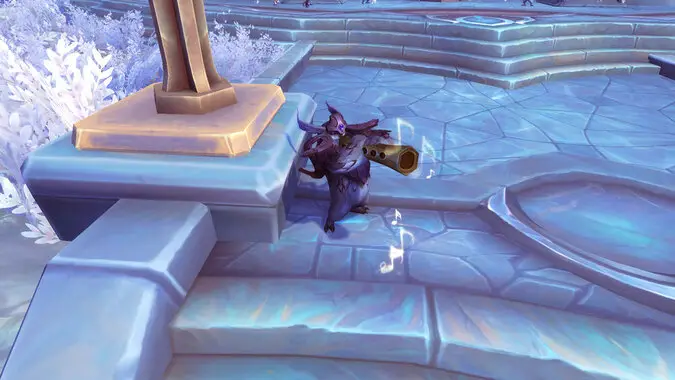 It's a musical kind of Queue today. Of course, all of mine have music, so I guess this is just your average Monday!
While I warm up the band, it's time for — The Queue!
---
MUSEDMOOSE WOULD RUN RIGHT INTO HELL AND BACK
I don't know what class it would fit, but I feel like the game needs a healer who just throws potions at people. Nothing but the sounds of splashes and breaking glass for the whole fight
That sounds awfully like the Goblin Alchemist from Warcraft 3. Although that was more of a spray instead of just throwing the healing potions at you.
I am for it though, it could even be part of the Tinker class! Have the spec play like a fantasy version of Ana from Overwatch, all healing flasks and darts. I really hope that there are large globs of healing goo launched around too. Not enough classes have spells that involve globs of things being yeeted at friends/enemies.
---
ROWSDOWA WILL NEVER LIE TO YOU AND THAT'S A FACT
Would anyone mind if I start posting here again every so often? I don't have much to say about WoW because I haven't been playing it, but I recently moved and have been craving some familiar faces/avatars. I understand if not, but I figured it wouldn't hurt to ask.
The more the merrier, welcome back! I love seeing everything that people talk about in the Queues even if it isn't Blizzard-related. Feel free to ask non-Blizzard questions too, we writers have a wide range of things we're playing and interested in — you never know what will get picked!
---
ARTHONOS WILL NEVER FORGET THE WAY YOU FEEL RIGHT NOW
I appreciate you opening the Queue by discussing your feelings about ME:2s soundtrack, as I read it while listening to the Stardew Valley soundtrack.
Q4tQ: What are your top 3 video game soundtracks? In no particular order and off the top of my head: Donkey Kong Country 2, Super Mario Galaxy, and Octopath Traveler.
There are a lot of really good video game soundtracks so choosing just three is tough. But it's my Queue and I can do what I want, so here is my top ten!
Supergiant Games (Bastion, Transistor, Pyre, Hades) — These have been on almost permanent rotation in my house since they've been released and I have absolutely fallen in love with Ashley Barret and Darren Korb's voices.
Ori and the Blind Forest — The haunting melodies and violins get me right in the heart every time.
Crypt of the Necrodancer — The beats in this are too good.
Halo — You can't tell me that the main Halo theme isn't just as good now as it was back in 2001.
Skyrim — Just like Halo the main theme from Skyrim is outstanding. All of the other music is great too.
World of Warcraft — All of the soundtracks from Warcraft are amazing. Standouts are of course Highborne's Lament, Daughter of the Sea, any Troll music, and Pandaria.
Celeste — It's light and floaty like you are in the game — until suddenly it isn't and you've gotta move move move.
Guardians of the Galaxy — Thanks to director James Gunn we've gotten two amazing Guardians of the Galaxy movie mixtapes. Thankfully the new game also kept the tradition alive and has a truly banging soundtrack!
Final Fantasy 7-9 — These are the Final Fantasies that I have spent the most time with, and the ones that I've gone back to in order to listen to their soundtracks. The others are fine, but I love Liberi Fatali from 8 so very much.
DOOM — RIP AND TEAR
---
YARMET WILL TAKE THE VOW AND SEAL THE PACT
Questions for the Queue:
When do you think Mike Ybarra's promised news release will drop this week?
Do you think it will include the release date for WoW patch 9.2?
Do you think we'll get a Year of the Tiger mount for 6-month subscribers?
If so, do you think we'll get it this week or next week?
Knowing what I know about Blizzard news releases, it's definitely going to happen the very second that Anna and Liz step away from their computers for errands, it's like clockwork. My guess is sometime on Thursday.
I would be pretty surprised if they didn't give us the release date at this point. We've gotten to see the new Mythic + mechanic, most of the raid bosses in some form or another, and a bunch of the new outdoor content of Zereth Mortis. There's not much more to roll out for 9.2 beyond a ballpark of the date.
I hope so, I love seeing the cool Lunar New Year mounts get rolled out in the game. They're visually distinct from the usual mounts but also fit really well into the Warcraft art style. The Ox is my favorite so far, but I'm willing to keep an open mind for a new flying tiger mount.
The Overwatch Lunar New Year event starts on Tuesday, so it's a good possibility that it comes out this week. Baring that the actual date for the Lunar New Year is February 1st which also falls on a Tuesday, so at most I bet we'd have to wait until then.
---
JAXDADDY WILL NEVER STOP DREAMING OF YOU EVERY NIGHT OF THEIR LIFE
QfCory: What's your favorite Meatloaf song (and recipe)?
It's a four-way tie between the big four Meatloaf songs. Which is a cop-out I know, but it's my Queue and I can do what I want! (sensing a pattern?)
They are of course:
Bat Out Of Hell
Paradise By The Dashboard Light
Two Out Of Three Ain't Bad
I'd Do Anything For Love (But I Won't Do That)
I'm not going to say that I'm objectively correct, but I'm pretty sure that I am.
As for the meatloaf recipe… I don't make it often myself but when I do I like to do an extra cheesy version.
Today's Anna Earworm™: I'd Do Anything For Love (But I Won't Do That)
Happy Monday everyone — don't forget to wear your cleats if you've got freezing rain in your area, and also leave Anna lots of questions for tomorrow!