The Queue: Annihilation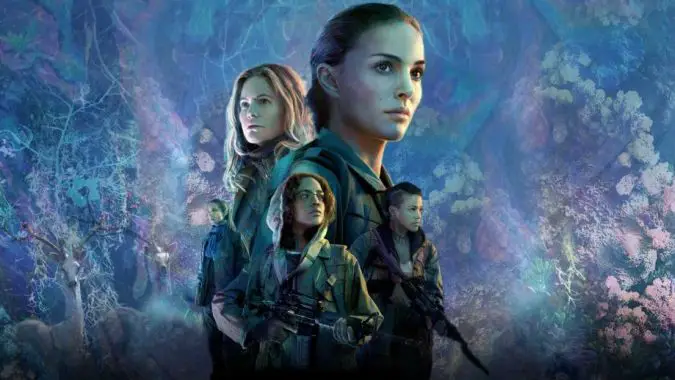 As I write this, it's about to hit 2:00 a.m. — I can't sleep, but I'm at least watching one of my all-time favorites and go-to "can't sleep" movies, Annihilation. If you've never seen it, it's a SciFi Horror film from the same folks who made Devs and Ex Machina. It's incredibly good and one of those movies I feel went more under the radar than it deserves. If SciFi Horror is even remotely something that interests you, go check it out!
But before you do… let's have ourselves a Queue!
---
ARTHONOS ASKS ABOUT MY SINS:
Oh, the Monark demo is way more interesting than the trailers would have you believe. Whoever was in charge of marketing might want to rethink their career choice. The game starts by giving you a personality test, which turned out to be surprisingly accurate, and painfully blunt pointing out my flaws. With that in mind…
Q4tQ: of the 7 deadly sins, which is your most prominent?
Well, I took a quiz just now and my breakdown was roughly 34% Wrath, 28% Greed, 19% Gluttony, 9% Lust/Sloth, and apparently 0% the other two. I'm… not really sure how they got that from my answers, but at least I have no Pride or Envy?
Ironically, if I had to self-assess, I'd probably put Envy or Sloth at the top. I like having pretty things and am not above retail therapy to make myself happier for a second. And also, I really like sleep.
---
JAXDADDY ASKS RETURNS OUR ATTENTION TO GAMING:
Another QftQ: What is your Holy Grail game? Other than buying a stand-up arcade version of Crazy Climber and Vindicator, there is a weird freeware BASIC game that I discovered 10 or 15 years ago, which was like a ramped-up Robotron. That was three or four desktops ago, and I remember neither the name or the emulator required.
By "Holy Grail," are you referring to something elusive? Or something must-have? Contextually, I'm thinking the former but hey, I'll give ya both!
For "elusive," these are more games I remember fondly even if they're not perfect, but I think Jazz Jackrabbit of some kind was one I played as a kid, but I can never find pictures of levels that ring a bell or game versions that look like what I remember. Even more fuzzy, there were games I would play in elementary that were meant to be educational — I distinctly remember one where you had to climb the mountain, and there were things like "make the time the same as the digital clock" but I don't remember the name and Google searches haven't been helpful.
For the game I'd play on any console whatsoever? Probably Mario 64. I love that game so, so much.
---
RJAGODA HAD THREE QUESTIONS BUT I CAN'T ANSWER MOST OF THEM WELL:
1) Did you attempt/complete the "new" Mage Tower?
2) With Sylvanas gone, who is your favorite NPC in WoW?
3) What's your biggest "TIL" moment in WoW?
1. Not yet, but I'd like to. I really wish it were up all the time, though. I'm sort of on an extended break from WoW at the moment.
2. Sylvanas is still my favorite NPC but Alleria is also bae. Talonpriest Ishaal always gets a shout-out from me, too. Speaking of which, wow, it's been almost four years since I wrote about what Talonpriest Ishaal might look like in HOTS.
3. I think, retroactively, everything I was doing in vanilla was something I later learned I was doing entirely wrong. My Warlock Need-rolling the Stamina cloak intended for healers in Dire Maul being one such situation. Not sure if that's entirely what you were looking for though. More recently? Umm… Dang, I'm blanking. Lemme get back to you on this.
---
CORY ASKS ABOUT LORE DELIVERY (DE-LORE-VERY):
How do you feel about found journals as a storytelling device? Is there a point where they become too much and overload you?
Tangentially, did Horizon Zero Dawn backload too much of its exposition in the form of found journals?
I like journals and other "click this to read" things when 1) they're a little more ancillary and not central to the plot and 2) when you can revisit them later in case you don't read or want to re-read in full context. Horizon does the latter incredibly well but the former… not so much. That's not to say it does a bad job by any means; more so, it's a small imperfection in a largely perfect game.
I think if you're going to delivery a whole lot of important lore through objects in the world, it should be done so in a way where the dialog plays out in time with your movement. Horizon had several moments where I'd have to just…stand around and wait for dialog to happen. If I got too far, I risked starting a cutscene or having the dialog overwritten by something Aloy said. And oftentimes, a room would have multiple lore nuggets in close proximity, so I'd end up in the same room for like 5+ minutes just listening to things.
I like listening to things! But if you can let me listen to things in a way that also makes me feel like I'm making forward progress, that's the winning formula. It shouldn't be a case of "keep progressing or choose to learn more" for big lore reveals. They should happen in sync.

---
KATHANDRION1391, I'M SORRY I HAD TO CUT YOUR FIRST TWO QUEUESTIONS:
If you could have one power or ability from any WoW race or class, what would it be? (Teleport wins among my guildies, with Blink coming in second.)
Druid Flight Form. Not only would it feel kind of like turning on IRL God Mode and flying around, it would also be, well, flying around!
---
GLOWING METEOR CARROT ASKS ABOUT LADIES:
Is Yuria still the best Soul's lady?
Only if you don't count Lady Maria of the Astral Clocktower. She was someone I quite literally instantly loved.
---
ENO, I ALSO HAD TO CUT SOME OF YOUR QUEUESTIONS:
If you could be part of any one of the Houses of Maldraxxus, assuming none have fallen (like Plagues and Eyes) which one would you choose to be a part of?
Well, Constructs and Chosen Houses are both a little too "beefy military" for me, so those are out. Eyes is a bit more Rogue-y — shout out to (Amber) Kearnan the Blade — and Plagues is a bit too "maybe this explodes, maybe it doesn't" for me soooo… House of Rituals!
Not only is it all about magic and necromancy, but it has my long-time fav Kel'Thuzad. Honestly, it feels like the perfect place for me and my Shadow Priest.
Side note: My fingers always want to type "Kel'Thuzard" so please enjoy that pronunciation in your head.
---
ELIZABETH HARPER ASKS ABOUT A DIFFERENT KIND OF FAV:
What game are you most looking forward to in 2022?
Oof, this is tough. I mean, Horizon Forbidden West and Elden Ring are right at the top but they're also not exactly a surprise. Then again, I don't think my official answer — Splatoon 3, A.K.A. Spla3n — is a surprise to anyone reading this either.
I'm excited for all three almost equally, and all of them are very different genres. But I really, really miss Splatfests and there's something uniquely joyful about Splatoon games that makes me thrilled for the third entry.
That's our Queue for today! Please remember to ask lots of questions and also be kind/respectful in the comments.