The Queue: Bunger?!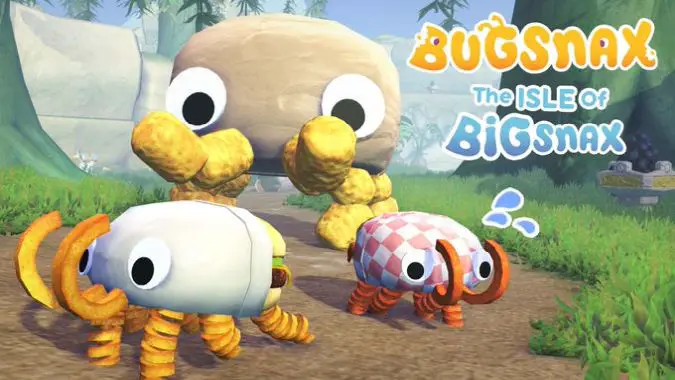 Know what today is? The Queue, obviously — but it's also the release day for the Bugsnax DLC, The Isle of BIGsnax. I haven't played yet, but I already know it's my GOTY. Bugsnax forever!
But for real, check out Bugsnax. And also read this Queue! Starting….. now!
---
SPENCER MORGAN IS HYPED ABOUT THE RETURN OF A VERY GOOD SHOW:
Q4tMitch: Did you know that Barry is back in town?
Heck yes I did! It's honestly hard to believe it's been three years since Season 2 but goodness am I happy it's back. It's one of my favorite shows on right now, and it's one that's super easy to binge.
I'm a *little* worried Season 3 might go too dark, but we'll see. The premiere was great and covered so much ground so well that I can't wait to see what the rest of the season has in store for us.
---
ENO ASKS ABOUT MY OTHER GOTY:
What Elden Ring character left the most lasting impression on you? Why?
Ranni the Witch stuck out to me from the instant I met her. I mean, she's an enigmatic, four-armed, blue witch with a soft voice and intention to bring darkness to the world. How could I not love that?!
I'd say the other that sticks out to me is Millicent, mostly because I did nearly her entire questline only to accidentally kill her by jumping on her. Thankfully, I was far enough along at that point that I could still get the final item off Malenia, but for a hot second there, I died inside and almost put the game down for the night.
---
ARTHONOS ASKS ME A FAMILIAR THOUGHT:
If Blizz decided to split Shadow off into its own two spec class, what would you like our second spec to be?
I've thought about this a lot before — in fact, hey I wrote a little about it back in 2015! — and it's still something I really want to happen. Honestly, I don't think a whole lot has changed in my approach, though.
I'd love to see Shadow have a DOT-centric spec and a single-target spec, each with talents to (somewhat) dip into the other side of things and give you, effectively, the current Shadow style if you wanted. Make the DOT spec tied to the Void, while leaning into the psychological attacks and mental draining that Shadow started out as back in vanilla for the single-target spec.
I don't think this is ever going to happen, but I certainly will keep hoping it does.
---
MUSEDMOOSE WANTS TO KNOW ABOUT MY DRAC LOOK:
If you make a dracthyr, what color will your scales be? I was thinking purple, but I have several purple characters already. So I'll probably go with blue or pink.
I also tend to lean purple, but I really want to see what the customization options are. The previews we've seen have been pretty detailed and unique, and it feels like it'll take me a bit of fiddling to really land on something I like. Maybe purple isn't what I expect! Maybe a purple accent is more the way to go.
I'm excited for the full character creator to come out so I can toy around with the styles!
---
RETPALLYJIL TAKES THINGS IN A ROCKIN' DIRECTION:
Q4tQ: How do you feel about guitar solos? Should they be long and indulgent, short and to the point? Should they stick to the basic feel of the song or wander off on a whole new tangent?
Asking for Reasons™
I think I err on the shorter side, but they don't have to be *too* short. And I like it when they feel like an extension of the song — something that maybe starts off similar but evolves your song into its ultimate form.
---
KALCHEUS SAW THE DATAMINING:
I mean… yes, of course. How could I not be?
But also, I'm not sure I'll end up actually getting it. It would have to be through Group Finder or a giveaway or something, most likely.
---
THOMAS STRANGE AND GLOWING METEOR CARROT CLOSE US OUT WITH A THREEFER:
What question has no one ever asked of you in the Queue, that you always kind of hoped you could get on your soapbox about?
We've seen murlocs use druid spells, such as wrath, and shamanic spells, such as dropping totems. Why no murloc shadow priests?
Did you ever rescue those maidens in Elder Ring?
I always wished people would ask me what my ultimate question is.

Okay but for real, this answer changes over time. Sometimes, like when I'm especially down, it's as simple as kind of hoping someone just asks how I'm feeling so I have an excuse to commiserate with internet friends. Other times, it seems like it would be nice for someone to ask me about something I don't get to talk about a lot, like how I spent 90% of my college time preparing to go to med school only to change my mind 4.5 years in. (It wasn't too much longer after that when I applied to Blizzard Watch >.> ) In short, it depends! I really just like chatting with people sometimes. It's cool to hear people be passionate about things or to talk about your own passions with someone who genuinely cares.

Sometimes, there is a thing as too much power.
Outside of the one I jumped on, I think? I've beaten the game and am like two trophies (both collection ones) from Platinum.
That's our Queue for today! See y'all tomorrow or next week or whenever!