The Queue: What sound does a large hammer make?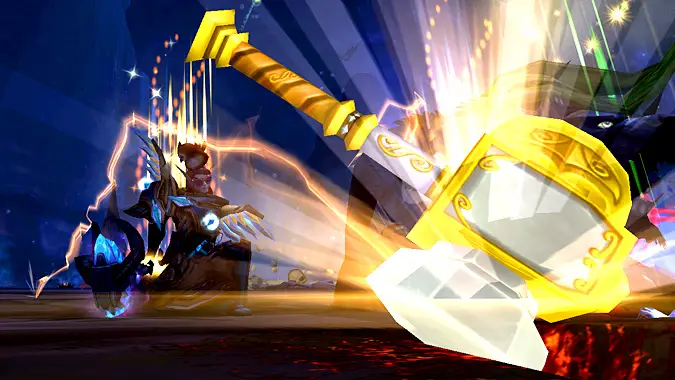 It's a mystery for sure.
While I try and figure it out, it's time for — The Queue.
---
JALAMENOS THE ASCENDED YOU PUT THE BOOM-BOOM INTO MY HEART
Q4tQ: Do you think we'll ever see more of Azeroth's oceans, like in Vashj'ir or Nazjatar?
Would you want to keep exploring the depths?
Heck yeah. Sign me up for a voyage 20,000 leagues below the sea.
I've liked what I've seen so far of the bottoms of Azeroth's oceans. I know that there are usually concerns about how the swimming mechanic works, but that could just be handwaved away by a wizard, or slapping an air bubble around all of our mounts.
Here are some zone ideas off of the top of my head:
underwater hunting with Nesingwary in a diving helmet
a lost tribe of Hozen who with the help of some friendly Jinyu have put aside their differences and have created a joint society
Some Naga have created a splinter faction who don't want to work with Queen Azshara anymore
The Tortollans secret library
A large Naga city where Queen Azshara is planning her revenge after our rampage through her Eternal Palace.
The home of the Gilbin and Sea giants
New kinds of fire elementals from undersea thermal vents are causing havoc on the local crab population
An elephant graveyard, but it's whales instead of elephants
A massive conflict between Gnomish submarines and the Goblin sea turtles from Warcraft 2 — faction based storytelling where you help to build/train your own sub/turtle
A journey inside of a giant creature, where you have to fight down to its stomach to rescue whoever is our main NPC for the expansion
Seahorse racing
These all practically write themselves! Blizzard, call me.
---
ALANNAH YOU SEND MY SOUL SKY HIGH
Q4TQ: who would win in a fight–The Jailer or an orangutan?
That depends, does the orangutan have a sword? Has the Jailer had to fight a chicken every time he starts up his mount? Are a hundred duck-sized dragons lurking nearby? Does the orangutan have access to a microwave and a burrito?
Without knowing any of these very important variables I just couldn't possibly begin to come up with an answer to this question. They'd probably fight to a virtual standstill for eons as the universe burns itself out around them. Like two Guardian Druids dueling.
---
RED YOU TAKE THE GREY SKIES OUTTA MY WAY
Unlike that completely impossible Jailer vs. Orangutan fight, this one is quite simple.
It's Ozumat.
Sure Neptulon can throw hands, but Ozumat can throw so many more hands at once! It's simple math.
Also, the last time they tussled, Neptulon only won because he had outside help from meddlesome adventurers.
---
THOMAS STRANGE YOU MAKE THE SUN SHINE BRIGHTER THAN DORIS DAY
Had a facepalm moment last night that was at least ten years in the making. I've regularly adventured in Northrend as a hobby and past-time, doing the dungeons on heroic and normal mode, clearing the raids, completing zones and zone achievements across a wide variety of characters. But I've never gotten the battered hilt to drop… not even once!
Last night, it dropped for my night elf druid – almost as an after-thought! – in timewalking Forge of Souls. I've never actually seen one, so this is my first time reading the text… "Alliance Only".
Well. That explains why my forsaken warlock and tauren druid, who have done most of that work (but also a forsaken rogue, a blood elf warlock, blood elf priest…) have never seen it.
Congrats!
As others have pointed out you definitely could've gotten one on both factions, if you were lucky enough.
I did manage to get one to drop back in the day during a Forge of Souls run too! I promptly sold it in trade chat to afford the vendor items for my own Mechano-hog. They were expensive!
I did wind up getting one later again to do the quest and get the cool transmogs, thankfully. But back then how could I possibly turn down the keys to my very own motorcycle?!
---
LUOTIANX YOU TURNED A BRIGHT SPARK INTO A FLAME
Hubby installed "No Man's Sky" last night. He says the game is huge, and the way he described the ability to analyze everything sounds super tedious, not gonna lie.
Like most survival/crafting games there are definitely some tedious parts of the game. That being said I've really enjoyed my time in No Man's Sky as a great zen kind of game that lets me put a podcast on and focus more on that while I zip around the galaxy looking at weird creatures and blowing up space pirates.
It should also be said that after the disastrous launch, NMS has done a ton of work to fix things, and added a whole lot of new content in free updates. Which is super impressive, the only other game I can think of that got a chance to turn itself around like that is FF14: A Realm Reborn. Most times games don't get that sort of opportunity to make drastic changes.
Lookin at you Anthem.
---
KALCHEUS MY BEATS PER MINUTE NEVER BEEN THE SAME
Q4tQ 8-hour planned downtime for 9.2.5 in NA. Will they finish early, on-time, or late?
Blizzard's maintenance is never early or late, it arrives precisely when it means to.
However this time I'm putting my bets on the later part, since this is when the fancy cross-faction stuff shows up and I bet there are some unexpected gremlins in that bit of code.
Today's Anna Earworm™: Wake Me Up Before You Go-Go
It's Wham! Get it?
Make sure to leave Anna lots of questions to come back to after the long weekend!