The Queue: Faire Food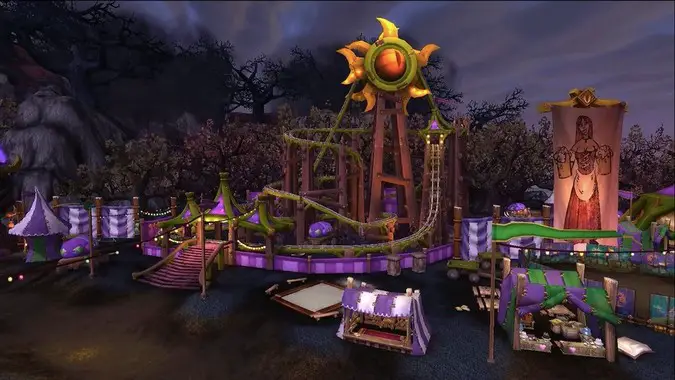 I've been working stages at the local carnival this last weekend (and all of the rest of the upcoming week) and boy is faire food both enticing and absolutely disgusting sounding.
Of course, I want to eat things deep-fried that shouldn't be. Do I want to eat the pop rocks-covered fried chicken, maybe not…
I'm sure that I'll eat my weight in mini-doughnuts before the end of the carnival though.
While I look into bigger pants, it's time for — The Queue!
---
HELLO AGAIN, FRIEND OF A FRIEND, I KNEW YOU SPENCER MORGAN
Qt4Q: are we living in the blurst of times?
Sure things might feel a bit like they've been written by a bunch of monkeys writing on typewriters right now, but I don't think we're quite at a Dickens level of quality.
We're likely dealing with just a large but finite number of monkeys.
---
ARCUBALLIS OUR COMMON GOAL WAS WAITING FOR THE WORLD TO END
So this is a bit embarrassing. The expansion has been out for ages, but I still haven't figured out what makes Maldraxxus turn dark sometimes. Can anyone clue me in?
As others pointed out in the responses to you, that's just the Maldraxxus Anima Weather effect. All of the main Shadowlands zones have some sort of Anima-related weather patterns. I'm just glad that we get nice normal weather in real life, I'd hate to wait for the bus while wailing souls of the dead fell around me. That feels like something you should really pay some attention to, and how else would I finish listening to my podcasts?
---
NOW THAT THE TRUTH IS JUST A RULE THAT VEILSTRIDER ROXXII CAN BEND
Every done Plaguefall with Explosive? Boss adds shouldn't spawn explosives IMO.
At least Plaguefall is in a small arena, with no line of sight obstructions. Unlike the Temple of Sethrallis back in Battle for Azeroth. That was the worst for extra Explosives in my opinion.
I've mellowed on the affixes of late, none of them feel truly awful anymore. Which is probably about as close to balanced as we can get. I just hope that the new affixes that we get in Dragonflight play nicely with the dungeons that we're getting.
---
ENO YOU CRACK THE WHIP, SHAPE-SHIFT AND TRICK THE PAST AGAIN
I do enjoy the cute lines you sometimes see in WoW such as when you fight Lore-Keeper Mnemis in order to knock it back to its senses and it finally says, "Excuse me while I exit consciousness."
QfCory: What's some of your favorite lines in WoW so far?
I love these kinds of questions until it's time for me to actually answer. Then trying to pick a line out of my brain just doesn't want to work.
I do really like the Pandaren Brewmaster at the end of Stormstout Brewery calling out ingredients as he's summoning the last boss.
I love all of the Old God prophecies, and Puzzle Box of Yogg Saron whispers.
Bwonsamdi always gets a smile out of me, same for other sassy characters and objects like Mage staves and Shadow Priest daggers.
---
FUZZYBUNNY GOT AN AUTOMOBILE, FOR A MINIMUM WAGE
She wrote the name of that which must not be named.
But she wrote it only once…
We're just lucky that Liz didn't write Beetlejuice three times, that Beetlejuice character is bad news!
We should all make sure to do our best to avoid that Beetlejuice fellow.
---
SOEROAH I'LL SEND YOU MY LOVE ON A WIRE
Do you think players would like if a future expansion introduced 'world garrison invasions'?
That is, the garrison invasion system, but for areas all around the old world. Every half hour the quillboar attack the crossroads, or the defias attack Sentinel Hill, or the Legion attacks Shattrath. Big server events similar to the Legion invasion pre-expansion event, but as a permanent feature of the game, scaling to player level regardless of their level and rewarding either gear or currencies to buy expansion-specific rewards for the zone they take place in.
I think that's a big yes, assuming that during those events you could still do regular questing and quest turn-ins. There'd also need to be some sort of NPC help so that a single player could eventually complete the event by themselves without a horribly difficult time.
Warcraft has always felt like it needed more big world events that got players out to kill things together. Something that was repeatable, unlike World Bosses. Those are fine, but most players will do it once on a Tuesday and not think about it again until the following Tuesday.
Bonus points if there are pools of events to pull from so that it's not always the Quillboar attacking the Crossroads. Maybe sometimes the Quillboar attack Thunder Bluff!
Today's Anna Earworm™: Black Sheep (or the Brie Larson version)
Have a great week everyone, maybe you should try new food! Don't forget to leave Anna lots of questions for tomorrow!