The Queue: What time is it?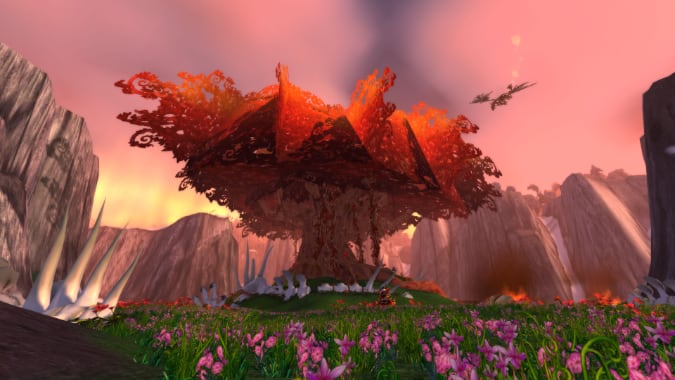 Time for a Queue, of course!
(…Yeah, not my best intro. Quick, look, a distraction!)
---
KALCHEUS GIVES ME A TRICK QUESTION:
Q4tQ: Are you doing anything for NaNoWriMo* in November? Or are you planning a NaNoWriMo** instead?
*National Novel Writing Month
**National No Writing Month
Well… I'm not writing a novel, but I am writing this Queue so. System error.
---
KALCHEUS HAD A COMMENT ABOUT SOMETHING, TOO:
I still find it weird that the NPC/Illusion Nightborne are a different model from the playable one.
I wanna say it was Alex (Editor-in-Chief Emeritus) who said that Suramar was very densely packed with NPCs, more so than most other areas in WoW. He suspected Blizz was able to do this more easily because the models were actually much less complex than other NPCs.
Naturally, that approach didn't work for player-controlled models (which need armor and such), but the result is that it felt like we got different Nightborne than the ones we expected.
---
ARTHONOS GIVES ME A SORT-OF 2BE:
Q4tQ: Shadowfiend vs Mindbender, which one do you like better aesthetically? For a brief time in Dragonflight's development it looked like Blizz was going to let us pick which one we preferred, independent of power. At the very least should they add a glyph so we could pick?
It's hard to pick anything but my OG companion, though I still DO like the Mindbender. One thing I wish Blizz would do is allow things like Glyph of the Voidling or Glyph of the Sha to work with Mindbender and Shadowfiend, rather than just the latter. I actually think I like Glyph of the Sha the most, aesthetically.
---
MR. PRONOUNCED JæKSDæDI, ESQ. ASKS ABOUT STORYLINES:
How would you go about designing a positive and sympathetic void-based storyline for WoW or would that be too antithetical for its nature. What sort of pastimes would residents of the Black Empire have that didn't include empiring?
I don't think you'd want to make it too positive, but I think empathy is definitely doable. My personal choice would be to focus on the small-scale stories. Typically I find that when you deal with large, end-of-the-world level threats, it's hard to be as nuanced. People can only relate to gods so much, y'know?
But if you focus on the denizens of the Black Empire, there's your opportunity for empathetic stories. Show me someone who followed the Void and was left with nothing they were promised — then show me how they react to that (do they want revenge or are they in denial?); show me sects of cultists that don't exist nowadays because they thought they had a better approach to the Void and ended up being wiped out; show me moments that make me re-evaluate my own character's actions, for better and for worse.
Leave the empiring to the Big Bads. Use everyone else to show how that empiring affects the world.
---
BRAINSTRAIN GIVES ME A FREEBIE:
Q4TQ: Muse is coming to my city in March. Should I buy tickets?
Yes. Definitely.
They weren't coming to my city, sadly, but that hasn't stopped my girlfriend and I from planning a weekend trip out to Philly to see 'em. I have zero regrets.
(That said, always be financially responsible and don't spend money you don't have — these tickets aren't exactly cheap!)
---
CONDIMENT CLOSES US OUT BY LETTING ME HIGHLIGHT ONE OF MY FAVORITE WOULD-BE SETS:
Blood Elf Paladins recenty got an exclusive recolour of the Antorus Raid set.
For any specific Race/Class combination, which raid set would you give it a recolour of? (Preferably a set that they already have access to, so it's just a recolour factor).
I've been saying this from the moment I saw it, but I want Soulbinder Nyami's recolor of the Absolution set. I know we've gotten a couple "remasters" of that set already, but none in this color scheme. And I want it!
I don't know if I'd necessarily lock it behind a race/class combo though… mostly because it exists on a Draenei — and thus, would make the most sense there — but I play a Forsaken. Still, I'm selfish and shameless so if I have to pick, it's going to Forsaken 😗
That's our Queue for today! Somehow, I have managed to write it and not be late. Thanks, Kal!