The Queue: So close and yet so far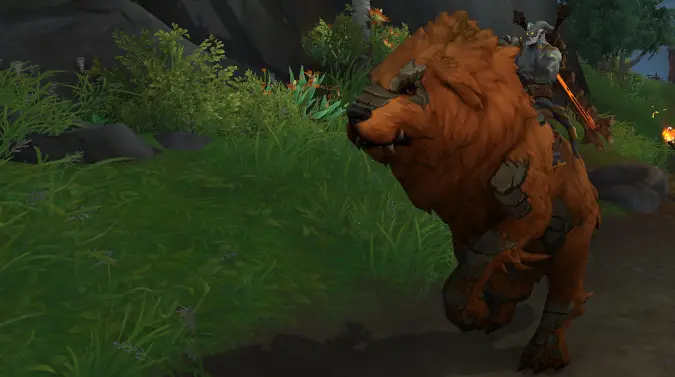 Yesterday was my birthday and I decided that to celebrate it I was going to do as little as possible. Sometimes that's all you really want — a day to sit back, spend time with your loved ones (in my case my wife Julian and our cats and dog) and do things like mess around in video games and just exist. It was a nice day.
And now we're back, answering your questions and listening to Damageplan's song Save Me, and wishing you all a happy Game Awards day.
---
GALARI WANTS TO KNOW ABOUT THE BLACK DRAGONFLIGHT'S NEWEST
q4tq, what race is non dragon form of Osoria?
Based on the text she has when you ask her about her Visage form, and the fact that the form itself looks like a Draenei, I'm going to say her Visage is a Draenei.
And I have to say, since I'm primarily playing a Lightforged Draenei this expansion, she's got really nice horns.
---
RED ASKS A FAMILIAR QUESTION…
I'd sacrifice everything. What would you give?
As I said to the first Demon Hunter who asked my Warrior:
Nothing. I'm not here to sacrifice anything. I'm here to make the Legion and its demons sacrifice themselves.
It's just a better idea, in my opinion.
Also, wow, Mitch managed to work y'all up yesterday, huh? I guess I can consider that my birthday present from him.
---
BRUIN IS A BEAR FOR THE LORE
Shadowlands Lore question: Did we just kill Nathanos once in Plaguelands in the prepatch, did he not show up in the Maw or what not? I'm still figuring out what we were doing in SL.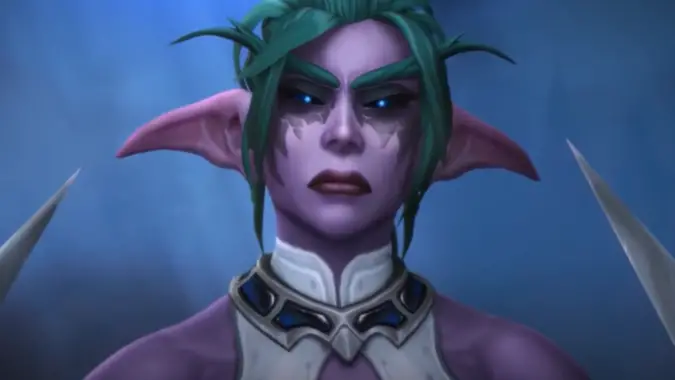 Just once. But it was all we needed. Just watching her cut his head off mid-rant like he was something she stepped in on her way to real problems gets me every time.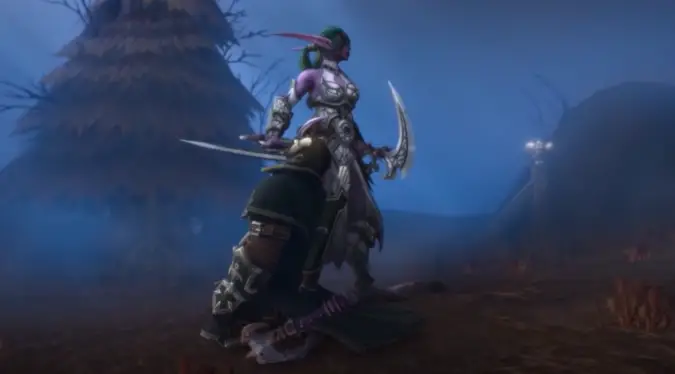 We did get that great moment when Tyrande tells Sylvanas to her face that Nathanos is dead and she's all "Nathanos?" and Tyrande gets to snarl… well, I'll let her say it.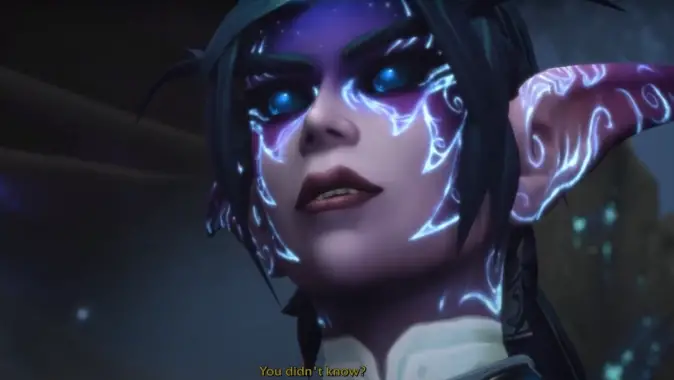 Tyrande's been through a lot, and that moment didn't even come close to balancing the scales, but it was still nice to see.
---
SHADANAH ASKED THIS FOR THE BLIZZARD WATCH PODCAST 400TH EPISODE BUT WE RAN SUPER LONG SO HERE IT IS
What in-game "thing" gives you more anxiety than it should for characters you know are digital and either disappear when you log out or are unfeeling? Example: I loved seeing the "Off Duty Defender" in The Mage's Rest in The Azure Span because it gives me hope that those portal generating mages all over Azeroth and Outland and Draenor and even the afterlife get some break time. It bothers me to imagine they're stuck there, just generating a portal, all the time.
Every quest that asks me to kill various animals for various animal parts that don't drop every kill.
I mean, if you're asking me for Zhevra Hooves and I kill a Zhevra and it doesn't even drop a single hoof… what the heck is wrong with all of these Zhevra? Where are their hooves? I'm a level 12 Tauren Warrior, I'm using a big spear, I cannot make myself believe that I hit that Zhevra so hard that all four of its hooves disintegrated, so where are they?
Are the Barrens just infested with Zhevra sans hooves? And don't even get me started on get me six bear hearts and I kill close to twenty bears and I'm still on 5/6 hearts, where are their hearts, how can these bears even be alive without hearts, is there a Necromancer somewhere in Ashenvale animating bears and why, what is he planning oh Naaru we've got to stop him
Okay. Okay. Deep breath. It's fine. We're fine. It's just a game thing.
---
VALENCEMAGI, I MAYBE ACTUALLY AGREE WITH YOU
Reminder than Cordana did nothing wrong, and was set-up by Khadgar!Sargeras
Well, Khadgar's not Sargeras. Although both do have strong daddy energy, I suppose. But I agree that Cordana got utterly screwed over.
I mean, she just want Khadgar to chill out with all the I will do anything to beat Gul'dan no matter how ridiculous or cruel it is thing, and Gul'dan played on her insecurities and doubts because that's what he does. I mean, okay, she went kind of full Sith Order 66 and betrayed her fellow Sentinels. That's bad. But it wouldn't have happened if Khadgar has listened to her more.
Okay, that's the Queue for today. Sorry I missed y'all on my birthday, but it was a fun day of doing almost nothing.