The Queue: 12 Days of Mitchmas starts now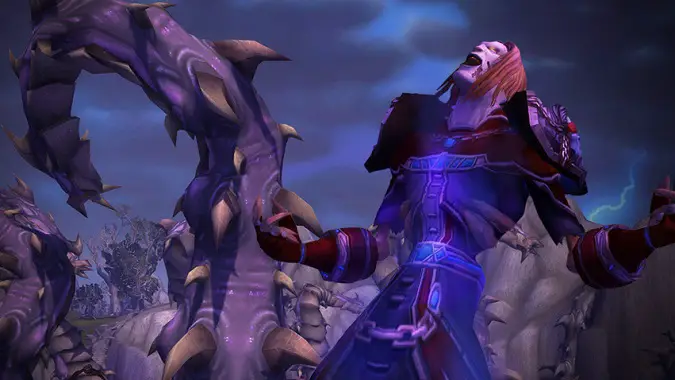 What are the 12 Days of Mitchmas, you ask? Basically, every day starting today, you'll all receive a random blessing from an Old God. It'll be fun!
Also everyone has to buy me gifts.
QUEUE TIME!
---
RED ASKS ABOUT BIRFDAYS:
What's the perfect birthday like to you?
Honestly, I just want a chill day where people don't really ask much of me. I usually also like to treat myself to something (dinner, new LEGO, movie, etc.) and also sleep in/nap as much as I feel like it, but I'm not too demanding. Just let me have a day that's a little easier than the rest, y'know?
---
ENO HAS AN EXCELLENT DUNGEON-HOME QUESTION:
Has there been a dungeon you've experienced that you wouldn't mind moving into and making your character's own personal residence?
Honestly, I've always loved Stratholme. Yes, the version filled with Necropoli and fire. I still think it would make a cool base of operations for my Undead. Waycrest Manor is also a pretty close pick, too.
Also, I'm totally predispositioned to want this since we never got the full zone as originally planned, but Azjol-Nerub (any part of it) would've been.
Honorable mentions to Shadowmoon Burial Grounds (love the aesthetic), Skyreach (also love the aesthetic), and any Suramar dungeon (again, aesthetic).
---
ARTHONOS DOESN'T WANT TO GET TIRED:
Q4tQ: How many dragon bosses can Dragonflight have before you being to feel dragon fatigue? Is that per patch, or per expansion?
This was actually one of my concerns going into the expansion — what if this ends up giving us the Dragonflight equivalent of WOD's Orc fatigue? I don't have a good answer for the specific number it will take, but I think it's on a per-patch basis that I'd like to see things shift around. It's fine if there are still dragons in the next two or so patches, but I'd love the emphasis (or at least bosses) to be something new/different.
---
PETER LAKATOS DIDN'T GET TWITCH STUFF:
QftQ : I'm sure it was asked before about the twitch drop, but I failed to get the previous stuff and I watched enough for the windsteed and pet. I also claimed it at Twitch, but the stuff didn't show up ingame. How does it's supposed to show up? Mail? Or directly in the mount tab? Thy are both grey as of yet
I was actually in-game when I claimed one of mine on Twitch itself, and I saw the pop-up happen in-game in real time. It was kinda neat! All I had to do in that scenario was claim it from my Twitch drops page once it said I'd earned it.
The mount ultimately shows up in your collection, and I believe it's at the top as a wrapped gift or something. If you watched enough but can't claim on Twitch — or have claimed but not received — definitely open a ticket. It's been happening to a lot of folks :
---
FALLANGER ISN'T QUITE READY FOR RAIDING:
All knowable Queue i have travelled since the last century to ask, did the lfr opened?
i haven't raid in a while and my mouse is not working enough to start now
LFR has not opened yet! However, the World First race is currently on, since Normal through Mythic difficulties have opened.
LFR Wing 1 opens next week (Dec 19) then I believe it's every two weeks for the remaining two wings (Jan 2 and Jan 16, respectively).
---
MR. PRONOUNCED JæKSDæDI, ESQ. HAS AN ODD ONE BUT I DIG IT:
What's your favorite botanical name?
Dang, I feel bad I don't have an answer off the top of my head — I actually used to work at a botanical garden and dealt with a lot of scientific names for various flowers. Are you referring to scientific names or literal names that are also botanical?
Depending on what you meant, I like Hamamelis/Witch-hazel (which I guess would just be "Hazel" for a name? Now I'm overthinking this one).
---
SPENCER MORGAN GIVES ME AN EASY CLOSER:
Q4tQ: dare you to pet the dog?
Unfortunately, I couldn't fit your dog's pic in here because of the dimensions but…
Yes, I dare pet the dog.
That's our Queue for today! I hope you all have a lovely Wednesday, and please be sure to leave lots of queuestions for tomorrow's writer!