The Queue: Merry New Year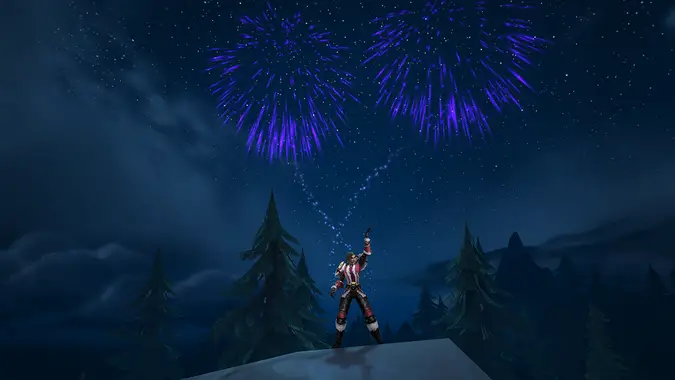 Can you believe that it's a new year already? It feels like just yesterday we were getting ready for Christmas and all that entailed. There should be a law passed to just outlaw the week between Christmas and New Year's Eve it always goes too quickly and I don't like it!
I hope that you all had a wonderful and safe New Year's Eve!
While I try and remember how to be a productive member of society, it's time for — The Queue!
---
AS I WAS A GOIN' OVER THE CORK AND KERRY MOUNTAINS I SAW CAPTAIN MUSEDMOOSE AND HIS MONEY HE WAS COUNTIN'
Silly Q4tQ: did you realize today is Fibonacci day?
I was under the impression that there would be no math.
---
I TOOK ALL OF MUSEDMOOSE'S MONEY AND IT WAS A PRETTY PENNY
Slightly Less Silly Q4tQ: would it be weird to take a lightforged draenei through Warlords of Draenor?
Not super weird. With all of the random time travel nonsense of Chromie time as it is, that just feels like a nice sightseeing trip for them. See how your ancestors lived and all that. It only gets weird if they start to hang out with their great-grandparents too much and accidentally pull a Fry.
---
I TOOK ALL OF HIS MONEY YEAH, AND I BROUGHT IT HOME TO JæKSDæDI
I've had my hog jowl and black-eye peas today. What are good luck foods in your neck of the woods?
I've never thought about foods that might be good luck foods! They have to exist, but I don't know that I have any…
I have good luck socks, good luck underwear, and my favorite shirt to wear for luck… which have seemed to be working this past year. Would I be luckier if I came up with some good luck foods?
Can I just arbitrarily decree that mac and cheese is lucky? Or is that too common? Maybe I should choose something tougher to make/get my hands on. Maybe a nice massaman curry will be my lucky food…
---
BUT THE DEVIL TAKE THAT TIGER HAWKE YEAH, FOR YOU KNOW THEY TRICKED ME EASY
Q4tQ: Is there a possible currently unknown sixth Dragon Aspect?
The reason I ask this is because of the layout at the Seat of the Aspects. There is a sixth space that is currently empty and unmarked on Alexstrazsa's right side between her and the doorway. If there was to be a sixth Aspect, what color would it be?
Well, I remember speculating about other Covenants back in Shadowlands due to open doors on the Oribos flight level. That never wound up paying off like I hoped it would.
As for possible sixth flights the one that sprung to mind right away would be the Death Flight. Throw a bunch of undead dragons into the mix. Choosing the right leader is tough of course, but I do happen to know that there is a pretty solid candidate for Death Aspect in Sindragosa. We could rebuild her body from Icecrown and merge her simulacrum into it!
Then we get both some cool undead dragons and more Sindragosa, which are both big wins in my book.
I mentioned this to Joe and he had some very cogent points about not using death as a flight since both Red and Green are involved in that sphere already. There was also something about having just spent a bunch of time in the afterlife and not really needing to deal with that so much on Azeroth.
Still though, undead dragons are pretty sweet!
---
AND SOME MEN LIKE TO HEAR TO HEAR THE ARTHONOS ROARIN'
Q4tQ: What 2022 games are you carrying over in your backlog into 2023? Which of them are you hoping to finish in the new year?
Oh so many.
The big ones are Horizon Forbidden West and Warhammer Chaos Gate: Daemonhunters. I started playing Daemonhunters just before I could get my hands on Horizon, and then Dragonflight came out just before I finished Horizon. I'm not that far away from wrapping up the main story in Horizon either! I just need to take the time, and it's hard when there are so many things to do on the Isles.
Today's Anna Earworm™: Whiskey in the Jar
Here's to this year being a great one! Make sure that you leave Anna with lots of questions for tomorrow and I'll see you next week!