The Queue: Cause I'm playing it all wrong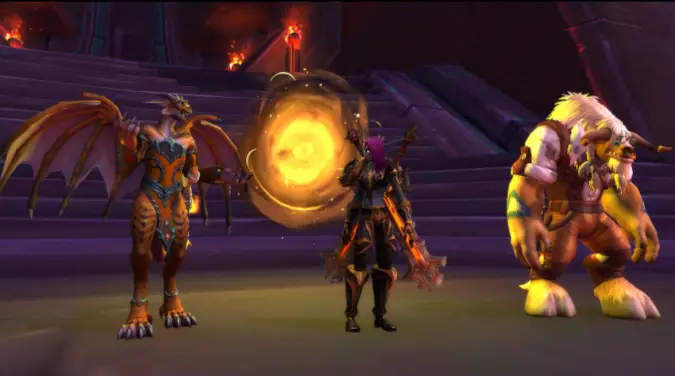 I don't do jubilant. Even when I am exceedingly, ecstatically happy, I don't show it. At best I cackle, like any good New Englander should. But even that feels overindulgent. Nevertheless, I hope that there are questions in today's Queue that I can answer because then I feel useful for one brief moment.
---
GLOWING METEOR CARROT, I HAVE A QUESTION FOR YOU FOR ONCE
I hope in the future when the trading post debuts new cosmetics they come in different colors. Totally would have gotten the scarf if there was a red version
As Roxxii said, they've datamined other colors, but more importantly, is your name a reference to Captain Carrot and the Zoo Crew?
I thought it might also be a reference to the Flaming Carrot, but his origin is canonically that he read so many comics in one night that he suffered brain damage and became a superhero.
---
DRAKKENFYRE, IS YOUR NAME A REFERENCE TO CAPTAIN CARROT?
So I did the holiday queue on my tank, and… I know this isn't a super-serious fight or anything, people, but my group… your tank still needs heals. Two mobs beating on me while I'm dodging toxic puddles and my HEV warning lines screaming at me about my life signs becoming critical while I'm mashing a potion and my mitigation abilities are on CD, yeah, a heal or two would be appreciated, thank you.
For years and years now, I've noticed that players often assume that all content in WoW is tuned the same way and requires the same strategies to cope with, when in reality there's a really big difference between, say, a Mythic + 16 and a holiday dungeon fight with characters of different levels scaling as best they can. Yes, Bront, I know that on high Mythic keys the healer is expected to add DPS, but the tank doesn't even have their big mitigation cooldown yet and you're level 40. And even in high tier content that requires extremely narrow margins, they still heal the tanks.
Heck, I dps most of the time nowadays and quite frankly, even with all the various mitigation tools I have at my disposal I still require a heal from time to time, and my healers generally try and do that.
A lot of people will argue that because X guild did a 1 heal kill on Y raid boss, you should be fine running Ruby Life Pools with that same idea in mind, but we're not Echo and I just want to get this over with and go back to farming transmog gear, okay?
---
MALKIL, THE DARK FIRE COULD BE A REFERENCE TO THE FLAMING CARROT, WHO AT ONE POINT DIED AND WENT TO LIMBO
Maybe eventually, but right now I'd just like for them to give Drakthyr transmog that matters.
Right now there's only four transmog slots that show up (with one notable exception): Main Hand, Off-hand, Waist, and Shoulder (and exactly ONE Head slot item, but you have to transmog to it while in your Visage).
To make matters worse, the Waist slot transmogs almost universally look terrible on Drakthyr, too, because it only shows the buckle and (if there is one) a loincloth.
As it is right now, while the available customizations in the barber shop are nice, they're not enough. While grouped with other Evokers in a raid, I barely see the cosmetics. Most other races I'll identify as "the night elf dressed like a ninja" or "the draenei dressed as a dark knight", but Drakthyr I see as "the purple one" or "the blue one".
It feels like only a slight bump up from the short list of feral and guardian appearances (which, not to detract from my point too much, could actually really benefit from the piecemeal approach that Drakthyr and Dragonriding mounts use).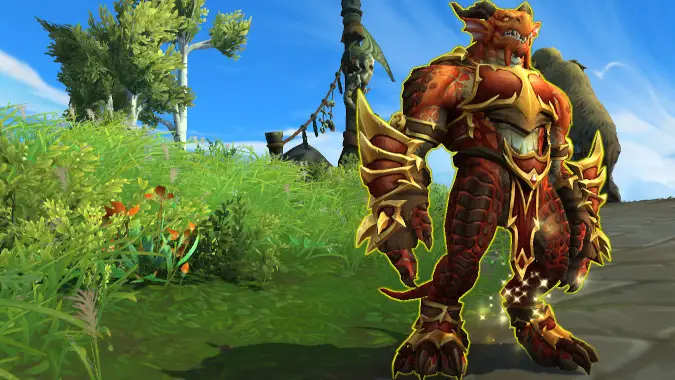 Every time I see the Dracthyr I remember these guys and how much I would have preferred to look like that and have actual gear visible on my character and be all chonk dragon dude. Or dame, like Dame Judy Dench but a chonky dragon lady instead.
Ooh, man, imagine if they could get Judy Dench in to do the voice? That would be awesome.
Anyway, yeah, I agree with all of your points and think Dracthyr should have more visible gear, but also, should be chonky dragon people.
---
I'M POSITIVE THAT ROXXII ISN'T AT ALL A REFERENCE TO YANKEE POODLE, BECAUSE HER REAL NAME WAS ROVA, NOT ROXXII
I am feeling more and more like I should try to learn enhancement more. Granted my guild is progressing on Razageth and I think its unlikely we'll do mythic. I am going to keep doing keys as resto. But, as I mentioned before, I don't see elemental surpassing enhancements flexibility without major reworks to its talent tree.
My poor neglected Enhancement Shaman is perking up at this news, but let's be honest, I'm not going to play a Shaman again. That time has passed.
---
MUSEDMOOSE COULD HAVE BEEN A MEMBER OF THE ZOO CREW BUT THEY DIDN'T HAVE ANY MOOSE AS MEMBERS
I can't be the only one who looks at that image and thinks they should totally release a shameless Smash Bros ripoff, right?
Okay, it's the Queue, I hope at some point my hyperfixation on the Zoo Crew ends so I can go back to being hyperfixated on something else. Take care everybody. Be kind to each other.