Where to find Whispering Keys to open Silent Chests in Diablo 4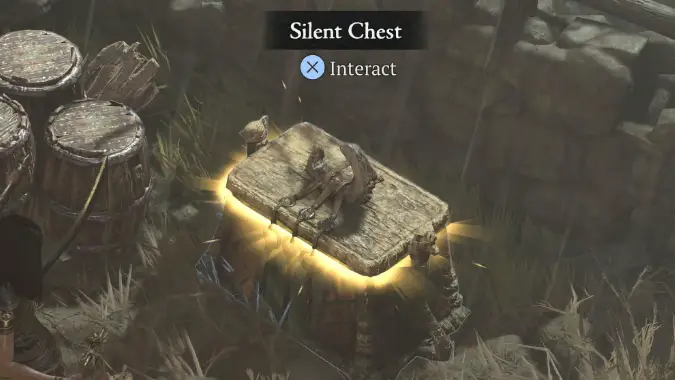 You'll find a peculiar type of locked chest scattered around Sanctuary in Diablo 4: the Silent Chest, secured shut with a chain and a padlock. These chests can be filled with lucrative loot, but they require a Whispering Key to open, and it's not obvious where exactly you get these keys from.
Whispering Keys are not a drop, and you won't find them out in the world or anywhere near the chests they unlock: instead, they're purchased from a vendor in major cities. The Purveyor of Curiosities will sell keys — and a selection of random loot — for a special currency called Murmuring Obols.
Anyone who played Diablo 3 will be familiar with Blood Shards and the vendor Kadala, from whom you could purchase a mystery item for a specific item slot — on purchase the game would randomly roll which item you would receive based on your level. It would typically have a higher chance of rolling a legendary or set piece item than getting one to drop in the open world.
In Diablo 4, the new Blood Shards are called Murmuring Obols. An Obol is named after an ancient Greek coin — it is said the coins you give Charon to cross the River Styx are Obols. It's certainly a theme that suits Diablo 4.
So let's talk about how to get Whispering Keys to get into the Silent Chests you'll find around Sanctuary.

Where to buy Whispering Keys
To buy keys, you'll need to find the nearest Purveyor of Curiosities, which are marked on the map by a sack of gold with a question mark on it, a hint at how random their offerings can be. The Purveyor of Curiosities has a long list of items to buy, but at the very bottom of the list you'll find Whispering Keys for 20 Murmuring Obols. Just scroll to the bottom of the list and pick up however many keys you want.
There's a cap on how many Obols you can carry, and though the cap can be increased, buying keys is a good way to keep yourself from hitting the cap. Carrying Whispering Keys is a good way to use Obols if you're near the cap but aren't ready to spend them.
Whispering Keys are consumed on use and will be in the consumables tab in your inventory, and it's a good idea to have a couple in your inventory at all times in case you run into a Silent Chest.
How to get Murmuring Obols
The most common place you'll find Murmuring Obols is from open world events. Look for orange rings on your game map indicating a random event: completing them usually awards a number of Obols — more than enough to pick up a key. You can also sometimes get Obols from completing quests or side quests, but doing world events is a surefire way to build up your stash.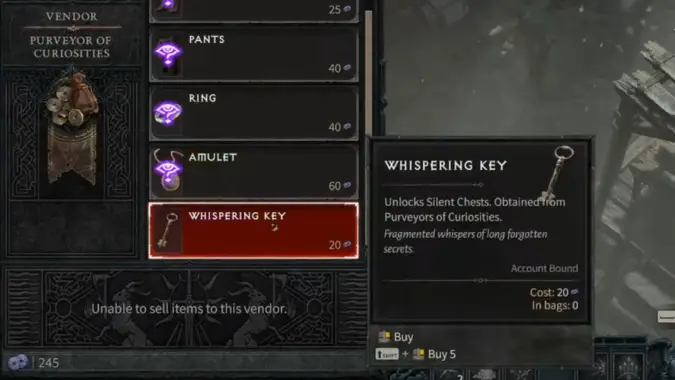 What else can I do with Murmuring Obols?
The Purveyor also sells mystery items just as Kadala did in Diablo 3. These items have a higher chance of being a Legendary or better item than a random drop out in the world. The costs are as follows:
One-Handed Weapons
40 obols — Focus
50 obols — Axe, Mace, Sword, Dagger, Wand
75 obols — Bow, Crossbow
Two-Handed Weapons
75 obols — Two-Handed Axe, Two-Handed Hammer, Two-Handed Sword, Polearm, Staff
Armor
25 obols — Gloves, Boots
40 obols — Cap, Tunic, Pants
Other
20 obols — Whispering Key
40 obols — Ring
60 obols — Amulet