Breakfast Topic: Did you get the new Noblegarden pet?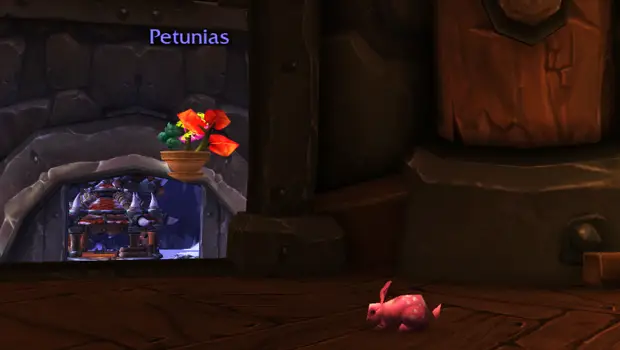 I was really excited that this year's holiday added a new Noblegarden pet to the lineup, the Mystical Spring Bouquet. Any time a new pet is added to a holiday, it's pretty much a given that I will grab at least one of them before the holiday is out. But I was slightly less entertained when I discovered that the Bouquet is just a companion pet, not a proper Battle Pet. It may be classified as a flying pet, but it has no attacks, no spells, and you can't attack anything with it, much like the Alliance and Horde Balloons.
This is kind of disappointing. I mean, we can fight other pets with Singing Sunflowers and mysterious tentacles with no discernible face, but we can't use a potted plant? Not even a floating, magical potted plant? I was hoping for another pet with cool plant-like abilities, but to be perfectly honest I really just wanted to see a level 20 ability called Oh No, Not Again. As it is, I have obtained the potted plant, named it Petunias, and will patiently wait in the hopes that perhaps one day against all probability it will learn how to fight.
What about you guys — have you gotten the new Noblegarden pet? Are there any non-combat companion pets you really wish you could use in Pet Battles? What kind of attacks would you give a balloon?