WoW
Apr 21, 2015 11:02 pm CT
Patch 6.2: Left Shark and other new battle pets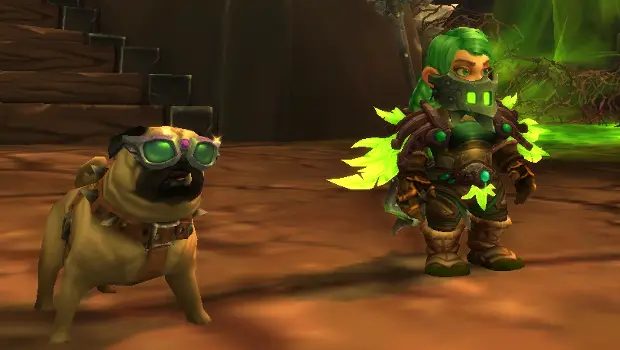 The latest build of patch 6.2 on the PTR is a relatively light one in the world of pets, though the two new pets are unique in polar opposite ways.
There's a single new pet battling achievement which isn't a surprise if you've been following 6.2 pet news thus far. They added an achievement called Tiny Terrors in Tanaan to commemorate beating all of the new legendary battle pets found in Tanaan Jungle. As of now, there's no additional reward for completing this achievement. All those legendary pets have been moved from that single location described in the previous post to what is presumably their final destination (if my stable and I have anything to say about it).
There are two new battle pets which have been datamined by the good people over at Wowhead, but haven't yet made it to the Pet Journal on the PTR.
The first new pet is Left Shark. For those of you who pay no attention to pop culture, Left Shark is a reference to Katy Perry's performance at Super Bowl XLIX. At one point, 2 people in rubber shark costumes were doing choreography on either side of Ms. Perry. Right Shark knew all its moves and performed admirably, while Left Shark was a mis-stepping embarrassment to shark-kind everywhere, so of course Left Shark has been immortalized in memes ever since.
The second new pet is Crusher, which has a sweet little story behind it. A little boy's mom tweeted at BlizzardCareers that her son dressed up as a Blizzard game developer on Friday, April 17th for 'Future Day' at his school, because that's what he wants to be when he grows up. After some encouraging tweets from the Careers team, she later let slip that her fledgling developer had a great idea for a new pet and when requested, posted a photo of him proudly holding concept art he'd drawn of that pet.
https://twitter.com/vinchie0_0/status/589181040444465153
In a later tweet, she informed the Warcraft team he'd named his creation Crusher. Apparently, Crusher's inclusion was so important to the team they worked over the weekend to push it to the latest PTR build. As said above, it's not quite accessible to your average PTR tamer just yet, but this aspiring developer's creation is on my must-have list whenever it comes to the servers.