The Queue: Bonus balance, Jaina's family is dead, and more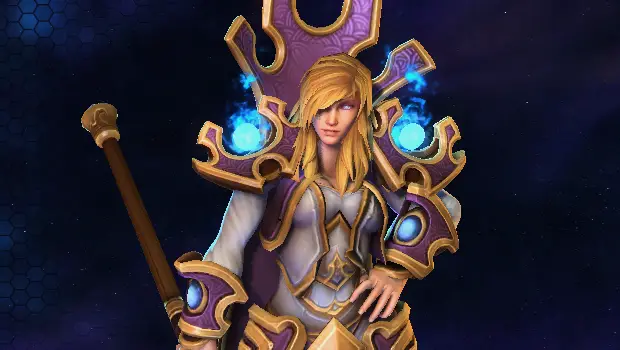 Welcome back to The Queue, our daily Q&A feature! Have a question for the Blizzard Watch staff? Leave it in the comments and we may choose it for tomorrow's edition!
---
ARKAINJEL001 ASKED:
Jaina's living relatives include a brother, who is an admiral of Kul Tiras, and a half-elven sister, who apparently has been freedom-fighting against the undead in Lordaeron since the Third War. These two characters seem too major to have never been at least mentioned in WoW, wouldn't you agree?
The problem with those characters is they aren't canon. Neither of them. They're both from the RPG books and nothing in the RPG books is canon until specifically added to the game — which doesn't happen very often, and happens less and less as World of Warcraft progresses. Jaina's only confirmed sibling is dead. Tandred Proudmoore is from the RPG and Chris Metzen stated quite specifically that he will not become canon. It can be assumed her sister is the same — especially because it takes some rather significant liberties with Jaina's canon family. For her half-sister to exist, Jaina's father would have had to cheat on his wife. That was never part of the character we were ever shown.
It's highly likely everyone Jaina considered family is dead. These other siblings don't exist.
---
RAZWICK ASKED:
Why are there no crossover benefits/toys/goodies related to Heroes in Starcraft and Diablo? I'd say that it was because they're paid games, but you have to buy WoW and a sub and WoD to get the wolf mount in Heroes.
I imagine those two aren't quite so high priority. I don't play either of those games very much personally, so I have an honest question, too: do people even pay attention to their portrait in SC2 or whatever aesthetic stuff you get in Diablo 3? Do people care? Maybe those things will come later. Those two games don't update nearly as often as WoW. Who knows.
---
BRAND_O ASKED:
Do you guys have any plans for a movie column?  That column used to be the main way I'd keep in step with new machinima, but now I feel like I've lost touch.  Plus I enjoyed submitting my own vids from time to time
Just because we don't have something called "Moviewatch" doesn't mean we don't want to post machinima. If y'all see cool machinima we should be posting (or you make one you'd like us to look at) then by all means, send them in. People were doing just that for awhile (and we were posting the ones we really liked), but then that stopped. Send us your stuff! We want to see it!
---
KOVARIAN ASKED:
Pulling out a question I buried in the answer to another below: Why are Tuesdays patch day? It seem like just an odd day for it to fall on. What is the history or rationale here?
If I remember correctly, the explanation for it back in the day — way back, like 2005 — was Tuesday morning/afternoon was the period when the fewest North American players were online. They picked the least disruptive time possible. I don't know if that's still true or not, but it certainly feels better than doing it on a Saturday, for example.
---
JACKESTEVE ASKED:
Does anyone know if Avocado Stones and/or Elemental Prunes will drop from some or all of the Hellfire Citadel bosses?
As far as I know, they will not. You still need to get those from their original location.
---
JACKESTEVE ALSO ASKED:
Anyone had an issue after installing Heroes on Windows 8.1 where it starts but then goes into the background an won't come to the foreground.
Does this happen every time you launch the game? Once in awhile a game will do this to me and relaunching the game will fix it. It sometimes happens with pretty much anything I run fullscreen in Windows 8.1 — either a game will get stuck in the foreground and refuse to let me tab out, or gets stuck in the background and I can't get back to it unless I minimize everything else.
---
@TIMOTHYJAXON ASKED:
I'm traveling to Europe (yay!) – any idea how the lag is playing on a NA server from there?
I have no experience with this! However, I'm including the question in hopes someone in the comments might have an answer.
---
@KHOL_BOR ASKED:
is it okay for classes to be balanced around raid tier-set bonuses?
That's tough! I wouldn't say it's okay if a class is unbalanced without their set bonus. At the same time, those set bonuses must be taken into consideration for class balance — if a bonus is so good a class becomes OP, that's bad. However, now and then it does seem like the developers use tier set bonuses as a way of delaying the necessity of making balance changes to a class, and that doesn't jive with me. It's a delay tactic until they can fix something in an expansion. That's not cool.
It's a complicated thing, though. All sorts of things need to be taken into consideration for balance, tier set bonuses included. Classes without set bonuses should all be properly balanced. Classes with them should also be balanced. If a class is busted without a bonus, that's not okay. If someone with a bonus is a bit better than someone without a bonus, that's okay.