WoW
Jul 3, 2015 12:00 pm CT
Apexis Crystal bonus this weekend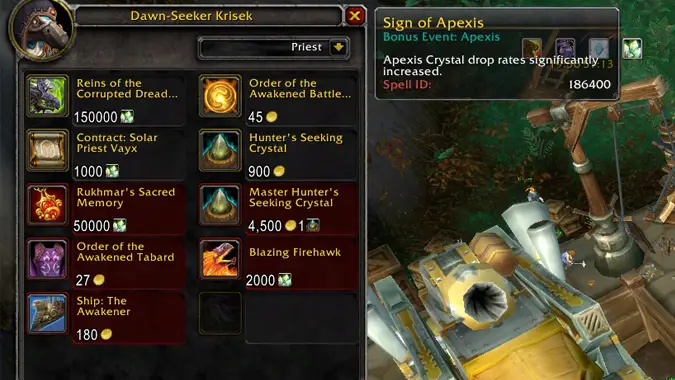 This weekend features the Apexis Crystal bonus event, live from July 3-6. Players will be able to earn extra Apexis Crystals from monsters in Tanaan Jungle, and the crystals are also a reward from most of the daily quests there as well as daily bonus objectives scattered around the zone.
Apexis Crystals are currency for purchasing Baleful gear pieces, which are 650 item level, and this weekend will be very lucrative for alts to gear up. For 20,000 crystals, players can purchase Empowered Apexis Armament, which is an account token that will upgrade a piece of Baleful gear to 695 item level. This event's quest, The Time to Strike, requires completion of five bonus objectives and will award 5,000 crystals. Those who have been doing their three objectives each day will have no trouble at all completing this quest through their daily routine. For those who haven't, never fear! The objectives are quite easy to complete alone, and even easier with a group. Group up with your guildmates or find a questing group in the premade group finder, and you'll find the objectives knocked out in no time.
Pet and mount hunters will be particularly interested in the fun rewards from Dawn-Seeker Krisek. The most sought-after item will be Reins of the Corrupted Dreadwing, available for a cool 150,000 crystals. A toy and pet are also available, Rukhmar's Sacred Memory and Blazing Firehawk, for 50,000 and 2,000 crystals respectively. The toy is a must for anyone who has been wishing for a playable uncorrupted Arakkoa race. Finally, for garrison completionists, we have a contract for Solar Priest Vayx, who has some interesting follower combinations if rerolled properly. Vayx can be acquired for 1,000 crystals.
In addition to the bonus Apexis Crystals this weekend, players will be able to earn extra Oil from three assault objectives. Oil is the new currency for sending out Naval missions and building ships.