WoW
Jul 20, 2015 5:00 pm CT
Francesco Orrù 3D prints a wearable Lich King helm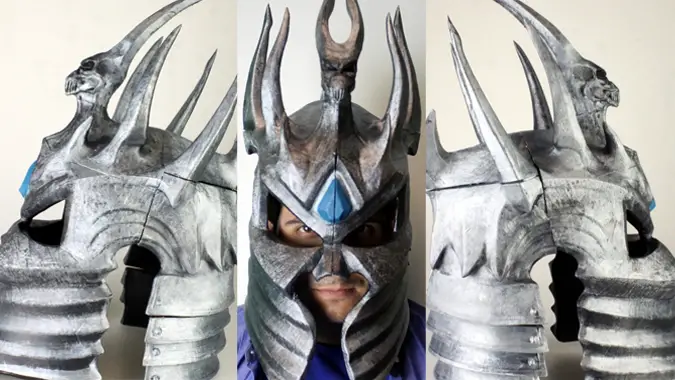 3D model artist Francesco Orrù has recently created a wearable, full-size Lich King helm. Orrù designed and sculpted the helm over the course of four days, rendering and modifying it several times. Once the model was completely rendered, it took almost 100 hours to print all 14 parts that make it up, though he used multiple printers to speed up the process. The individual pieces were then superglued together and painted with black and silver acrylic paint to complete the look.
The finished helm sits at 10 x 26 x 13 inches and fits quite roomily on his head in the sample images. It was created using Zbrush, a digital sculpting program that Orrù also uses for his other creations. The files to recreate this magnificent piece are available for download on the project site, though I imagine it will be quite the undertaking as its complexity is rated at 5.
Orrù is clearly a Blizzard fan, which you can see by taking a look at his other projects. Arthas makes another appearance as a statue bust, as do an orc and Diablo. These are smaller pieces and only rated 3 on complexity and a couple hours of printing, though still very detailed. Overwatch is even included with a Torbjorn sculpture and model. The model looks fantastic and hopefully we'll be able to see additional Overwatch characters in the future.
StarCraft seems to play a prominent role in his inspiration, with a majority of his models coming from that universe. Kerrigan is front and center with the famous Zerg Queen pose. This one is also very intricate, rated a 5 on complexity as well, but the print time is a fraction of the time needed for the Lich King helm. The figurine is also composed of multiple parts, though only 4, and superglued together before being painted in the same black and silver paint to create a metallic look. Orrù's other StarCraft models include Zeratul fighting the Hydralisk, wall symbols for each of the three factions (Zerg, Protoss, and Terran), and a Zerg necklace pendant.
I was very impressed while looking through all of Orrù's projects and I'm excited to see what he creates next.