Moviewatch: How to: Demon Hunter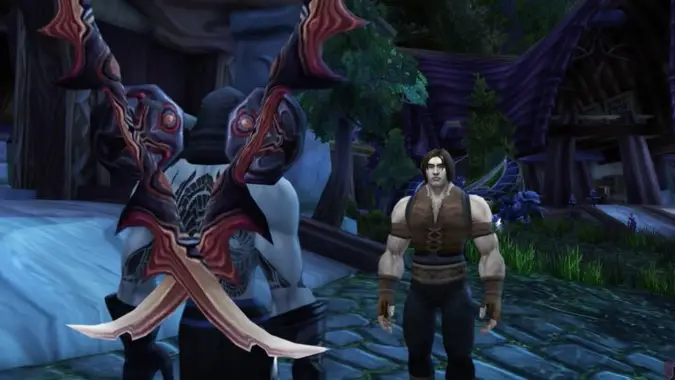 Work Warning: A few PG-13 references to sex here and there.
Let's be frank, here. (Hi, Frank! I'm Mike.) The Demon Hunter class sounds awesome. The very day it hits the street, I'll be roleplaying like "whoosh, whoosh, die evil demon!" and "Hark! I'm Spillidan, night elf demon hunter who keeps dropping his drink!" But with all that excitement is going to come some… silliness. The plague of new Demon Hunters will turn the days of "Hunter weapons" into a fond memory. Not sure why? Nixxiom spells it out in How to: Demon Hunter.
How to: Demon Hunter continues a video series about a player seeking the perfect class. (Kind of.) While the Demon Hunter isn't officially playable yet, plenty of roleplayers still portray the class with nigh-unstoppable enthusiasm. Stalking the newbie areas of every race, swinging gigantic weapons, and furthering the bloodlines of lore characters, these roleplayers ensure Illidan's legacy lives on.
Nixxiom knocks this video out of the park. The voice acting is perfect, the animation lends itself to the story, and the payoff is plenty suitable for its 8 minute run time. There's a reason Nixxiom is one of the Big Names in our fan community. And while this video is a little less about the upcoming class, and a little more about the folks who've been faking the class, How to: Demon Hunter still serves as potent warning for what we can expect in the future.
Thanks to Marie for the tip on the video. It's much appreciated! You can send suggestions via the comments form or in the comments. We'll get a Moviewatch tip address soon enough.