Deck Tech: Control Warrior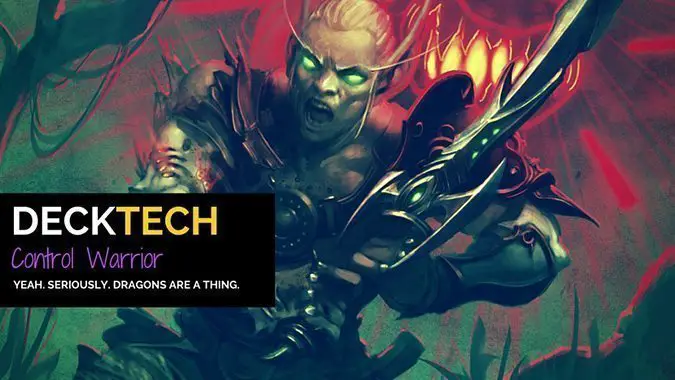 At a Fireside Gathering tournament I held last weekend, it didn't surprise me (or anyone) that the final four players brought Warrior decks. Three out of the four finalist decks were Control Warriors. It does seem that Warrior decks in general are trending down, but of the 17 players who attended, five were Control Warrior, and four were Patron Warrior.
Anyway, I digress. Control Warrior received massive upgrade from Grand Tournament: Justicar Trueheart and Varian Wrynn. The updated deck has no less than 10 legendaries, which means it's not an affordable deck for most players to put together — but if you have the resources, it's an effective one.
You might have been able to figure this out from the name of the deck, but the goal of Control Warrior is aimed at controlling what minions stay alive on the board and what doesn't. The Warrior has the power to develop an insane amount of armor and increase their survivability to help keep themselves alive long enough to start dropping their big legendary bomb cards at the end of the match.
On the mulligan
Your typical Warrior openers should involve an Acolyte of Pain, Fiery War Axe, and an Armorsmith. Cruel Taskmaster is a keeper if you happen to find yourself with extra minions.
Warrior (17)
Neutral (13)
Early game
Much of your early game is going to be spent reacting to what your opponent plays. Shield Slam can help eliminate smaller minions. Taskmasters can either help remove minions, buff your minions, or help you dig for cards via Acolyte of Pain. Try not to sacrifice or trade your minions into theirs. That's what your weapons are for. You have plenty of armor sources here to offset the damage.
Mid game
Armor, armor, and more armor! Shieldmaiden and Shield Block! Justicar Trueheart grants your Armor Up four armor per turn if she hits play. That will help you provide increased longevity to get you into the late game. Shield Block even nets you a card and reinforces you a little before you attack a minion head on. Keep your taunt minions up, armor up, and Execute anything in your way. Use your weapons and directly attack  If you have to, there's a Brawl in there to help you clear and reset the board. The Execute usage is going to depend strongly on what class your opponent is. For example, if you're up against a Paladin, hold Execute until you can crush the Mysterious Challenger.
Late game
Where does one start on late game options? You have so many — and if you pull Varian Wrynn early on, you get to bust out several of these for free! In one of the matches I witnessed, Varian hit the board but Ysera was already in play. Ysera generated a Dream allowing the Warrior to bounce Varian back to his hand and play him again the subsequent turn. He hit six total minions. That's why most of the minions in this deck have Deathrattle effects, since Battlecry effects will not trigger.
Baron Geddon, Dr. Boom, Ysera, and Grommash Hellscream will headline your finishers. Seriously, just take your pick. Any one of them on their own can close out games. If there's any existing threats on the board from your opponent, Baron Geddon should be able to sweep or soften them up for the rest of your minions. Just dump all your legendary cards and win out.
Alternative cards to consider
There's not much margin for variety in this deck, so you won't find many alternatives.  Most of the cards here are needed for the core of the deck — the only adjustments you can make are quantities. But in case you're missing a few pieces, you can put in generically useful cards like Annoy-o-Tron or Ironbeak Owl. If you have Blackrock Mountain Adventure completed, you can sub in Nefarian for one of the dragons. The Black Knight is an excellent situational card to add that can allow you to cut through Sludge Belchers or Ancient of War.
Class matchups
Expect games to be long — and good luck!