The Queue: Definitely not late today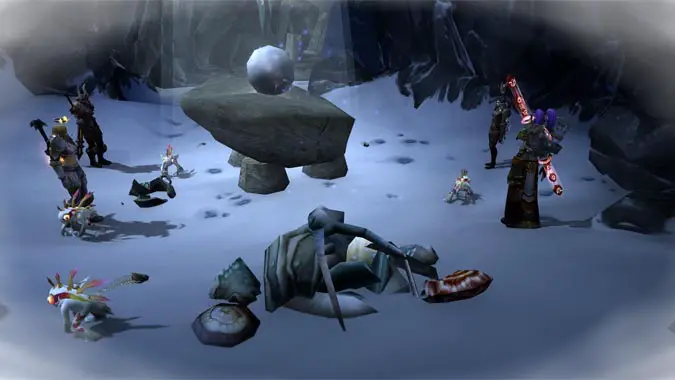 Welcome back to The Queue, our daily Q&A feature for all of Blizzard's games! Have a question for the Blizzard Watch staff? Leave it in the comments!
---
VALENCEMAGI ASKED:
So this is a bit of a selfish Q4tQ, but would it be possible to standardize the filenames used in the podcasts?  It confuses my simple little phone when it tries to order the episodes.
I'll look into this. It's unlikely we'll go back and change all of the previous filenames (because it would likely break more than it fixes), but we can probably standardize going forward.
---
MARI125S ASKED:
Do you have any non-Americans working for the site, and consequently, any non-native English speakers? I know Rossi lives in Canada but was born American. I was just curious, as I've noticed a lot of different opinions and workstyles around foreign writers elsewhere on the net. Some believe it is simply too much work to deal with someone working from across the world what with potential language problems (slang and cultural shorthand is difficult even for people fluent in US-English) and time-zone difficulties. Just wondering about your stance on it, and how you've handled it in the past. I hope you get some better questions, I'm not up to my game today.
Conveniently, the behind-the-scenes podcast we recorded for our Patreon supporters last night goes into this topic. The short version is we don't mind working with people outside of the US, but it does come with additional paperwork on our part, and obviously we can only hire people who speak fluent English. Any spelling or grammatical quirks that come out of, for example, American English vs. British English, we either make them learn the norms of American English or edit their posts as appropriate entirely because that's the lingua franca of our site.
Being able to work with an international group of people is a really awesome aspect for the era we live in. The biggest hurdles are timezones and tax laws.
---
MALKIL ASKED:
Did I miss a change earlier or is that a new tweak to the front page format?
Yes, we tweaked the top of the front page. While I thought the buttons looked nice, our analytics said people rarely used them — even if we updated them on a daily basis. Personally, I think what's up there now is… uh, kind of ugly, but we've only had it that way for a day and can already see significantly more people are using it. This is why we can't have nice things.
---
CLOUD_OTQ ASKED:
Do you think Blizz will give us "Legion Perks" for levelling like they gave us Draenor perks?
I feel like Draenor perks weren't actually interesting/meaningful, but rather were an excuse to make something flash on your screen on exciting-like when you leveled up in the absence of anything else. No new spells? No new talents points? BAM! Draenor perk! It isn't anything special, but look! It's flashing! You're excited, right!? Yeeeaahhh!
For Legion, I bet they can use our artifacts for something like that, instead.
---
KATHANDRION ASKED:
Did everyone get their new Terky murloc pet?
Not me, I totally checked out over the weekend. In fact, I fell asleep a bit after 7 p.m. last night and woke up at 9 a.m. this morning. As I write this, I'll be shocked if I finish today's Queue for 11 a.m. and if I do, I'm not even going to edit this line out. I accept my fate.
Now that I'm actually catching up on what happened over the weekend, I'll get Terky later today.
---
FALLANGER ASKED:
What are your thought on the wow ui?
I'm a rare butterfly who finds WoW's UI completely sufficient unless you need to specialize in something. If I'm doing progression raiding, then I'll probably install boss mods and some kind of damage and/or threat meter, but I can generally play the game fine without those things. I've been playing WoW mostly addon free for years. Back when I was a hardcore progression raider, I had tons of addons — and I felt like I couldn't live without any of them. Then I decided I got sick of keeping them updated, logged in with no addons, and found it absolutely liberating. I'm not overwhelmed with data! I don't have to update anything! The game isn't unplayable without addons after all!
There's absolutely nothing wrong with the base UI. If people want to customize it to fit their personal tastes, more power to them. The people who call the game unplayable without UI mods? I couldn't disagree more. The base UI does its job.