Supergirl debuts tonight on CBS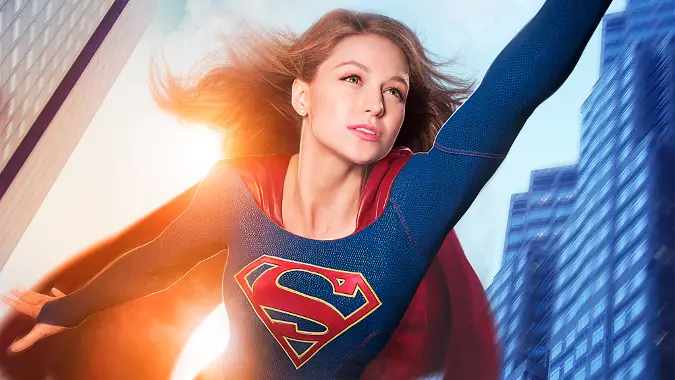 All of the jokes about Supergirl taking flight tonight have already been taken.
Supergirl is the latest among many superhero-inspired shows rocking primetime television and it makes its debut tonight on CBS. Though this addition to DC's roster won't air on the same network as The CW's Arrow and The Flash, members of the production team are veterans of both shows. Given The CW is a joint venture between CBS and WB, fans of Arrow and The Flash will likely find Supergirl to be familiar despite needing to tune into a different channel. Promos of tonight's pilot episode show Supergirl already aware of her capabilities, suggesting the show won't drag its feet making Supergirl super. Unlike Clark Kent in Smallville, we won't need to wait four seasons to see someone fly.
Melissa Benoist stars as the titular character Supergirl a.k.a. Kara Zor-El a.k.a. Kara Danvers. The comic book history of the character is long and convoluted: since Supergirl's introduction in 1959, a variety of different characters have claimed the title, almost none of which have survived over half a century of reboots and retcons. While Arrow can point to Green Arrow: Year One as direct inspiration, it's more difficult (at least for now) to point to any particular comic book run which will similarly inspire Supergirl. More likely, we'll see the last few decades of Supergirl appearances thrown into a blender — minus the whole thing where she gets catapulted into the 31st century. Probably not the one where her escape pod from Krypton crashes in Kansas, but bores straight through the Earth to Siberia before she wakes up, either.
Curiously, the alias Supergirl uses in this show — Kara Danvers — isn't a name she's used in any run of any comic book. It's a mashup of her Kryptonion name Kara Zor-El and Linda Danvers, one of her many comic book aliases. Let's just hope viewers don't confuse Supergirl's Kara Danvers with Carol Danvers of Marvel's Captain Marvel. Marvel's Captain Marvel, of course, should not be confused with DC's Captain Marvel, also known as Shazam. I know, right?
Check your local listings for Supergirl's airtime in your region.