WoW Legion Paladin class preview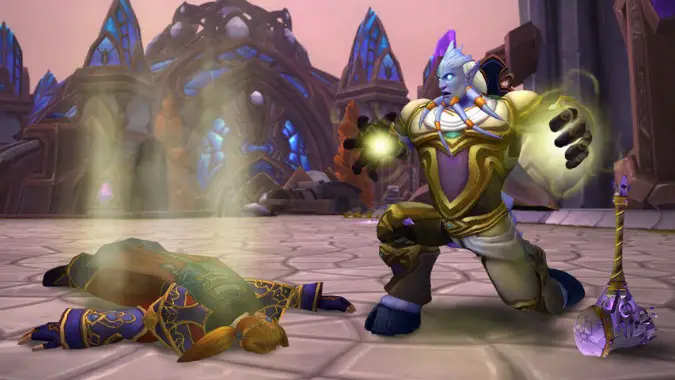 It's Paladin class preview time and there are some tweaks and overhauls in the works. Holy Power is disappearing for Holy and Protection Paladins, but Ret Paladins are keeping it while their attacks are being modified to be mostly short ranged. Details after the jump.
Holy
Since Paladins are traditionally in heavy armor, the devs want Holy Paladins closer to the thick of the fight. They are introducing new auras as well as a Mastery that makes healing up to 30% more powerful if the Paladin is close to the target. A spotlighted talent shows that you can increase that proximity healing by another 24% if you want. They are also removing the Holy Power system and going with a mana bar. Beacon of Light will still be a marquee ability for Holy Paladins.
Protection
Protection Paladins are in a good place and the changes here are not as big. Holy Power is going away and the abilities that depended on it will now have cooldowns instead. Defensive abilities include the new Light of the Protector to replace Word of Glory. It will heal you for 50% of your health. And the new Mastery for the spec will increase damage reduction and block chance as well as increase attack power. Offensive abilities include Hammer of the Righteous which, if you are standing in your Consecration circle, will emit an AE blast of holy damage or can be talented to be a ranged attack.
Retribution
Ret Paladins will retain the Holy Power resource mechanic and have many of their abilities tweaked to be short-ranged to get away from the caster in plate mode they've drifted into. Their core abilities are attacks that either build up or consume Holy Power with a Mastery that increases Holy damage up to 45%. One interesting talent shown is similar to Tyrael's in Heroes of the Storm, Lothar's Might: "Flings a blade of holy light to the target location. Reactivating will teleport the Paladin to the blade and strike nearby enemies for moderate Holy damage."
You can read the full Paladin class preview on the WoW official site. You can also read previous class preview blogs here on Blizzard Watch. Tomorrow's class preview release schedule is:
5am PT: Warlock
11am PT: Death Knight
5pm PT: Shaman