Daredevil season 2 teaser trailer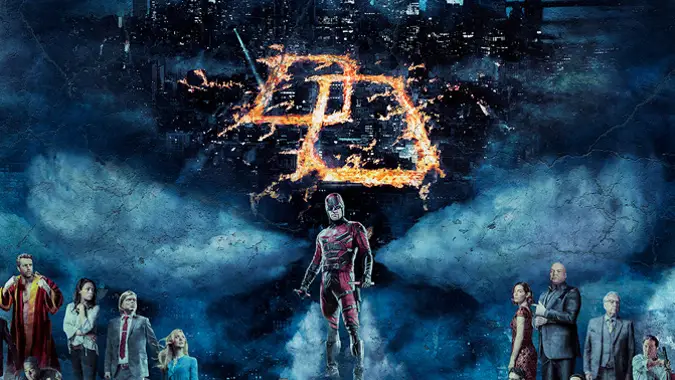 Though it feels like I've only just finished watching Jessica Jones, the hype train for season 2 of Daredevil has already left the station.
I admit, Marvel films have become hit and miss for me — while Guardians of the Galaxy was right up my alley, new installments of the Avengers series get a pass. The television offerings of the Marvel Cinematic Universe, however, still have my full attention. The first season of Netflix Original Daredevil was a gripping retelling of a superhero to which I'd never previously paid any mind and Jessica Jones was even better. Netflix has released a teaser for the second season of Daredevil, coming March 18.
The teaser is more artistic than informative — laying the Catholic imagery on thick. However, we do know a few details: ultra-violent Frank Castle (played by Jon Bernthal of The Walking Dead), otherwise known as The Punisher, is being set up as Matt Murdock's antagonist and foil. Historically, The Punisher has been more antihero and less villain, meaning it's unlikely he's the only threat which will visit Hell's Kitchen this season. This season will also feature Elektra (played by French actress Élodie Yung), a comic book love interest to the titular Daredevil. Given both Frank Castle and Elektra are known for walking a dark, violent path, we can expect the same grim brutality presented by Daredevil's first season.
If nothing else, the variety in Marvel Cinematic Universe television is refreshing. While the films have a distinct same-y feeling, all of Marvel's TV offerings are a little different — whether they're actually on television or make Netflix their home. Agents of S.H.I.E.L.D. is lighter fare, walking a line closer to the films — with the benefit of having more than two hours to tell a good story, but the drawback of succumbing to its fate as a marketing tool for the films all too often. Daredevil brings the pain of visceral brutality and Jessica Jones focuses more heavily on the emotional and psychological weight of its conflicts. I hope this trend continues not only through Daredevil's second season, but in the upcoming Luke Cage and Iron Fist.