Artanis Zealot Charge baseline and other Heroes Q&A highlights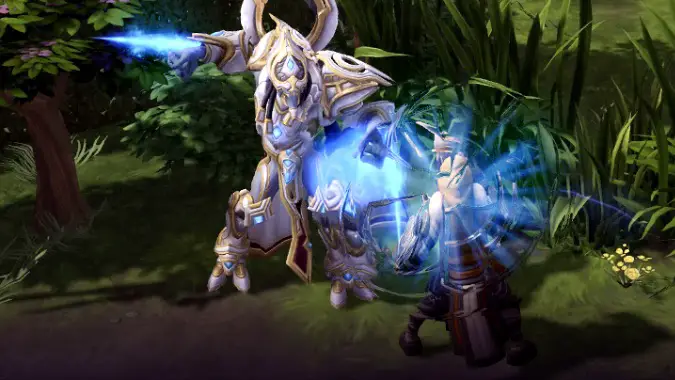 The Heroes of the Storm development team held an AMA Q&A on the game's subreddit. The Q&A ran the gamut of hero balance and game design, and while the full Q&A is a great read, there were a number of notable highlights. First, Artanis is receiving a weakened version of Zealot Charge as a baseline ability. As Lead Balance Designer Matt Cooper pointed out in the Q&A, Artanis only feels like he comes together as a character once he chooses that talent at level 16. When a single talent choice becomes so integral to a character, it might as well be part of the base kit.
During the Q&A, the developers also mention Arthas and Anub'arak have some revamps in the works, thought not as sweeping as some of the more recent hero reworks we've seen. While reworks to those heroes is good news — both Arthas and Anub'arak are boring at best, weak at worst — sweeping changes is precisely what some players have wanted from these heroes. A tuning pass and updated talents might be enough to bring Anub'arak in line with other Warriors in combination with other buffs to the character in recent months, Arthas is a far cry from evoking the fantasy of being the freaking Lich King. However, in another response by Producer Claudio Gentilini, he lays out precisely why these hero reworks are often focused on talents rather than base abilities:
We're not afraid to do this where it makes sense, but there is a large cost to changing the base kit of a hero that has to be taken into consideration. Although some players may feel that a base kit should change, there are countless silent voices of players that are using that hero that love them just the way they are. We can get a lot of what we want living within the base design of a hero by adjusting their talents in most cases, so that is where our efforts are typically focused.
Aside from that reasoning (which is honestly the primary reason we don't really like changing base abilities), there is a large production cost to changing base hero abilities. Some heroes have numerous skins. Modifying a base ability might seem like a fairly easy task, but if we have to change the art on 3 different skins, then update the sound, then update the website, videos, etc, it is oftentimes better to see what you can do with the talents first.
All that said, we'll do it where it makes sense, and we're even doing it on some heroes updates in development right now.
Again, we do recommend reading the full AMA. While not every bit of information is as exciting as a Zealot Charge, the developers provide solid insight into Heroes of the Storm and forthcoming updates.