The Queue: Platter of evil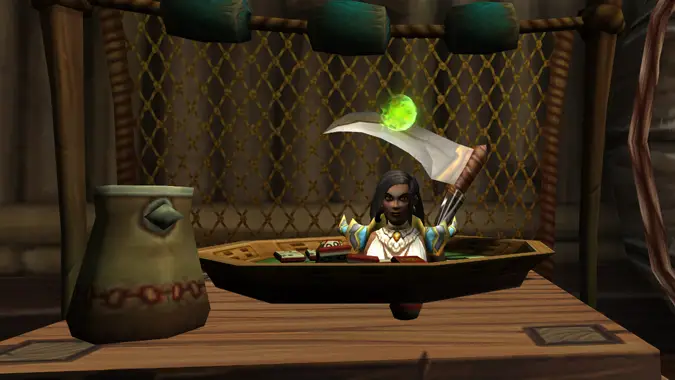 Welcome back to The Queue, our daily Q&A feature for all of Blizzard's games! Have a question for the Blizzard Watch staff? Leave it in the comments!
The chefs in Binan Village appear to be hard up for ingredients. I mean, I guess what with all the rampaging Yaungol that's sort of expected. But look — I don't care if it's the special today buddy, that plate of warlock looks dangerous to me.
---
VITH ASKED:
Maybe I missed it, as I haven't been avid in keeping up on my WoW news lately, but have hey released any post expansion plans yet? While I'm excited for Legion, I'm nervous that we are going to get another dud like WoD and have only one content patch for the course of the expansion.
I haven't seen anything about post-release plans yet. I'm pretty sure the folks at Blizzard are more focused on getting the expansion released for now, and dedicating their efforts to that. Between raids and world quests, I'm pretty sure everyone's going to be busy at max level for a while.
---
LAKE_TORTOISE ASKED:
Q4tQ: What appears to be the "throttle" on acquiring Artifact Power in Legion?  That is, what's limiting the daily accumulation of points?
I haven't actually seen anything acting as a throttle — but then, my playtime on the alpha is limited in that regard. I don't think you're going to be able to sit down and farm the stuff, but I'm not sure if they're planning a daily acquisition limit or not.
---
ADREAVER ASKED:
Q4tQ: There are many class changes coming in Legion. We know about most of them, but some specs are in a, let's say, precarious position. What is your current main, and assuming they completely ruin your favorite spec, what will you switch to? I am a Marksmanship Hunter, and if it comes out as bad as the naysayers think, I will be switching to Resto Shaman.
I play an Assassination Rogue, which means pretty much nothing has changed and it's business as usual as far as my main is concerned. …well, there are a few changes, but nothing really major like Subtlety or Combat Outlaw got. My alt's an Elemental Shaman, and I'm actually considering playing that one right out the gate instead of the Rogue, just because I'm enjoying the feel of the class on the alpha so much right now.
---
DRAKKENFYRE ASKED:
Half-serious random question/thought.
Overwatch's signature colors are white and yellow. Tracer's colors are primarily yellow and white, with her brown bomber jacket in addition.
Given her status as boxart/lead marketing character, are Overwatch's colors based on her, or did she intentionally choose to dress in her organization's colors?
Tracer is a member of Overwatch, so it kind of stands to reason her outfit of choice reflects the colors of the organization. Or maybe she's just really keen on that shade of yellowy-orange. I mean, it does look really nice on her. I doubt the choice of logo colors came from her, though.
---
GALDWYNN ASKED:
Q4tQ: Overwatch animated TV series: good idea or great idea?
I really want to see this, and I'm pretty sure everyone already knows that because I've said it before.
---
TMNT4EVER ASKED:
Q4TQ: Is there a reason that Blizzard has not allowed paid class changes?  I would have thought a paid class change would have been allowed before a paid faction change.
Technically, you can get pretty close to that already, what with the paid level boosting. No need to swap one character from one class to another — just roll whatever class you want and boost it. Done and done.
That's it for today's Queue — if you have any questions you'd like to see answered, be sure to leave them in the comments below!