The Queue: Edwin, what are you doing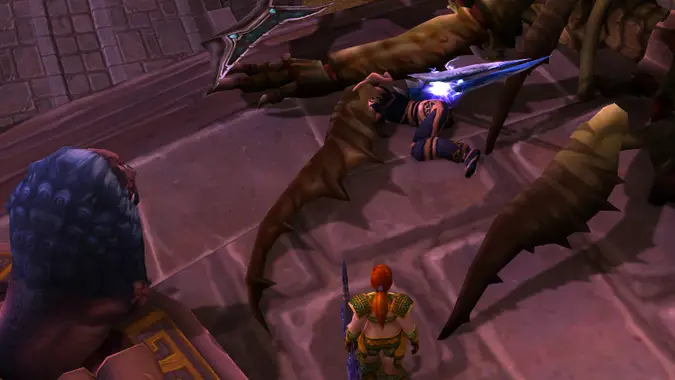 Welcome back to The Queue, our daily Q&A feature for all of Blizzard's games! Have a question for the Blizzard Watch staff? Leave it in the comments!
Edwin what are you doing, that's not how you walk. That's not how you sleep. That's…that's not how you do anything, Edwin.
---
SPACEBARD ASKED:
OK, so I just started to take another look at my shipyard. Went back to Tanaan to fetch the plans for a battleship. Looking at the NPC in my shipyard and lots of things are "redded" out. Many of them say I need plans. Didn't I already unlock the plans when I opened the shipyard? Do I need to go all over the jungle to unlock upgrades for the boats? If so, I might not be doing a whole lot more :(
Blueprints for Shipyard equipment are found on rares throughout Tanaan Jungle. It might look like a daunting list to get, but honestly, I cleared all of them out in the course of a couple of hours — it really didn't take much time at all. One you've unlocked the items once, they're unlocked account wide — meaning any alts you have won't have to go through the same blueprint-collecting process all over again.
---
KYLECALIGIURI ASKED:
I realize the beta just started and the servers are unstable, but wondering if you can put your own character on the beta yet.  If so, QftQ:  they said they'd be adding items from previous quests into the wardrobe.  Can we confirm if this includes items from quests that are no longer available?
Character copies aren't open on the beta, so we really don't know the answer to that yet. Once we can do that, we'll have some kind of answer to that question, though — it's one I've been wondering about too!
---
MATTHIAS ASKED:
Q4TQ: Does the new Stormwind Park show up for all players or only players who've completed the Broken Shore scenario? It would be a bit awkward for a level 106 and a level 70 walking along the canals if one of them suddenly disappeared into another phase. It would also severely limit RP. Obviously they'd have to remove the cultist quests from Cataclysm among other things, but it'd be nice if everyone could enjoy the new park. Has anyone made a level 1 on the Beta and gone to the park?
Fun story — you can't actually create a level one character on the beta currently. The character creation button will only create a level 100. So…I don't actually have an answer for you! They just added the park in the last alpha build though, so I imagine things like phasing/if it will be visible to lower level characters/etc haven't quite been hammered out just yet.
---
MISTAH JAY ASKED:
Q4tQ: With druids finally getting the Scythe of Elune (sorry, Scythe of E'Lune), do you think Worgen will ever be able to get into combat without being forced into Worgen Form? maybe using Human/Worgen form for whatever perks they may have, like Human having a Crit / resource regen bonus, while Worgen having Haste and Power bonus (or something)
Um…no. If you want to play a Worgen, that's kind of part of playing a Worgen. That's why it's called the Worgen race. If you don't want Worgen form, then…you should probably be playing a Human character.
---
RAHKARNE ASKED:
When Overwatch eventually gets new characters (we all know it'll happen eventually) how do you think the content will be delivered?
Charging for them individually seems like a long shot.  Even selling them as a traditional expansion pack in a group seems off, due to some people not getting them and feeling at a disadvantage.
I'm thinking making new characters free to those who have bought the base game and using skins and such to monetise them would be the best route.
They've stated that they aren't going to charge for new heroes. If they want to add more at some point in the future, people will just automatically get them.
---
FALLANGER ASKED:
Qftq: why is maiev in control of the vault of the wardens?
She was the one in charge when the Vault of the Wardens was originally established — and she's also the one who made a reappearance with a ton of Demon Hunters to be imprisoned back after the Black Temple encounter in Burning Crusade. Basically, the Wardens in the Vault are living in a sort of bubble much like the Pandaren of Pandaria — they don't exactly have a lot of knowledge about what's been going on in the outside world. They've been busy. Watching and wardening and all that stuff.
---
GNOMEPRIEST ASKED:
Keyboard starting to go out, wanting to get a Mechanical keyboard this time.  Can anybody make me some solid recommendations?  Trying to avoid Razer products because I feel they are horribly overpriced (paying mainly for the name), but if that's the best option, I will consider it.
Okay so this is definitely in-my-own-opinion, but I have a Steelseries 6Gv2 mechanical and it is the best keyboard I have ever owned. It's simple, clacky, and has lasted me through almost every column I ever wrote on the old site, all columns on this site, four books — several million words worth of typing. And that's not counting the years of raids and gameplay.
One of the keys broke the other day. I was a little devastated until my brother helpfully offered a keyboard he is no longer using. I scavenged the appropriate key from it and it popped in no problems, working fine.
While the keyboard I have is not backlit (it's very bare-bones in design), Steelseries does offer a selection of backlit mechanicals as well. They run a little on the pricey end, but as far as I'm concerned, they're worth the price. I suspect I use mine far more than your average user, and it's held up beautifully.
That's it for today's Queue — if you have any questions you'd like to see answered, be sure to leave them in the comments below!