The Queue: Walk the dinosaur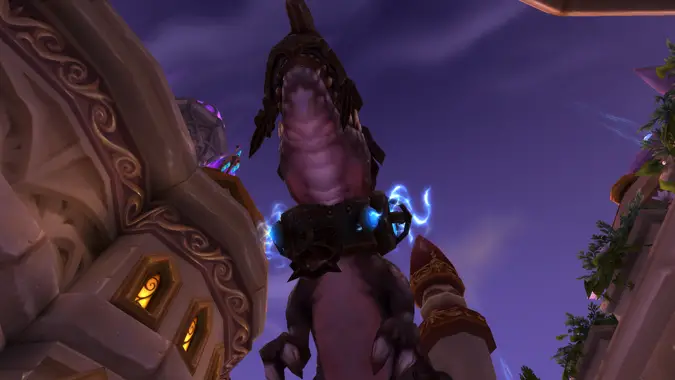 Welcome back to The Queue, our daily Q&A feature for all of Blizzard's games! Have a question for the Blizzard Watch staff? Leave it in the comments!
Either Dalaran is getting an unannounced troll raid at some point, or the Legion beta servers are just the slightest bit buggy. But just for the record, there's nothing like a giant shrieking dinosaur thwomping around a major city to wake you up in the morning.
---
ALPHA5099 ASKED:
Part 3 in my ongoing series of questions about currencies: Is there any reason to hold onto Valor? I don't have a lot of it (about the only content I do that rewards Valor is the 5 Timewalking dungeons quest), and I'm wondering if there's any point to using it now to upgrade stuff, or waiting for it to convert into … something?
Typically (in previous expansions anyway), if Valor ever did anything at the end of an expansion, it simply converted to currency. It was never really a huge amount of currency, either, so if you've got a use for the Valor you have, you might as well use it now — not much point in stockpiling it.
---
SLYTHWOLF ASKED:
Q4tQ: Why doesn't Silvermoon have a barber shop yet? You would have thought it would have been the first installed.
The Exodar doesn't have a barber shop either! It's one of those things that's always bugged me a little — you'd think that the barber shops would be available in every major capital city. As it stands, there are shops in Stormwind, Ironforge, Orgrimmar, Undercity, Dalaran, and…for some inexplicable reason, all the way out at Area 52 in Netherstorm.
---
SOEROAH ASKED:
I can't see Lorewatch episode 24 on iTunes yet?
That was odd — it should have published already. I re-uploaded it, it should be available now!
---
WRATHSOME ASKED:
I did a character copy into the Beta/PTR with my healer (Ilevel 728).
When I looked at the dungeon list, the Legion dungeons were listed as starting at level 98 but grayed out with a message "you are not eligible for this dungeon". My frustration was simple: why not list the missing requirement?
So: what is the requirement to get into dungeons in Legion?
Were you on the beta, or were you on the PTR? If you were on the PTR, you're testing pre-Legion content. That doesn't include new dungeons. If you were in the actual beta, it's likely they want you to do the introduction stuff (get Dalaran to the Broken Isles, etc) before you head to any dungeons.
---
GALDWYNN ASKED:
Q4tQ: Will Heroes get another map rotated out?  If so which one?  Will some form of Haunted Mines take its place, or will we get a new map?
Haunted Mines wasn't really rotated out so much as it was removed because it was broken — but you're right. It's kind of time we saw another new map, isn't it? I still have my fingers crossed for an eventual Rock n' Roll Racing themed map. Or a StarCraft map or two wouldn't exactly be a bad idea either. We haven't really heard anything about that, though, so I don't have a solid answer for you, sorry!
---
LEEAHLOU ASKED:
Am I the only one who gets strangely nostalgic for the Burning Crusade? Over the last weekend I randomly decided to get my paladin who never raided Kara back in the day, attuned for Kara and complete the long quest chain to be able to summon night bane… it sent me all over the world, through dungeons I've long since forgotten about.. she's now revered with the violet eye. Incidentally, the primals from back then are going for quite a good bit of money on my server for some reason.
It was strangely a lot of fun. I forgot the days when quests took us all over the world, and took forever to complete because you had to go through three to four different dungeons.
Nah, you're not the only one. Attunement chains were fun! Or … well, they were if you caught them at the beginning of the expansion when everyone was doing them.
The problem was that as the expansion went on, people who hadn't done those chains suddenly had a lot less people willing to go help out with all the necessary steps. You had to do the attunement stuff in order to raid, but most raid guilds wanted you to have completed the attunements already, which in turn required raiding to do — it was kind of a catch-22.
I do sometimes wish we had that kind of thing again. Cataclysm tried something just a little similar by initially requiring people to discover a dungeon (physically visit it) before they could run it, but that didn't go over so well either. I don't think we'll ever see attunement chains like the ones in BC make a return.
That's it for today's Queue — if you have any questions you'd like to see answered, be sure to leave them in the comments below!