The Queue: Priorities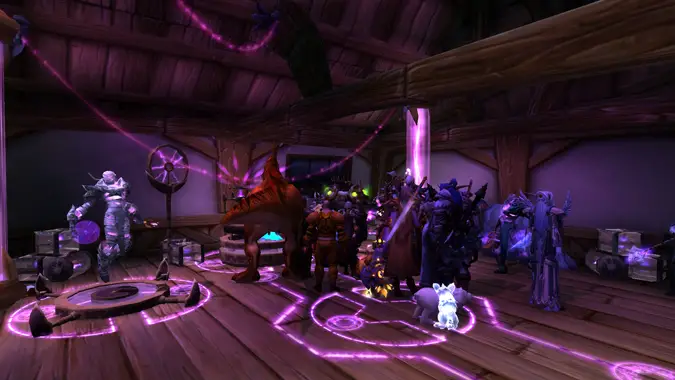 Welcome back to The Queue, our daily Q&A feature for all of Blizzard's games! Have a question for the Blizzard Watch staff? Leave it in the comments!
I'm pretty sure the ethereals appreciate the new Wardrobe system — it doesn't matter what faction or server I happen to be on, the transmog stores are packed. I suppose if we're going to deal with the end of days Burning Legion style, we might as well be really, really pretty while we're doing it. Right?
---
CHRTH ASKED:
Q4TQ: which pre-xpac event are you most looking forward to: Demon Hunter start zone, Invasions, or Broken Shores scenario?
Reclaiming all my bag space was definitely a highlight. But if we aren't counting spring (summer) cleaning in the list, I'd have to say I'm looking forward to playing a Demon Hunter on live. It's a really fun class — I don't know if I'll make a new main out of it or anything, but the playstyle is so much fun that I'm at least going to have an alt.
---
GNOMEMALEMODEL ASKED:
So, the world has been shaking every couple of minutes in Panderia.  Is that big turtle part of the Legion?
Nope! The turtle is the Wandering Isle, not part of Pandaria itself. Pandaria shouldn't be shaking, unless you're out in Valley of the Four Winds — Galleon's cannon barrage tends to make the landscape a little wobbly.
---
WRATHSOME ASKED:
Is the Silence Penalty in place for this pre-expansion patch?
Yes, it is — it wasn't one of those features that they were waiting until Legion's launch to release.
---
MYTHRIAK ASKED:
WHY, OH WHY, BLIZZARD, THERE IS NO HIDE TABARD OPTION IN THE WARDROBE?!?!
Because typically people don't put tabards on unless they want to, whether because they think the tabard looks nice, or because they're after a reputation boost. I feel your pain, I kind of hated wearing the things for rep boosts because they never matched my gear — but I usually just put them on for the purpose of grinding a dungeon or mobs or whatever, and took them off again after I was finished with said grinding. Kind of a pain, but it's the trade-off for tabard perks, apparently.
---
DJAYK85 ASKED:
QftQ: Has any found Glyph of Stars for Druids or have Balance Druids lost the ability to turn into astral form.
That Glyph is still being crafted through Inscription, so I'd either check your local AH, or if you've got a friend that's a scribe, have them make that for you. Note that you have to apply the Glyph in your spellbook now, rather than the old Glyph UI (which…doesn't exist anymore!). And if you ever decide you'd like to be a moonkin again, just use Vanishing Powder to remove the effect.
---
GREGOBERGIN ASKED:
Q4TQ: Is there anyway to see the illusions you do NOT have? The filter for illusions on the Default UI seems broken, and I was wondering if an addon was available for that specific part of it.
They're all in the same menu! The illusions you don't have are the ones with a grey border/fog around them. Mousing over the image will tell you where you can get it. You won't see that on the illusions you already have — it'll just display the name of the illusion, and that's all.
That's it for today's Queue — if you have any questions you'd like to see answered, be sure to leave them in the comments below!