WoW
Aug 2, 2016 10:25 am CT
WoW patch 7.0 hotfixes for August 1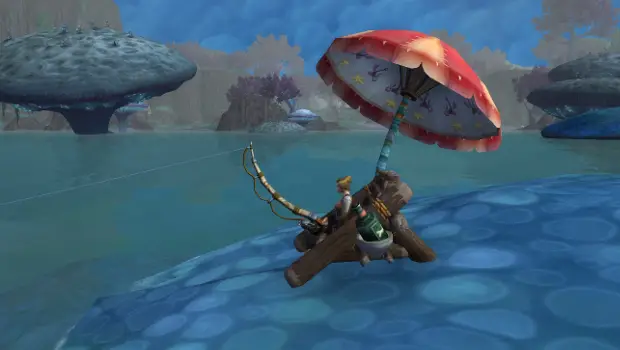 Missing fish? If these hotfixes are to be trusted, apparently we've been suffering from missing fish (even if we didn't realize it). While Blizzard doesn't specify which fish were missing, I'm just going to blame this bug on my slow fishing progress as I've gone back to collect achievements…. though that's not really any more productive than blaming RNG.
But regardless of whether or not you care about fishing, we have the latest batch of patch 7.0 hotfixes, which include class tweaks and, of course, the aforementioned missing fish fix.
Hotixes
Classes
Death Knight
Clawing Shadows damage reduced by 25%. PvP damage unchanged.
Scourge Strike now deals both physical and shadow damage to multiple targets when the Unholy Death Knight is standing in their own Death and Decay.
Druid
Displacer Beast will apply its speed buff even if Dash is active (they do not stack).
Fixed a bug which allowed certain macros to bypass the cooldown on returning to the same Shapeshift form you just shifted out of.
Hunter
Raptor Strike will now correctly apply Viper Sting or Scorpid Sting based on the talent chosen.
Dragonsfire Grenade now deals damage starting on impact.
Binding Shot now gives the affected target immunity from Binding Shot for 10 seconds, as intended.
The tooltip for Aspect of the Eagle has been corrected to reflect the bonus the spell provides. In addition, the bonus provided by Aspect of the Eagle now stacks with mastery.
Mage
(Work in progress) Flame Patch damage has been significantly reduced. A previous hotfix to solve a bug with Flame Patch not dealing damage while the Mage was casting effectively increased its performance, and today's change returns it to approximately the intended performance level.
Monk
Blackout Kick should not have a cooldown for Windwalker Monks at any level.
Blackout Strike's cooldown is now correctly reduced by Haste.
Paladin
The tooltip for Judgment no longer incorrectly states that it hits 2 additional targets for paladins without Greater Judgment.
Shield of the Righteous is now available at level 24.
Warlock
Phantom Singularity damage has been doubled.
Rain of Fire should no longer close your loot window when it does damage.
Warrior
Whirlwind now hits the correct number of extra targets when modified by Meat Cleaver.
Focused Rage is now learned at level 44 (was 52).
Garrisons
The Garrison Strategic Assault options should again be properly randomized from day to day.
Quests
During "To the Rescue!", Brutusk should no longer stop before completing his path.
Linen-Wrapped Book can now be interacted with by multiple players at a time during the quest "Grandma's Lost It Alright".
UI
Lockboxes can again be opened via Pick Lock in the "will not be traded" section of the trade window.
World Bosses
Galleon and Oondasta now respawn after 15 minutes.
Zones
Many missing fish have been returned, and players can again fish in the Human, Night Elf, Orc, Tauren, Blood Elf, and Draenei starting zones.
Corrected an issue that could cause players in mixed-server groups to periodically warp back to recent locations (aka "rubberbanding").