WoW
Sep 9, 2016 12:54 pm CT
You can finally get your very own pink hippogryph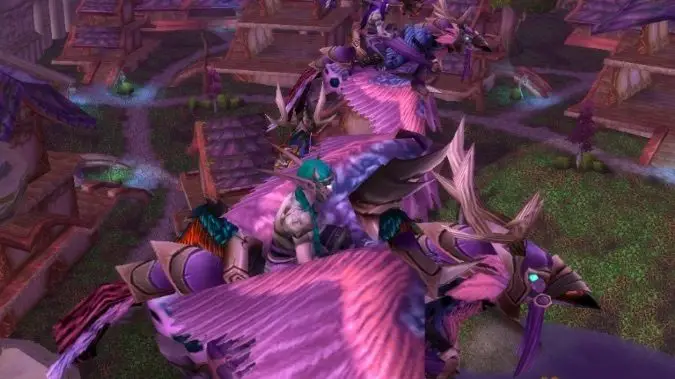 While the Darnassus guards have had them for some time now, the Reins of the Long-Forgotten Hippogryph — that is to say, a pink and purple hippogryph — can finally be found in Legion. However, you'll need a bit of dedication (and possibly a bit of luck) to grab your own.
There's no endless grind of drops here: you simply need to collect five Ephemeral Crystals in Azsuna. Sounds easy, right? What makes it tricky is that the crystals spawn in multiple locations, have a long respawn time, and you have to collect them all within eight hours.
Oh, and you can't die in that time.
Players have been hunting down crystals and posting them on Wowhead. Per commenter Boxofbeer, there are 12 known spawns (so far):
54, 33 — In north of Nar'thalas academy
37, 32 — Nor'danil wellspring
50, 20 — Azurewing repose, in a cave, next to a wall
61, 30 — In a cave , where a npc Kira Iresoul stays
47, 62 — Left from Oceanus cove, on a hill
42, 8 — Northern coast
34, 35 — Nor'danil wellspring, south
42, 33 — Azurewing repose, south
53, 28 — Azurewing repose, east
59, 38 — Nar'thalas academy, east
67, 33 — Felblaze Ingress, east
60, 53 — The Ruined sanctum, west
Here's the trick: not all of these are spawned at the same time and we don't know the respawn timer or pattern on them. When someone gets the hippogryph, however, they all despawn — again, for an as of yet unknown period of time.
Legion seems to have a wealth of hidden content. Just yesterday players figured out how to summon  Kosumoth the Hungering, who drops a jellyfish mount. And according to System Designer Russ Petersen, there's more yet to discover:
I love the "players found the most convoluted/hidden thing in wow ever!" articles, both for player cooperation, and y'ain't seen nothin yet.

— Russ Petersen (@nite_moogle) September 9, 2016
So keep exploring, everyone!