The Queue: Say cheese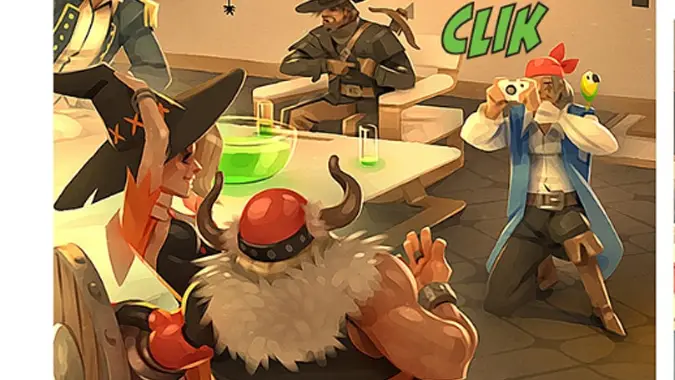 Welcome back to The Queue, our daily Q&A feature for all of Blizzard's games! Have a question for the Blizzard Watch staff? Leave it in the comments!
I think one of my favorite parts of the Junkenstein comic was that Ana was basically the party photographer. As such, she took the photo later featured in the Recall animated short. She also pretty much ignores Reinhardt's story throughout the comic, far more interested in the photography — which just goes to show that you can take the gun away from the sniper, but they'll still find a way to get that perfect shot.
---
RC THE PUMPKIN QUEEN ASKED:
Q4tQ: Would you want a VR experience in WoW?
You know…on the one hand I say nah, that seems kind of silly. On the other, I remember Legendary's VR app that they put out for the Warcraft movie, and how you could look around while you were flying above Stormwind. That thing was cool. Even cooler was showing it to my dad and explaining that this was the world I wrote about all the time. He was absolutely enchanted with it.
Do I think they'll make any kind of VR stuff? No — I believe they already said they don't have any kind of plans for that sort of thing. Should they? Well…I mean it would be fun, wouldn't it?
---
MISTAH JAY ASKED:
Q4tQ: Considering we see Odyn as Havi on Azeroth, even though he was meant to be locked away to Skyhold, do you think he will come with us to Helheim to beat up his daughter in 7.1?
I don't think he'll get to Helheim, no. You don't really physically go to Helheim, it's your spirit crossing over. Odyn can't really do that, technically he can't leave the Halls of Valor but he manages to be a little sneaky as Havi. I mean, I'm sure we'll see him in 7.1, but I don't think he's going to follow us along to help us out or anything.
---
Well, we do have jousting!
…yeah, I know. But I think if Azeroth had any kind of organized sports, it'd likely be something that could be translated into combat. Team-based matches focused on running game plans like football. That sort of thing could be quickly switched to a military focus if needed. Or polo for mounted combat.
I mean I think everyone on Azeroth is so used to being thrown into war by now that even leisure activities would likely revolve around it, you know?
---
TERRADON ASKED:
I wonder if we kill Helya in 7.1 will the Halls of Valor return to its location in Azeroth ? What about the elemental planes?
I don't think we'll suddenly see the Halls of Valor pop up next to Ulduar, no. But we might actually see ascended vrykul running around, which would be cool — and I bet Odyn wouldn't mind stretching his legs with a brisk walk around the world either.
---
MATTHIAS ASKED:
Q4TQ: What's the ilvl required for a standard Mythic dungeon (no keystones)?
830 is probably about the lowest you want to be for a standard Mythic difficulty dungeon (ie, no keystones). You might be able to get away with a little lower if you're running with a good group of people that have been working together for a while (like a guild group or just a group of friends that play together a lot), but I wouldn't go very far below that.
That's it for today's Queue — if you have any questions you'd like to see answered, be sure to leave them in the comments below!