The Queue: He is Broot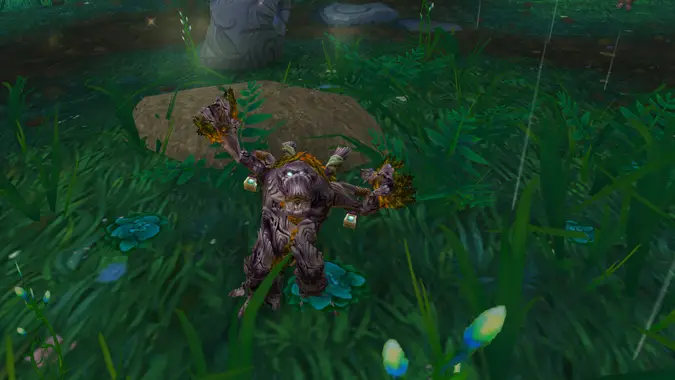 Welcome back to The Queue, our daily Q&A feature for all of Blizzard's games! Have a question for the Blizzard Watch staff? Leave it in the comments!
Meet Broot. I dug him out of a pile of dirt. He's basically all the motivation you need to go roll a Druid, because he can only be obtained in the Druid class hall. …and he's the best.
---
DOMEHAMMER ASKED:
Anyone miss mounts from rep? Are no factions in Legion that sell any mounts. Not even the moose greedy tauren of Highmountain who won't sell a moose. Are no real rewards for getting exalted with a faction this expansion.
I have to admit that I'm a little bummed about this, as I kind of liked getting mounts as rep rewards! At the same time, though, I have to remember that we're still early on in the expansion. More mounts may be added in later patches, and maybe we'll get some rep mounts at that point. Reputation does still offer some pretty good rewards, though — I'm enjoying the pets and toys.
---
HUSSKIES ASKED:
Q4TQ: So I was thinking about the fact that it looks like we won't have our artifact weapons after legion and the fact that the whole class hall thing might also go away. Would you all like it if the next expansion was all about races instead of class. If we had a headquarter for our race instead of class and did race-related stuff ? I know some races don't get much in the terms of lore or development (like gnomes and goblins) and it could be a good way to give them that.
I would rather not do some kind of major divide within the factions like that — the class halls work because they're throwing together multiple races from both factions, and that creates a sense of unity that goes beyond just faction lines. I feel like splitting things up too far would create division within the factions themselves, and that's…not as conducive to a coherent story. Part of the reason the story works right now is that you, the player, have been named as leader of your particular class hall. You can't really be named as a racial leader — how would you as the hero stand out? How would you feel important?
---
SAIK ASKED:
Q4TQ: does anyone else wish they could run around as a Nightborne outside of Suramar City?
I love the Nightborne models. I know it uses the Nightelf animations, and sure, they're slightly less high res than our regular racial models. But damn, I love the Nightborne female model. The clothing especially. I hope later in Legion, we get the option to wear a Nightborne 'mask' around wherever we want, even if just around the Broken Isles. Maybe have the option of different colored 'mask' schemes.
I would very much like Nightborne models added as either another playable race, or as a player skin for Night Elf and Blood Elf models. I don't know if we'll ever see that happen, but the history behind the Nightborne is so compelling, and the race itself is so visually stunning, that I wish we could see more of it beyond what we're going to get in Legion.
---
JOEL DAVIS ASKED:
Do you think there is going to be more Anduin in Legion?
Absolutely. Right now, he's in a spot where he had to abruptly take over running the kingdom — that's not just something you can do overnight, no matter how well you've been groomed for the position. Beyond that, I imagine he's still deeply affected by his father's death. He knows who is responsible, and I'm pretty sure he's going to make them pay, one way or another. I can't see him not hop in and make an appearance somewhere further along in the expansion — it would be really, really weird if he didn't.
---
DAVID BALDOCK ASKED:
Q about the Site: I'm not sure how long ago it was now, a couple of weeks at least, but I noticed that the old "Breakfast Topic" moniker has gone missing. I do see daily questions for us to ponder and reply to (which appear roughly the time I eat breakfast in my time zone), but the old article title seems to have been done away with. So I'm wondering: is there a specific reason, or has the change affected the popularity of it in any way? I have no problem with the change, just curious why it was made and if the change actually has achieved it's goals. Thanks!
Well, if you see an article named "Breakfast Topic," and it's not breakfast time anymore, are you likely to read it? The answer to that was no, for a bunch of people. So we dropped it from the headlines to see if we'd get more community response throughout the day, because we like that sort of thing. The column is there to get people talking and start a discussion, and that discussion definitely doesn't have to be limited to a particular time of day. We're seeing more chatter all around, so it seems to be working pretty well so far!
That's it for today's Queue — if you have any questions you'd like to see answered, be sure to leave them in the comments below!