The Queue: In darkness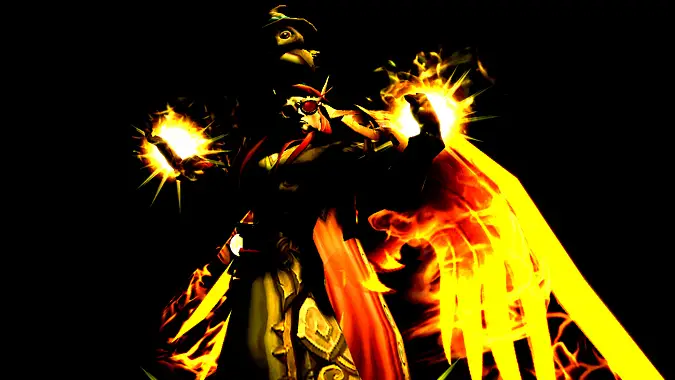 Welcome back to The Queue, our daily Q&A feature for all of Blizzard's games! Have a question for the Blizzard Watch staff? Leave it in the comments!
Please bear with me in today's Queue. I'm currently sitting in a post-BlizzCon hotel room which lost power a few minutes ago. I'll do my best.
---
RETPALLYJIL ASKED:
Did I hear that t20 was going to be a sort of "retrospective/callback" set, or did I hallucinate that in my sugar- and caffeine-induced haze? If true, is there any info online about it? I love me some tier set news!
Yeah, this is something that came up in one of our liveblogs. The Tomb of Sargeras tier sets are inspired by Tier 6.
---
JAMES ASKED:
in th blizz costume contest, one person was elune, have we have seen elune's physical body, if she has one?
No, we've never seen what Elune actually looks like. That costume was an individual's interpretation of what Elune might look like. And that's a fine thing, I think, since cosplay is all about creativity and craftsmanship. The cosplayer integrated symbolism of the moon, lots of silver, and blended it in with Night Elven high fashion. That isn't what Elune looks like (as far as we know) but it was still really cool and we can definitely imagine Elune having a mortal form like it.
---
MATTHIAS ASKED:
Playing instanced versions of various areas (Battle of Hyjal, Arathi Basin, Alterac, Vale of Eternal Blossoms BG etc.) always makes me want to see some sort of full-scale version of Azeroth. Obviously that'll never happen since it would make the MMO super tedious, but if you could get to see one zone in real-world scale, which would you choose?
Stormwind. I love exploring cities, both real and virtual. WoW's capital cities have always — almost across the board — disappointed me on a fundamental level. They're tiny, anemic things. One of the reasons I enjoy Suramar so much is because not only is the city much larger than your standard questing hub, but it's full of people and things. I want more of that.
Uh. My lights just start flickering all crazy-like. Enjoy these three questions. I'll be back home Wednesday and I'll try to make it good. For now, I have ghosts to fight.